Scone racecourse, news & tips
First formed in 1947, Scone Race Club has been at its current location since 1994 and is recognised as one of the premier country destinations for horse racing in New South Wales.
Located in the 'Horse Capital of Australia', Scone Racecourse is set amid the famous Hunter Valley studs and home to some of the world's leading veterinarians and equine support services and infrastructure.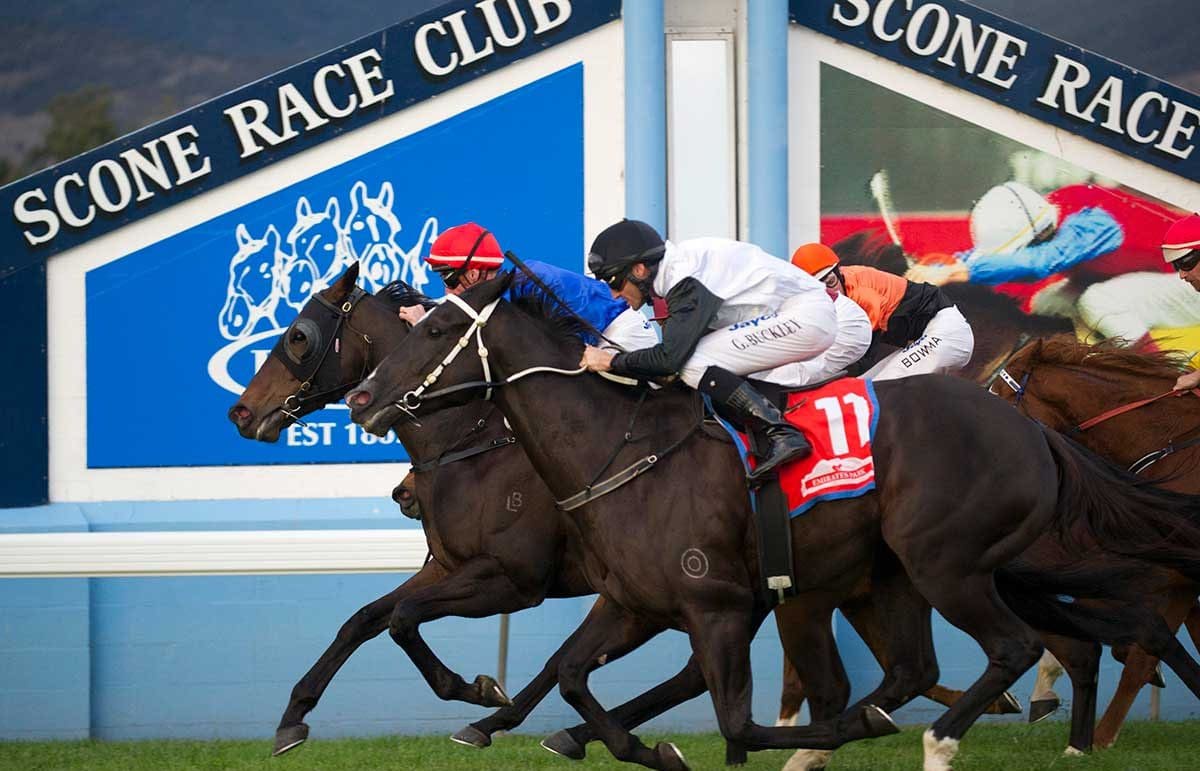 With the strong support of the local breeders and Racing NSW, Scone Race Club made history in 2011 by conducting the first metropolitan stand-alone two-day racing carnival at a country club. With massive turnover and huge crowds enjoying the quality racing, the Scone Cup Carnival held in May has been heralded an ongoing success.
Scone Race Club has won many racing awards and was a finalist or winner of the NSW Country Racing TAB Club of the Year Award 12 out of the past 13 years as well as winning the Most Popular Race Meeting Award in 2010.
In 2011 a function centre was constructed at Scone race track which hosts patrons on race days and is available to hire for private functions such as weddings, birthday parties, dinners and Christmas parties. It is beautifully appointed, and guests can relax and watch the racing action in air-conditioned comfort.
---
Scone horse racing tips
There are many meetings held at Scone each year and our expert horse racing tips are usually released in the days leading up to the meetings.
---
Scone horse racing news
Scone is one of best country racecourses in Australia and we are constantly covering the latest racing news from this track.
---
Scone horse racing track address & how to get there
Scone is located 310km Northwest of Sydney with the horse racing track situated on the outskirts of town at 434 Bunnan Road, Scone.
It is 5km from the Scone CBD and located adjacent to the Scone Airport.
There is ample parking on Scone racecourse. Major Scone race meetings have a shuttle bus service to and from the Scone CBD and there are ride-share services available in Scone.
---
Scone racecourse & specifications
Scone Racecourse is a symmetrical oval offering a 1900m circumference with an average width of 24m. The Scone track comprises of an 1100m chute which provides a straight run of 750 metres to the home turn. A 1700m chute gives runners a straight run along the back straight of more than 600 metres to the 900m turn. The sweeping turns and long 400M straight provides every horse an opportunity to perform.
Scone Racecourse is a major training centre which has four surfaces including the main circuit, grass barrier trial track, fast training cinders track and a sand track.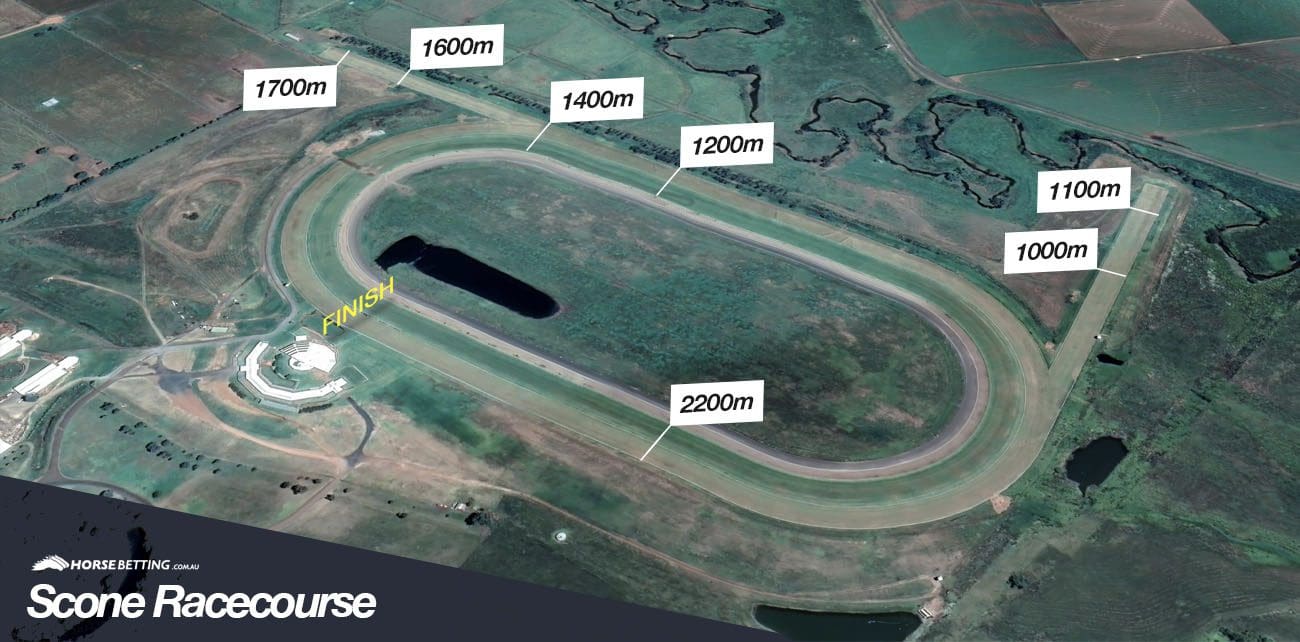 ---
Major races held at Scone race track
The Scone Cup Carnival held in May is the highlight of the Scone racing calendar. The Scone Cup was first run in 1947 at the original location of White Park and became a Listed Race in 2006. The Dark Jewel Classic was first run in 1996 and is the only Group 3 race conducted by a country race club in NSW. The Scone Cup carnival features a stand-alone Saturday meeting in place of a Sydney metropolitan fixture.
Scone Race Club has hosted Country Championship Qualifiers and an annual pre-Christmas meeting is popular for work Christmas parties and families.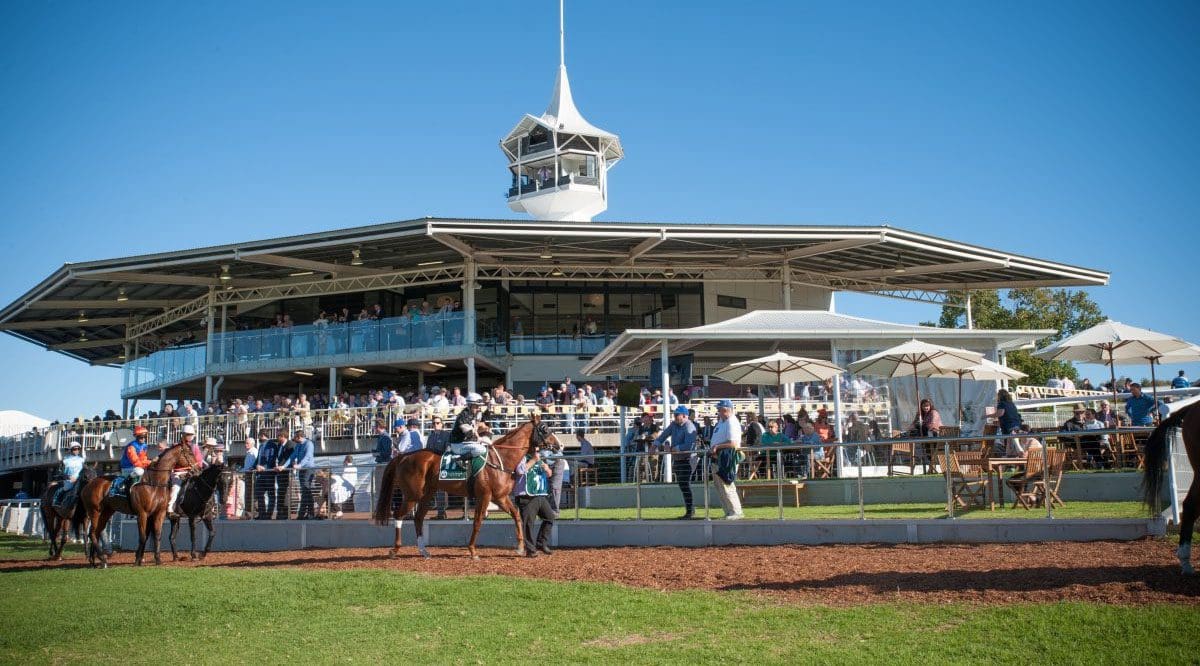 ---
How to bet on the Scone races
Australia's top online bookmakers are the best way to wager on New South Wales Racing, with all horse betting sites offering markets for Scone races, while they may also have futures available, well in advance of the race meetings.
Australian betting sites with markets for Scone may also have bonus codes or referral codes available, with these simply a way to indicate how you found out about any given bookmaker or promotion they are running. Bookie free bets and cash back deals are also common at horse racing betting sites.
Scone Racecourse also has TAB facilities, as well as a Bookmaking Ring, where a number of bookmakers are set up for race days.
---
Scone race dates
Scone Race Club hosts a minimum 17 meetings throughout the year with Sydney, Newcastle and provincial stables always represented.
Scone horse racing trainers
There are around 20 trainers utilising the Scone Racecourse training facilities from either the eight stable blocks situated on-course or bringing horses in from their off-course stables, with around 200 horses working on the track daily. Many who have stables at the Scone track also have their own pre-training and spelling properties close by.
In July 2021, $20 million was allocated to Scone Race Club with $16 million allocated to building more stable facilities and $4 million to install a polytrack. It is expected this will bring more trainers to Scone and up to 400 extra horses.