Doomben Racecourse is one of two horse racing tracks owned and operated by the Brisbane Racing Club, with Eagle Farm being the other. These two tracks are the most prominent in Queensland with Doomben hosting over 40 metropolitan race meetings every year, as well as two Group 1 events – the Doomben 10,000 and Doomben Cup. The first race meeting was held at Doomben in 1993.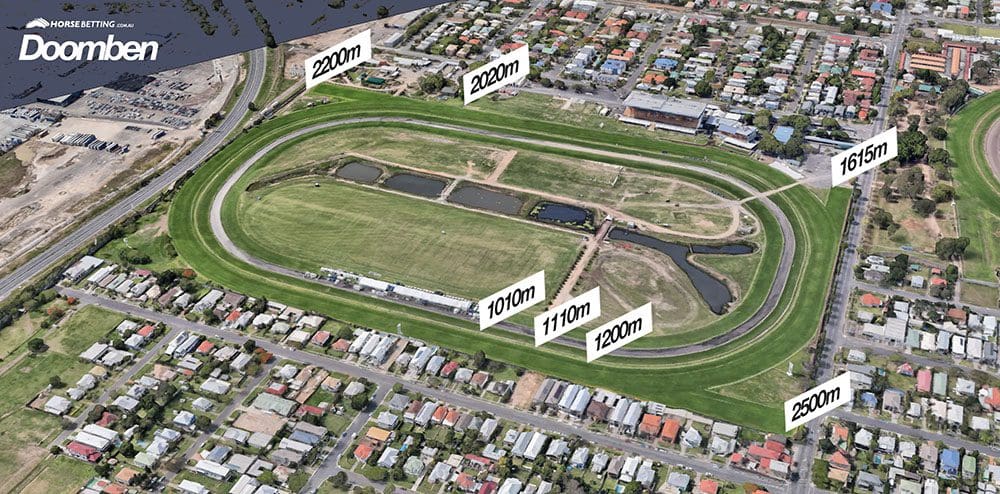 ---
Doomben horse racing tips
There are many meetings held at Doomben each year and our expert horse racing tips are usually released in the days leading up to the meetings.
---
Doomben horse racing news
Doomben is one of best race courses in Australia and we are constantly covering the latest racing news from this track.
---
Doomben address & how to get there
Doomben Racecourse is located at 75 Hampden Street, Ascot, which is approximately 8km from the Brisbane CBD. Four roads make up the circumference of Doomben, with those being Nudgee Road, Raceview Avenue, Southern Cross Way and Hampden Street, which is where the main entrance is.
To get to the Doomben racecourse you can either catch the city to Doomben racecourse train, or via the 301 route bus, which departs from Adelaide St, Brisbane.
---
Doomben race track specifications & details
The course proper at Doomben has a circumference of 1715m, and a 350m straight. There are three chutes at Doomben: 2200m, 1650m, and 1350m, which is a very famous starting point at this track, giving horses a long run along the back straight before the first turn. The Doomben surface is all turf, but it does have a cinder track inside the course proper, which is there for training purposes, along with two other turf tracks – Track 2 and Track 3 – which are also training facilities.

---
Major races held at Doomben
Each year, there are only two Group 1 races held at Doomben, with those being the Doomben 10,000 and Doomben Cup. The Doomben 10,000 is run over 1200m, and is typically held on the second Saturday in May. The 1200m Group 1 feature was rewarded with a prizemoney increase in 2022, so it will now be run for $1,000,000. Some champion horses have won the Doomben 10,000, including the race's inaugural winner in 1946, Bernborough (1946), as well as Manikato (Learn about the Manikato Stakes) (1979), Chief De Beers (1998), Apache Cat (2008 & 2009) and two-time winner of The Everest, Redzel (2017).
The Doomben Cup is run over 2000m and is held seven days after the Doomben 10,000, on the following Saturday. Like the Doomben 10,000, the Doomben Cup was also promoted to $1 million in prizemoney, so some of Australia's top middle distance horses will have this race on their agenda. The Doomben Cup was first run in 1933 – the same year Doomben opened – and it has continued to grow from strength-to-strength, attracting horses like Dandy Andy (1987), Might And Power (1998), Scenic Shot (2009 & 2011) and more recently, Zaaki (2021).
Outside of Group 1 races, Doomben also hosts other Group and Listed races throughout the season, most of which are run over the Brisbane Winter Carnival in May and June, while some are run over the December. Doomben hosts two Group 2 races each May: the Spirit Of Boom Classic (1200m) and The Roses (1800m), which is a traditional lead up to the Queensland Oaks (2200m).
Doomben hosts seven Group 3 races – four in May and three in December – as well as 22 Listed and Restricted races, which are run right across the calendar year.
How to bet on the Doomben races
Australia's top online bookmakers are the best way to wager on Queensland Racing, with all betting sites offering markets for Doomben races on the race day and on the days leading up to Saturday meetings. Traditionally, futures markets are not released for Group 1 events at Doomben until nominations are released, with those usually coming out in late April.
Doomben Racecourse also has TAB facilities, as well as a Bookmaking Ring, where a number of bookmakers are set up for race days.

---
Doomben race dates
There are over 40 meetings held at Doomben each year, with most of those falling on either a Wednesday or a Saturday. In recent years, Doomben Racecourse also hosts a Friday afternoon meeting in the lead-up to Christmas, with the club using that meeting to attract groups of people to the races to celebrate their Christmas parties.
---
Doomben horse racing trainers
Unlike other horse racing tracks, no trainers are based at Doomben Racecourse, as the Brisbane Racing Club offer stables for 480 horses at the infield of Eagle Farm Racecourse, which is directly across the road from Doomben. There are however a number of local trainers who are based in the suburbs surrounding Doomben and use the course's facilities to train their horses.