Top weight Frankyfourfingers far to good in Jebel Ali feature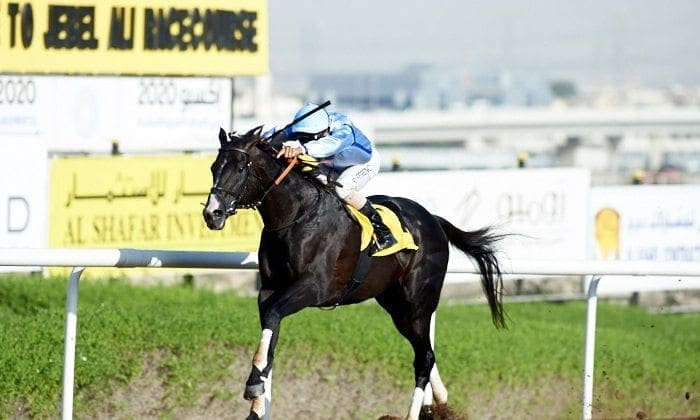 Class prevailed, as it so often does, at Jebel Ali on Friday afternoon when the feature at the final 2017 meeting of the UAE season was won in style by Frankyfourfingers. Facing 11 rivals and conceding weight to them all in the Jebel Ali Mile Prep (Race 3), a 1600m rated conditions race, the winner of the 2015 Al Maktoum Challenge Round 2 (Group 2) was soon in front under Royston Ffrench and always looked in control.
Winning for the first time since that big Meydan victory, when chased home by subsequent fellow Sheikh Hamdan bin Mohd Al Maktoum-owned 2015 Dubai Dubai World Cup winner Prince Bishop, he was making his seasonal debut after just six outings in the interim.
Challenged for the lead early on by Just A Penny, who forfeited ground on the bend, Frankyfourfingers had that rival beaten 600m from home and was never really challenged from there.
Ffrench said: "That was very impressive today on his first visit here to Jebel Ali, which has really suited him. All his preparation coming into the race had gone well and he is, really, a lovely horse and a big favourite in the yard. He is fragile and has not raced that much, so a lot of credit must go the trainer and the team in the yard. They have done a marvellous job with him."
The trainer to whom Ffrench alludes is Salem bin Ghadayer and they were celebrating a rapid double, as was the owner. On paper, the 1800m handicap on the card (Race 2) looked ultra-competitive but, in reality, very few of the 14 runners were ever able to get involved.
Ffrench was soon in pole position on Aslan and had the race under control halfway up the long straight. It was virtually a carbon copy of the horse's 1950m course handicap victory at the very first meeting of the UAE season, other than Xavier Ziani was aboard on that occasion.
Ffrench said: "Being drawn wide was not a problem because this horse has plenty of tactical speed and once I managed to get to the front early on, I was always happy. Everything worked out very well for him today and he has won very well."
Aslan must hold a special place in his trainer bin Ghadayer's heart, as he was his conditioner's first ever winner, at Meydan in January 2015.
A fabulous afternoon for trainer and jockey continued when they made it three consecutive victories, this time with Galles who was always in the first two before hitting the front 700m out in a handicap over 1950m.
A thrilled Ffrench said: "Obviously, this is great and a treble very special, especially for the team and I am very lucky to be part of it."
Mohammad Farooq-owned Galles, like Aslan, was also recording a second Jebel Ali victory this season. In his UAE debut in November, he actually beat that very same stable companion in a handicap over 1800m.
Bin Ghadayer said: "We thought we had some good chances today and it has been a good afternoon. All three have won well and it is a great credit to all our team to enjoy such occasions."
Thirteen transpired to be the lucky number for Cachao, who opened his account in the 1400m maiden, his 13th racecourse appearance. Never far off the early pace under Dane O'Neill, he always appeared to have the beating of early leader, Barjeel. With less than 200m to run, they swept past him and the race was over.
Winning trainer Satish Seemar said: "Dane has given him a very good ride and they were always being challenged but kept on battling. The horse has needed a break after a few problems and has not been the easiest. Hopefully now that is a win he can build on as he should improve both fitness and confidence wise."
The finale was a 1200m handicap and, again, racing prominently was the best place to be. On this occasion local debutant Farook was never headed under Jim Crowley.
Formerly trained in England by Charlie Hills, for whom he won once in seven starts, the 3-year-old gelded son of Raven's Pass clearly took to the Jebel Ali dirt and his new trainer, Erwan Charpy, did not sound overly surprised.
"He has been showing us a lot of speed at home so we were very hopeful but, until you race them on dirt, you never really know," Charpy said. "He has taken to it well today and that was a good performance. I am not sure where we will go next but this certainly gives us options."
The fixture opened with the only Purebred Arabian contest on the card, a 1600m conditions race, which was ultimately won comfortably by Mukaram, representing the ever powerful Al Asayl. Surprisingly, it was a first ever Jebel Ali winner for trainer Eric Lemartinel.
Homebred by HH Sheikh Khalifa bin Zayed Al Nahyan and having just a fourth career start, all this season, the winner was following up his 1600m Al Ain maiden two weekends prior. Slowly away under Tadhg O'Shea, Mukaram was in the rear half of the field for much of the race which was run at a fierce gallop. Still nearer last than first entering the long straight, they edged closer as, unsurprisingly, the early leaders weakened. Suddenly O'Shea was on the heels of the winners and, 200m out, in front and running away from their 15 rivals.
The jockey said: "He is clearly still very inexperienced and has made a mess of the start. This 1600m at Jebel Ali is not a good place to do that and I was just hoping to stay in touch. This horse is learning all the time and, luckily, they went very fast up front which has suited us because he is a strong stayer. Basically, at the end of the day, it was his stamina which has gained the day and I am delighted to give Eric his first Jebel Ali winner!"