Toby Edmonds to put lid on Houtzen hype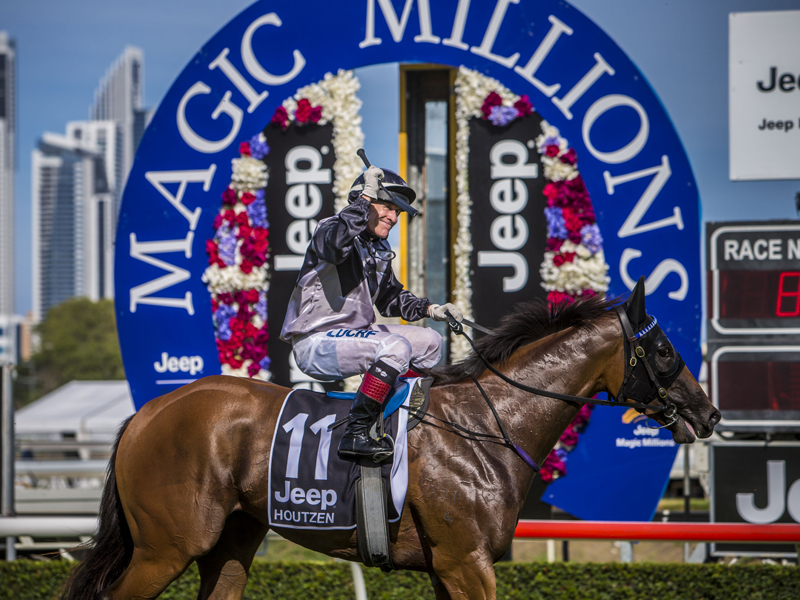 Toby Edmonds wants to keep a lid on the hype surrounding Houtzen's quest for the Golden Slipper.
Gold Coast trainer Toby Edmonds is determined to keep the lid on the hype surrounding star filly Houtzen's quest for the Golden Slipper.
Houtzen firmed to outright second favourite at $4.40 for the $3.5 million Slipper at Rosehill on March 18 after lumping 63kg to win an Eagle Farm two-year-old handicap on Saturday.
It was the biggest weight carried by a two-year-old filly to win in Brisbane since eight-time juvenile winner Strong Queen carried the same weight at Eagle Farm in 1972.
Champion Queensland juvenile Eye Liner carried 66kg and 69kg to win at Eagle Farm in her final two runs before heading to Sydney to win the 1965 Group One Champagne Stakes.
Edmonds will not only have the expectations of Houzten's owners but also those of the whole state in the Slipper.
Queensland has had 36 locally trained horses in the Slipper dating back to Pharonic in 1963 for two winners, Calaway Gal in 2002 and Phelan Ready in 2009.
Edmonds said he realised he would be under pressure in the coming fortnight but was determined to stay cool.
"This will be my first Golden Slipper runner which is exciting in itself," Edmonds said.
"There is a big contingent of owners and friends who are already booked for a Golden Slipper function at Rosehill on the day so it will be great.
"My job is to stay focused and get Houtzen as fit as she needs to be. She will stay on the Gold Coast until next week."
Jockey Jeff Lloyd will be having his first Slipper ride and the veteran said Houtzen rated among the most promising horses he had ridden.
"The only problem I had on Saturday was the 1000 metre start," he said.
"You only get 100 metres before the first turn, so any mistakes out of the barrier can be very costly.
"But she came out quickly and the I was able to ease up to help teach her to settle better in her races."