Time Warp seeking to secure a rare double in G1 Stewards Cup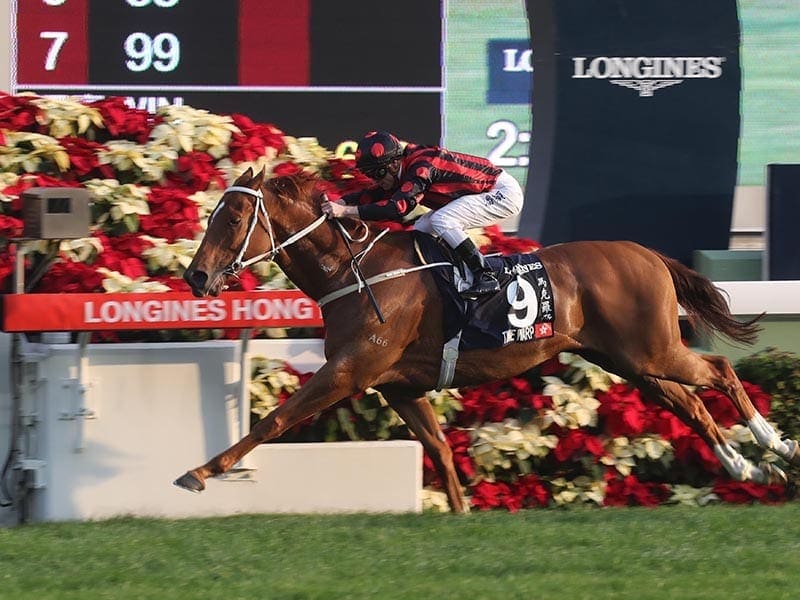 Time Warp's rivals had a good view of his heels and not much else when the strapping chestnut galloped to victory last month in Hong Kong's richest race, and in Sunday's (28 January) HK$10 million Group 1 Stewards' Cup (1600m) the front-runner will attempt a rare double over a distance short of his optimum.
No horse has ever paired a Stewards' Cup win to prior success in December's beacon race, the Group 1 Hong Kong Cup over 2000 metres. Specialist milers rule the Stewards' Cup honour roll, but jockey Zac Purton takes the view that Time Warp might own the attributes needed to upset his nominally speedier rivals.
"I think he's got enough pace to be able to handle it," Purton said. "Obviously, he's going to get a little bit more pressure for the lead, he's probably going to have to work a little bit harder to get there, but he's shown previously in his races at Happy Valley and his 1800-metre race here at Sha Tin that it's not a distance he can't handle.
"It's just a matter of getting him in the right rhythm and getting him comfortable so that he can give us his best."
Time Warp found that rhythm in the Hong Kong Cup last start, bounding along at the head of a Group 1 field; untroubled against the breeze; quickening down the home straight for an impressive two and a quarter-length triumph. It is tempting to toy with the notion that Purton enjoyed too easy a lead.
"It's hard to say," the former champion jockey said. "When you're the underdog, you don't have that target on your back, do you? I was able to do things my own way which was nice; it's not going to take a genius to figure out that they're not going to let me do that this time.
"He's a competitive horse," he continued, "so whenever something comes to him, he wants to make a race of it. He wanders a little in his races, too, he drifts out around the corners and he can run in or run out in the straight, so he's always thinking and always watching what's going on around him.
"Every time you have more pressure put on you during the middle stages, it has some type of effect, so until we're put in that position we're not going to know exactly how much he'll find at the end. Would he have still won last time if he'd had more pressure on? It's hard to say. He did have a comfortable margin at the line."
Time Warp's time of 2m 01.63s was solid, the seventh fastest in the Hong Kong Cup's 19 editions at 2000m; while slower than A Shin Hikari's extraordinary trailblazing win in 2015 and Maurice's dominant score in 2016, the Archipenko gelding still ran home faster than all of the preceding six winners.
And Purton believes there is more to come from trainer Tony Cruz's charge, the 1800m track record holder at Happy Valley. The five-year-old, a four-time winner since import, rounded out last term with a 1650m win at the sharp city track and another over Sunday's course and distance in a talent-packed Class 1 handicap.
"Previously he has cruised along at fast sectionals in races and kept going, so I think there probably is a little bit more there. I'm hoping there is, anyway!" Purton said.
Looking beyond Sunday's feature, the Australian ace sees no reason why Time Warp cannot build on that breakthrough Group 1 win, which came at his first attempt in the grade, and go on to boss the 10-furlong division. Next month's G1 Citi Hong Kong Gold Cup (2000m) is the aim after this weekend's mile test.
"I think it's possible that he could because he's got that racing style where he's always going to give himself a chance; and he's still a relatively unexposed horse here in Hong Kong – he's only just starting to mature and find the best of himself at the moment," Purton said.
"He has his little habits in his races but he doesn't do anything overly wrong that's going to keep taxing him or put any undue pressure on himself. I think he's a horse that might be able to maintain his form over a couple of seasons.
"When you look at the horses here at the moment over the longer distances, we've only really got Werther; a couple of the four-year-olds will probably put their hands up, but it's not a vintage crop of mile and a quarter horses right now, so he has his chance to go on and put another couple of those races together if he can."
Time Warp's Stewards' Cup rivals could include the past two winners of the Group 1 Hong Kong Mile, Beauty Generation (2017) and Beauty Only (2016), as well as past Stewards' Cup winners Helene Paragon (2017) and Giant Treasure (2016). Triple Group 1 winner Werther will also take his chance, while emerging talent Fifty Fifty is among the exciting entries.