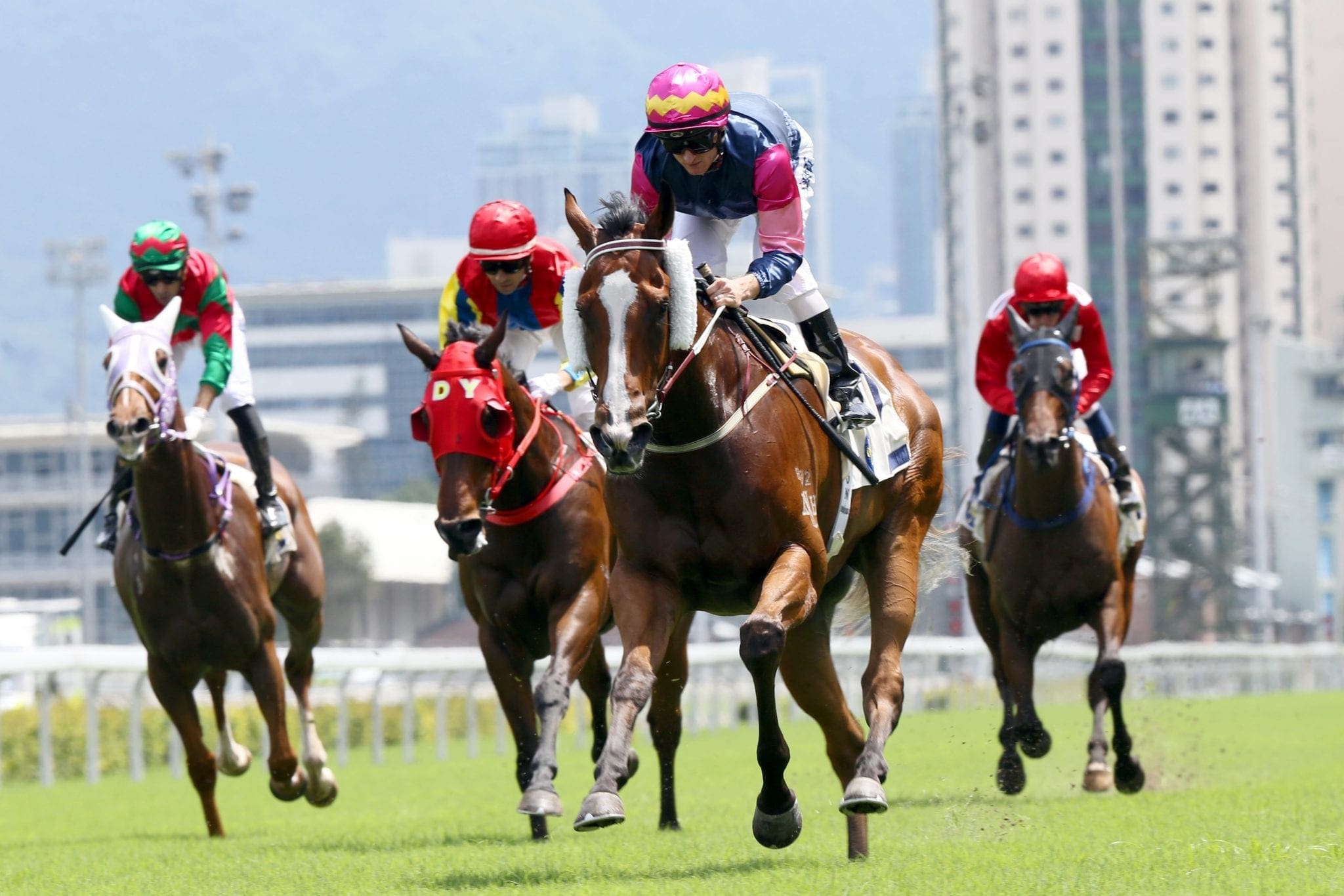 Thanks Forever (131lb) showed again that he is a talent worthy of a bit of hype. The three-year-old built on his recent impressive score to remain unbeaten in three.
"It was very easy, he's obviously a talented horse," Zac Purton said. "He wanted to hang in a little bit today, which he didn't do last start, so I don't know what that was about, but there was a strong tailwind behind us so I knew that we would run a fast time. He went out and did that so he has a nice future."
Trainer John Moore attributed the hanging to "possibly just a little shoeing issue".
The Duporth gelding swept through the Tuen Mun Public Riding School Handicap (1000m), surfing a tail-wind to a winning time of 55.11s; recording splits of 12.96s, 19.93s and an easing down 22.22s. The 1.2 favourite finished two and a half lengths clear of runner-up Multimillion (132lb).
"It's great to have a top sprinter coming along for next season's big sprints," Moore said "We're lucky we've got Aethero also, who is a year behind, but that's two very nice horses on the up and up.
"It's exhilarating to watch a horse like that do what he does, but then again it's Class 3, he's got to move up the grade and they are going to get closer to him next time. I'm just lucky I've got another really decent horse on my hands with Group potential."
Moore, with a four-timer today, is still chasing the trainers' title and closed the gap to five wins adrift of champion and leader John Size. The handler said, "I think it'll go right to the line, right to the last day," and confirmed that he intends to send his rising star to war once more before the season ends on 14 July.
"This horse will run again on 1 July, a 1200-metre Class 2, and that might be the end of it for the season," he said.
"It's just an amazing day, everything's fallen into place. Four winners – the telescopic sight has got a little bit smaller. I think I've got the ammunition but John Size also has some '400 series' the (Class 4 newcomers) so I'm watching.
Moore wrapped up his four-timer with the Karis Teetan-ridden Beauty Energy in race nine, section two of the Class 3 Lung Mun Road Handicap (1400m). He also saddled Private Rocket to a breakthrough win in section one of that race, a success that gave jockey Vincent Ho his 50th of the campaign.
He made it 51 in the finale, the Class 3 Pok Fu Lam Country Park Handicap (1200m), when the Francis Lui-trained Golden Sixty completed a hat-trick with a battling effort.
"I didn't expect this season to go as well as it has but it could always be better, so I'll still work on improving. This summer I won't have a break, I'll keep riding and keep improving," Ho said.
"I got some interference on Golden Sixty but I let him have a breather when he got squeezed and he came again. He finished strongly."
Ho's previous best total was 39 wins, achieved when he was crowned champion apprentice in 2010/11.