Tasmanian raider Jerilderie Letter seeking Flemington success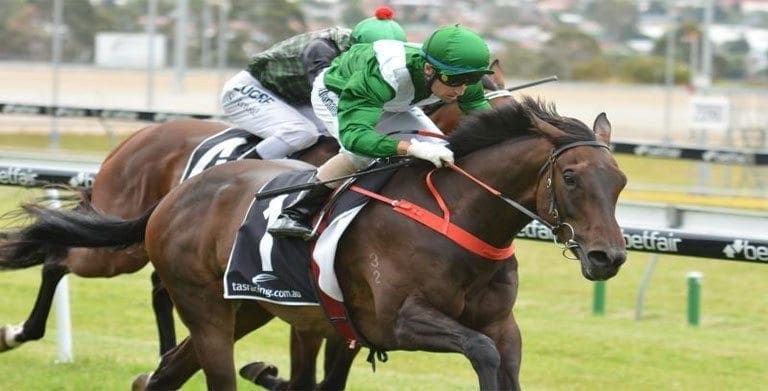 JERILDERIE Letter might not have won in over a year, but the former Tasmania Derby winner has plenty more to give this season.
The Adam Trinder-trained four-year-old travels from Tasmania to Flemington this week to contest Saturday's $100,000 Mitty's Handicap and it looks one of the top winning chances for Trinder who is expected a good effort.
Jerilderie Letter constructed four consecutive wins last season which included the Listed Tasmanian Guineas, Listed Hobart Guineas and the Listed Tasmanian Derby, which was recently taken out by subsequent Moonee Valley winner Northwest Passage.
Despite a run of outs for the son of Bushranger, it has been running well and its second placing behind Hellova Street last start at Launceston should be a good form guide for Saturday, considering it defeated the highly-talented Admiral.
"They're really good horses in their own right, but take nothing away from our horse," Trinder said. "His last win was in the Derby 12 months ago, but he's earned $80,000 in the interim from placings and he's been racing really well."
Jerilderie Letter has had three starts in Melbourne last season for three placings and Trinder is hoping to find the right level of racing for his stable star.
"We're just trying to find his level where he fits in right. Whilst he's weighted up for Saturday, he'll run really well even with a big weight," Trinder said.
"This race on Saturday is quite a highly-rated race in itself. There's only eight in it, but they're all up there around the 59kg-61kg, so it might work better this time around."
Trinder is happy with how the gelding has progressed since its run last month and he believes it's up for the challenge on Saturday.
"He came through it really well," Trinder said. "The 10 day back-up with travel is a query, but he gave me no reason not to challenge him and he's a very honest little horse and he's never let us down when we've set him a task. I don't see this assignment as being any different, he'll run very well."
After racing over the longer distances throughout its three-year-old year, Trinder said its best distance is now over 1600m.
"He's happy at the mile. We stretched him back out to 2000m this preparation and whilst I know he's a guineas and derby winner, he was probably just Johnny on the spot throughout his three-year-old year.
"He was just a horse which was bright and buoyant about himself, which enabled him to get the trip. I always had a question mark on him as to whether he's a genuine stayer.
"I think he's best suited at the mile and Steven Arnold rode him over 2100m where he cantered up to them at the corner and bottomed out late.
"He probably struggled at the mile and a quarter, so we'll bring him back to the shorter journeys, which he did last start over the mile and he attacked the line, I think that's where he's best placed."
Trinder is expecting Jerilderie to settle near the tail of the field with Luke Currie in the saddle, before making its run in the straight.
"I think he's a very good chaser over the mile, so he'll be fifth, six or seventh in the run, probably only a couple behind him there in a small field and a long straight," Trinder said.
"He'll definitely come out and present and look like a winner at some stage."
Trinder will take this season race-by-race, but all things going well on Saturday, he will likely set Jerilderie Letter for the Group 2 Blamey Stakes at Flemington.
"This is the tell-tale race to a certain extent. We know he fits in at Melbourne, but we'll just see how he fits in this time of the year," Trinder said.
"If he goes there and gets the job done he'll probably take his opportunity in the Blamey Stakes in a fortnight's time.
"It's just a run to test the waters to a certain extent, but I felt he'll shape up."
Jerilderie Letter is currently $7 with Bet365.com.