Talented but troublesome Euphoria records stylish win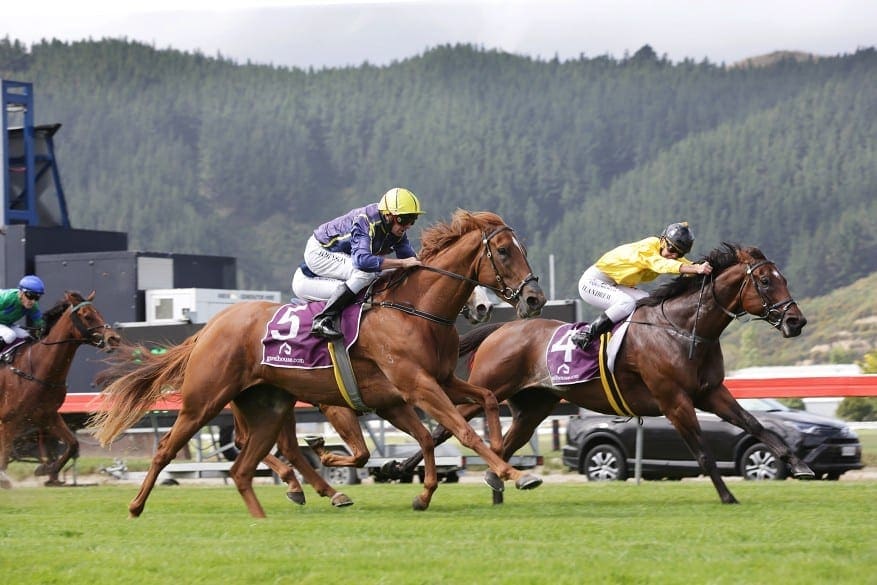 The experience and guile of leading rider Chris Johnson was on display for all to see as he guided enigmatic mare Euphoria to victory in the opening event at Trentham on Saturday.
The talented Rip Van Winkle mare has a reputation of being a real handful at times and she looked to be in that sort of mood when she started to over-race during the early stages of the Dixon and Dunlop Premier (1400m).
Johnson was having none of it as he calmly kept her on an even keel as she settled down during the mid-stages before easing her to the outside of the seven-horse field to make her challenge. Balanced up at the 300m mark Euphoria produced a sustained burst of speed to snatch victory in the final few strides from The Bandito, who fought gamely after making the pace throughout.
Johnson was his usual unassuming self as he discussed the ride after the race.
"She can go a little bit fierce which is just the way she is," he said.
"After we had gone a couple of furlongs she was quite alright about it.
"I thought I might have been a bit handier in a small field, but she had a couple of lengths to make up which she did.
"I was always travelling well but I did wonder how much she would find when she got to the outside, but she found enough."
Trainer Rachael Frost was succinct about the key to the mare's ability as she discussed what was in store for her.
"She's just an angry b%&ch," she said.
"She didn't relax as well as she needed to, but she'll get there.
"We generally give her three weeks between runs, but we might go to Awapuni in a fortnight or maybe wait another week."
The victory was the first leg of a winning double for Johnson who took out the day's main event, the Gr.1 Al Basti Equiworld Dubai New Zealand Oaks (2400m), on Savvy Coup later in the programme.