Surprise Singapore success for Kiwi owners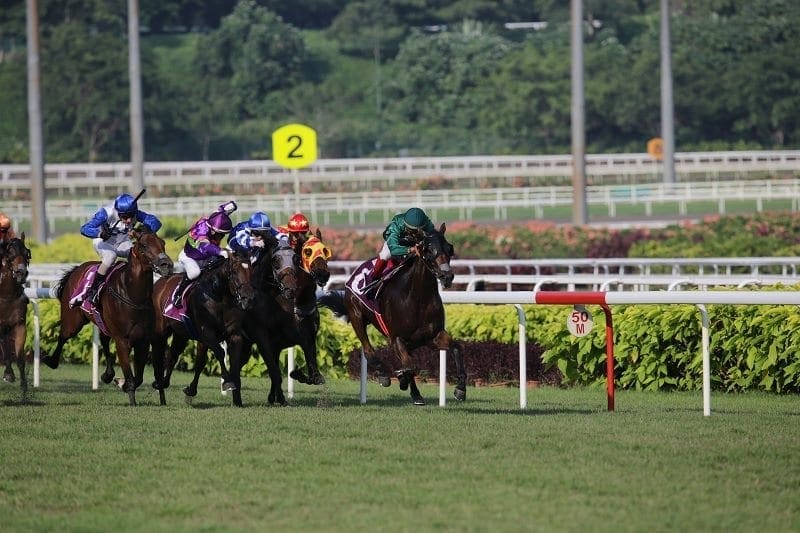 NEW Zealand owner Graham Mackie and his wife, well-known racing photographer Trish Dunell, have once again enjoyed elite-level success in Singapore after Gilt Complex landed an unexpected win in the $700,000 Raffles Cup on Sunday night.
The win of Gilt Complex was a shock for punters and owners alike, after the son of Gold Centre saluted by two-lengths, returning $51 via Ladbrokes for Australian conditioner Cliff Brown.
Dunell said the win was completely unexpected.
"Neither of us were there," Dunell said.
"We would have gone had we had another runner with a decent chance, but there were some pretty big race meetings here in New Zealand this weekend."
Ridden by Harry Kasim, Gilt Complex sat on speed throughout and won by nearly two-lengths.
The owner said the horse had been previously set for another big race in Singapore, but the scenario did not unfold as planned.
"We thought he was a going to be a good light-weight chance in the Singapore Gold Cup last year, as that's his distance, but he just failed to make the field," Dunell said.

Gilt Complex will get his chance in this year's $1.35 million Singapore Gold Cup on November 12 as he looks to add to his career prizemoney of $800,000.
"I am a bit scared that he will get too many points and get weighted out of it," she said.
While Dunell bred Spalato, Gilt Complex was a relatively modest yearling buy, but the investment was well worth the purchase price.
"We asked Anna Scott to buy some cheapies for us at the Karaka Sales and he was bought for $10,000 at the Festival Sale. He's out of a Zabeel mare and I love that. He was a beautiful type," she said.
"Anna broke him in, but she got the opportunity to train in Malaysia soon afterwards so we sent him to Shaun Clotworthy where he won his first trial very easily as an immature two-year-old.
"We realised he had potential and sent him to Singapore."
Originally trained by John O'Hara, Gilt Complex later joined the stable of Cliff Brown.
Gilt Complex has finished in the first three on 15 occasions from 25 starts, and the team is confident the horse will be a true competitor in the race they originally targeted.
"We will definitely be up there for the Gold Cup," Dunell said.