Star apprentices Thornton and Brown graduate with top honours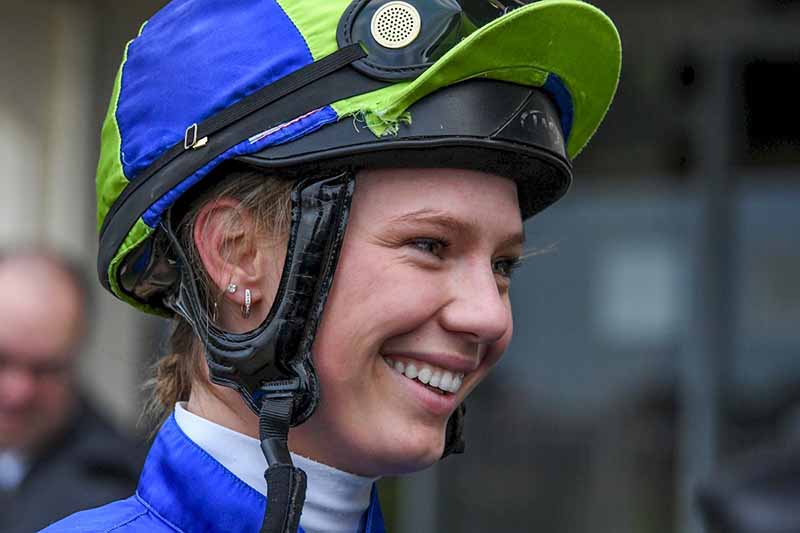 Stephanie Thornton and Ethan Brown have been rewarded for their outstanding progress in the saddle after claiming prestigious awards on a night when 11 young hoops officially graduated from Racing Victoria's (RV) Apprentice Jockey Training Program (AJTP).
Thornton, the third member of her family to graduate from the AJTP after her elder brothers Boris and Damien, was named the Victorian Jockeys Association's Outstanding Apprentice Jockey, whilst Brown took home the Andrew Gilbert Principles of Sports Science Award.
The pair went head to head in the 2017/18 Rising Stars Series, with Brown eventually prevailing in the final leg, but Thornton gained a measure of revenge by becoming the second successive female apprentice – after Jess Eaton in 2017 – to take home the top prize at the graduation ceremony.
Brown's breakthrough season culminated in the 19-year-old from Alice Springs finishing third in the Victorian metropolitan jockeys' premiership, with an impressive tally of 49 wins in town.
The graduation ceremony, which was hosted by racecaller Matt Hill at Flemington Racecourse, also saw Ben Allen recognised for his remarkable riding prowess with the RV Elite Apprentice Jockey Award.
Allen, who outrode his claim just over 18 months into his apprenticeship, recently notched his 300th career win at the tender age of 19.
BEST ONLINE BOOKMAKERS FOR HORSE RACING
He was joined at the ceremony by his fellow graduates Anthony Boyd, Stephen Brown Jnr, Alexandra Bryan, Georgina Cartwright, Harry Grace, Leticia Griffin, Lachie King and Liam Riordan. Between them, the 11 graduates have ridden more than 1,100 race winners since joining the program four years ago, with over half reaching a century of wins.
All the apprentices were presented with a memento of their four years in the AJTP by RV CEO Giles Thompson, who praised their work ethic and determination to succeed in the saddle.
"With such a rigorous selection process, just getting a place in the Apprentice Jockey Training Program is competitive enough, so to complete four years of intense training is a real testament to their characters and an achievement these young jockeys and their families should be rightly proud of," he said.
"They would have grown up an awful lot over the past four years, both in and more importantly out of the saddle, which is a great credit to all the staff in the program who nurture these apprentices and provide crucial support.
"This is not the end of their education as a jockey – in many ways, it is just the start – but as they make their way in this tough profession, it must be reassuring for them to know that they have enjoyed the best possible schooling from the likes of Matt Pumpa and Darren Gauci, who know what it takes to make it to the top of the trade.
"So we congratulate and applaud these apprentices for making it this far, and wish them the best of luck in their future careers."
Over the years, the AJTP has earned a reputation as a breeding ground for the future stars of the saddle, with five-time Scobie Breasley Medal winner Craig Williams and more recent graduates Ben Thompson and Beau Mertens amongst the jockeys to have emerged from the program.
The four-year scheme provides specialist training in key areas such as race riding, performance analysis, sports science and sports medicine, as well as media, finance and business skills.
Importantly, the program not only prepares riders for the rigours of life as a domestic jockey, but also develops them into high-performance athletes capable of riding in racing jurisdictions across the world.
The full list of graduates (and their employers) is as follows:
• Ben Allen (John Allen)
• Anthony Boyd (Matt Cumani)
• Ethan Brown (Michael Kent)
• Stephen Brown Jnr (Stephen Brown Snr)
• Alexandra Bryan (Vincent Nolen)
• Georgina Cartwright (Henry Dwyer)
• Harry Grace (Robbie Laing)
• Leticia Griffin (Pat Cannon)
• Lachie King (Gerald Egan)
• Liam Riordan (Ciaron Maher and David Eustace)
• Stephanie Thornton (Glenn Thornton)