Silverstream tips out stablemate in Jungle Dawn Classic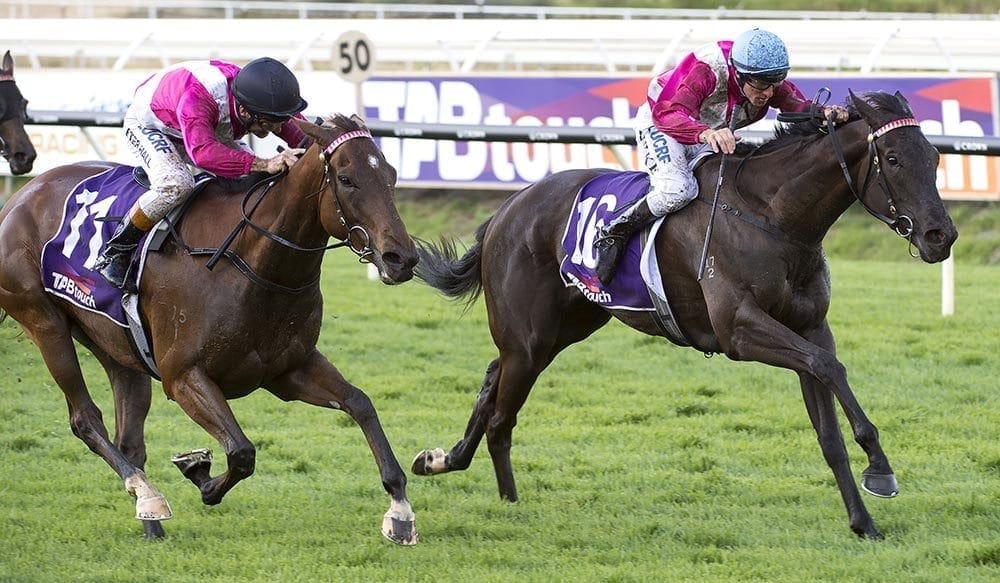 SILVERSTREAM has overturned an ordinary run of form to salute in the Jungle Dawn Classic at Ascot at double-figure odds to beat out stablemate and short priced favourite Cosmic Storm.
The five-year-old mare was given a gun ride by champion jockey Damien Oliver, who took the inside alley to get Silverstream over the line at a $25 price with Sportsbet.com.au, ending a winless streak that extended in excess of 12 months.
Silverstream beat out prodigious six-year-old I'm Feeling Lucky ($2.20 to place at Crownbet.com.au) who looked the likely winner before Oliver emerged and Krakka Vision, who ran a spectacular race to return $6.60 at Sportsbet.com.au.
Short-priced favourite Cosmic Storm did plenty of work early in the race and failed to sustain its run.
The win was Damien Oliver's second winning ride for the day aboard a horse that finished six lengths behind Cosmic Storm at her last start.
The seven-time Scobie Breasley Medal winner said he relied on luck to get the horse into the clear at the right time, but always had faith Silverstream had the ability to close the race out when it mattered.
"The luck came," Oliver said when asked if he was worried about being caught in traffic at the 150m mark.
"She's got a great turn of foot when you want it… she came late and she had the acceleration to go through them."

Winning owner Bob Peters praised Damien Oliver's ride which looked to be the difference in a well contested race.
"Damien Oliver might have helped," Peters joked when asked how his horse was able to end a year-long winless spell.
"I said in an article this morning you put him on a horse and they improve three lengths but I think he improved it six."
Peters said that the horse may have been viewed as a sprinter rather than a middle-distance horse and confirmed they may look to the Listed Starstruck Classic as a race she can compete well in.
"[Silverstream's trainer Grant Williams] and I had a discussion just before the race, and we were talking what was wrong with her… we were thinking about what we can do, then she comes out and does that," he said.
"We'll push on and increase the distances, because several times she's been the victim because I've kept her in the shorter races."
"I thought of her more of a sprinter, so she may have suffered because of that."