She Will Reign becomes princess of the track in Golden Slipper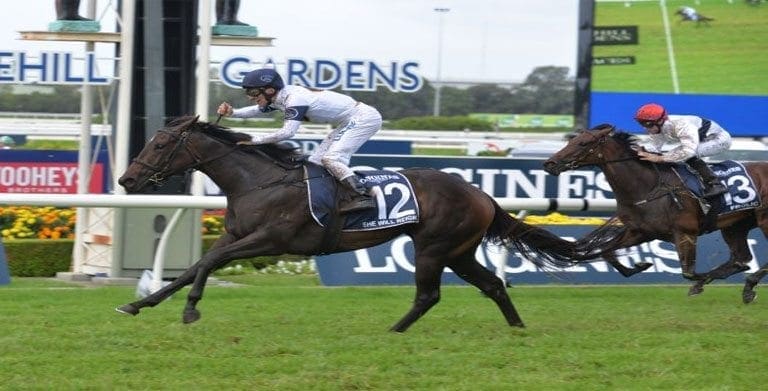 SHE Will Reign was princess of the turf when taking out Saturday's $3.5 million Golden Slipper on a wet track at Rosehill.
The Gary Portelli-trained filly was well-favoured in the Slipper betting markets for months, but a defeat last start in the Reisling Stakes suggested it was on the back foot.
The $20,000 purchase by Darby Racing dispelled those fears come the Slipper by tearing away on the heavy track to score an impressive victory at odds of $8.40 with Ladbrokes.com.au.
Jockey Ben Melham was suggested to ride it forward from Gary Portelli, but Melham wanted to ride it cold and that proved the winning tactic. She Will Reign hugged the rail and kicked inside of Houtzen, which set a torrid pace up front, and She Will Reign never looked like being run down.
"What an absolute thrill, the whole way through she has been a little darling this horse and she hasn't put a foot wrong, she is not overly big but i tell you what she certainly makes up for it with all heart," Melham said.
"Gary and the team have done a tremendous job with this filly and has prepared her for a hard Golden Slipper run and you certainly need a fit horse in these conditions today.
"All the credit goes to Gary really he has done a great job and here we are we have won a bloody Slipper."

Melham had planned to ride She Will Reign back in the field all day, but when Portelli asked him to ride forward, Melham was a little confused.
"Gary confused me he wanted me to get her out and sit handy and all day I had a plan in my head I walked the track just before the Guineas and was happy to ride hard rail," Melham said.
"I was able to suck up into a beautiful spot before the corner and she did the rest."
It was fair to say that Gary Portelli was over the moon with the win – his first Golden Slipper win. The popular trainer described the Golden Slipper as a "race that defines a trainer."
"What just happened. Can I watch the replay?" Portelli said. "I said she'd win on a dry track but to win on a wet track is just phenomenal.
"I started training back in 1990, have been in the game since 1986. This is the race that defines a trainer I believe.
"I've been around a long time but I've finally got a Golden Slipper winner. I've had a few goes."
Portelli made light about Ben Melham's decision to go back and defy his trainers' orders.
"That's why we pay him the big dollars," Portelli joked.
"That was unbelievable. I spoke to the jockey before the race and said to him 'I think we have got to go forward'.
"He went quiet and said 'I think I'm going to go back to last. I am cutting the corner, I'm on the best horse and I'm going to ride her like I did in the Silver Slipper."
Winning the Golden Slipper was a dream come true for Portelli, who has enjoyed success for many years in Australia, but the Slipper was one race that eluded him.
"This game has taken me a long way. I struggled to get through year 10, I was a battler working a night shift in a bakery but my dream was to become a city trainer," Portelli said.
"I've been able to train horses and go to Royal Ascot. This game has taken me a long way. It goes to show to anyone out there who is not sure what they're doing in life that if you like something and want to do something, stick at it, work hard and days like this might come."
The Reisling Stakes was the best form coming into the Slipper as Frolic rallied well along the inside to finish second.
Jockey Tommy Berry wasn't entirely happy with the ride of Ben Melham, but believes his runner will progress nicely into the autumn.
"The winner took my spot, he put me up the rail to get there. She was gallant in defeat and she looks like the perfect horse for the Sires and Champagne," Berry said.
Tulip was promoted to third after Menari caused interference in the straight. Menari's jockey Corey Brown made a statement prior to the enquiry.
"Super run considering from the word go he never handled it. He dipped and dived but had the audacity to get up and run third. Very good," Brown said.
Jockey Jeff Lloyd made an interesting comment regarding race-favourite Houtzen. Lloyd said it was travelling well leading into the straight before things went wrong around the corner.
"She travelled well in front until she hit the course proper and her legs just went everywhere," Lloyd said.
"The winner came past me very quickly, take nothing away from her, she put this filly to rest very quickly. She fought to the line but she never handled the conditions at all."