Shakespearean Lass ends winter of discontent at the Valley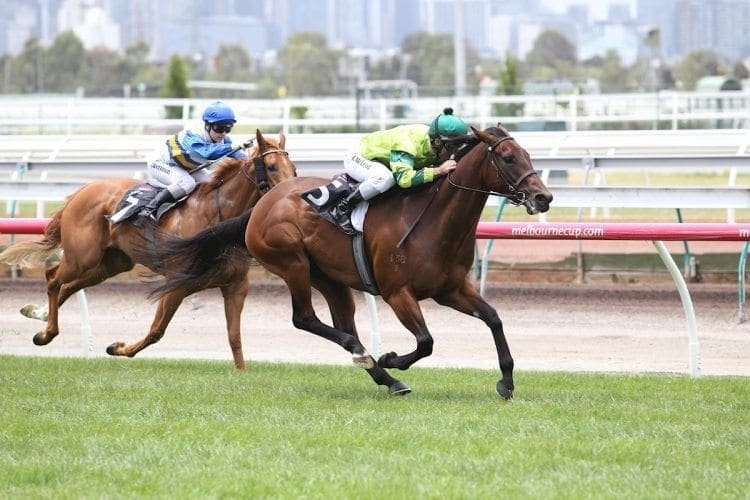 THE Pat Carey-trained Shakespearean Lass overturned a five race dry spell to salute as a $42 outsider at Sportsbet.com.au after sweeping late to take out the Montmorency FC Handicap at Moonee Valley.
The five-year-old mare had not won a race since February of this year, with the win reversing a run of form that had seen her finish in the bottom three of the last four races she had competed in.
Shakespearean Lass defeated fellow long-shot Sunday Escape ($15.80 to place at WilliamHill.com.au) and Runsati ($5.80 at Crownbet.com.au) to record her sixth career win at start 18.
Trainer Pat Carey said the win at the Valley provided a peculiar accolade for the Written Tycoon product.
"Uniquely she's won on every metropolitan track which is something you don't see from a lot of horses," Carey said.
The trainer said a gear change helped improve his mare's run at Moonee Valley, a track she had previously failed to place at in the last two starts.
"Previously she's had a bit of trouble handling the chute coming out of here, we trailed her the other day … we put a tongue tie for the first time and Rhys [jockey Rhys McLeod] was adamant it would be a positive gear change for her and it certainly showed out today."

Jockey Rhys McLeod said the speed at the front of the race gave his mount the perfect trail into the event and the horse capitalised when the run presented itself.
"I thought she was right in this race really … the run presented itself at the top of the straight [and] she sprinted well," McLeod said.
The jockey said time off the track was ideal for the five-year-old.
"She didn't quite come up earlier in the spring, Pat just gave her a month off and brought her back, she's spot on."
Trainer Pat Carey confirmed in the aftermath of the win that Shakespearean Lass will race deep into the Australian summer.
"The most important thing for her is that she's a mare that has returned to form." The trainer said.
"It's not easy getting five-year-old mares back into form, particularly when they've had quite a few misses, but we gave her a break and we just kept persevering and the summer might be good for her."