Railway Stakes NZ
Group One Betting Guide
| | |
| --- | --- |
| Date: | Wednesday, January 1, 2020 |
| Location: | Ellerslie |
| Prize Money: | NZ $200,000 |
| Distance: | 1,200m |
---
THE Group 1 New Zealand Railway Stakes is a featured sprint race held at Ellerslie on New Year's Day with the quality of past winners top class.
With a purse of $200,000, it's not the stake money that attracts trainers from New Zealand and Australia to compete for the Railway Stakes, rather it's the history behind the race which makes it a must-win for the sprinting types.
Past winners include Bounding, Imananabaa, Egyptian Raine and Mr Tiz which won three consecutive Railway Stakes.
It has also been won by two Australian-trained runners with Atomic Force in 2012 (ridden by Nash Rawiller) and 2010 winner A Gold Trail which won with Michael Rodd in the saddle.
The Railway Stakes is always the most exciting race held on New Year's Day at Ellerslie which is rated as the best track to bet on in New Zealand.

2020 Railway Stakes betting odds
There are no odds available for the Railway Stakes.
Horse Betting will update this page as soon as markets are installed.
Best New Zealand Railway Stakes bookmakers
All of our bookmakers listed below offer all-in and fixed odds betting on the major races out of New Zealand.
The Railway Stakes is one of New Zealand's prized races and the Australian bookies know how important framing a market is for both New Zealand punters and the locals.
The following bookmakers currently have markets available for the Railway Stakes.

Sport Table
2019 Railway Stakes result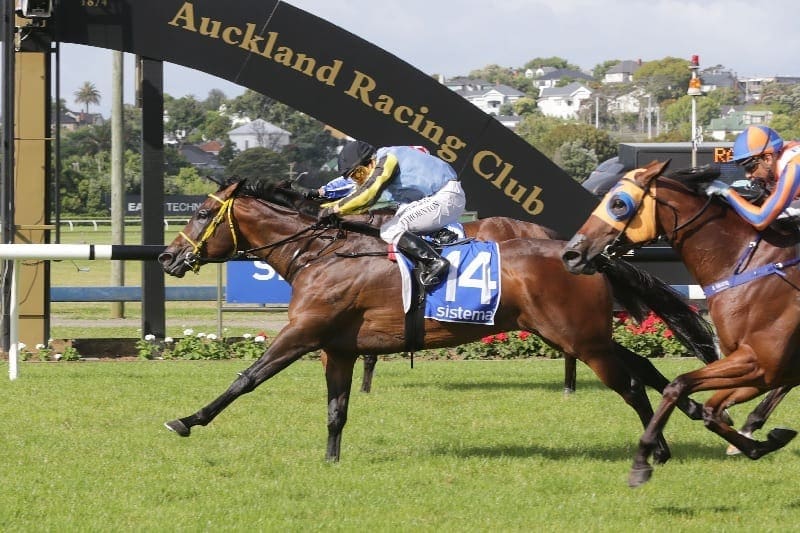 1st
–
Santa Monica
($77)
2nd
–
Princess Kereru
($3.40)
3rd
–
Melody Belle
($1.70)
Recent New Zealand Railway Stakes winners
In what is the biggest upset in Railway Stakes history, Santa Monica delivered an improbable win at $77 odds. the five-year-old was able to nab Princess Kereru on the line to win by a neck, with a further head back to the luckless race favourite Melody Belle, who had to battle three-wide from barrier 15.

It was expected to be a two-horse war in the 2018 Railway Stakes, but the more favoured Volpe Veloce was the horse that got the chocolates. Settling towards the back of the field Jake Bayliss settled the horse beautifully in the run and let down nicely to find the front at the 100m mark before putting a gap on the field.

Start Wondering showed that Australian sprinting form is superior. The gelding from Wanganui had a great record in New Zealand before travelling to Sydney where it was successful. After a bleeding attack it returned to New Zealand and was too classy for them in the Railway Stakes. It found the lead easily coming around the turn and kicked away for an impressive 1.25-length victory. The win gave jockey Johnathan Parkes the City of Auckland Cup/Railway double.

Ryan Mark edged out the Australian-performed Allez Eagle by a neck in 2016, much to the punters delight. The five-year-old son of Thorn Park had been in good form throughout the Hastings spring carnival and it ran as the $3.80 favourite. It also continued the good form from jockey Opie Bosson who had won the 2015

Caulfield Cup

aboard Mongolian Khan earlier in the season.

In Style put a disappointing Australian campaign behind it when winning by a short-head in 2015. The Danica Guy-trained mare had been running at short odds throughout its New Zealand campaign, but bookmakers let it drift to $6.60 which many punters jumped on late. It held out the fast-finishing Whosyourmaster ($4.40 to place) and Durham Town ($6.50 to place) to land a big trifecta payout for punters with 2016 champion Ryan Mark finishing two lengths back in seventh.


Bounding was another well-favoured winner which scored yet another close victory. The three-year-old daughter of Lonhro was one of the quickest sprinters in New Zealand before embarking on a successful career in Australia. It won as the $4.10 favourite over the likes of Waterford, Little Wonder and 2015 placegetter Durham Town. It ran a time of 1:10.25 which was considered a quick time on a track which was rain-affected.


Fleur de Lune has always promised to deliver on the big stage and its moment came in 2013 when winning the Railway Stakes. The five-year-old Stravinsky mare wasn't bred for speed and it performed well over the longer distances later in its career, but it ran a slick 1:09.21 for the 1200m on a good track. Durham Town recorded yet another placing with Jetset Lad, which would later move to Australia, running well for second at place odds of $5.40. Fleur de Lune paid $9.90 for the win and $3.10 to place.

Atomic Force gave the Australians their second win in three years when scoring by a half-length. The Darren Smith-trained gelding didn't have superb form in Australia, but it was good enough to run as the $2 favourite and get the job done well. Ridden by Nash Rawiller, the son of Danehill Dancer held off some of the best local sprinting types in New Zealand and it relished the rain-affected track. The $2 on offer from bookmakers was one of the shortest-priced winners in Railway Stakes history.
New Zealand Railway Stakes betting history
There have been plenty of well-backed horses win the Railway Stakes, which includes the likes of Bounding, Ryan Mark, Atomic Force and A Gold Trial which scored at odds of $5.70 for trainer Gary Portelli and jockey Michael Rodd in 2010.
The Railway Stakes has also thrown in some of the longest-priced winners in New Zealand Group one history with Jacowils winning in 2009 at odds of $104 and Miss Raggedy Ann winning at odds of $86 in 2011.
The Railway Stakes is predominately won by the older sprinters, with Bounding becoming the first three-year-old filly to win the Railway in 33 years.
It's typically a good horses race with the likes of three-time winner Mr Tiz, which also won the Telegraph Handicap twice and The Galaxy in 1991 at Rosehill.
Diamond Lover broke the Ellerslie track record when winning in 1987. The future stud star ran 1:07.79 in a scintillating display of sprinting.
Other famous names in New Zealand sprinting history include Loader, which was named after dual-Olympic gold medalist Danyon Loader, and also Coogee Walk which now has many races named after it in New Zealand.

New Zealand Railway Stakes past winners list
| Year | New Zealand Railway Stakes Past Winner |
| --- | --- |
| 2019 | Santa Monica |
| 2018 | Volpe Veloce |
| 2017 | Start Wondering |
| 2016 | Ryan Mark |
| 2015 | In Style |
| 2014 | Bounding |
| 2013 | Fleur de Lune |
| 2012 | Atomic Force |
| 2011 | Miss Raggedy Ann |
| 2010 | A Gold Trail |
| 2009 | Jacowils |
| 2008 | Imananabaa |
| 2007 | Donna Rosita |
| 2006 | Baldessarini |
| 2005 | Recurring |
| 2004 | Vinaka |
| 2003 | Egyptian Raine |
| 2002 | Sound The Alarm |
| 2001 | Fritz |
| 2000 | Cannsea |
| 1999 | Bawalaksana |
| 1998 | Coogee Walk |
| 1997 | Kailey |
| 1996 | Loader |
| 1995 | Coberger |
| 1994 | Ensign Ewart |
| 1993 | Hypervain |
| 1992 | Vain Sovereign |
| 1991 | Mr Tiz |
| 1990 | Mr Tiz |
| 1989 | Mr Tiz / Westminster |
| 1988 | Alynda |
| 1987 | Diamond Lover |
| 1986 | Silver Tip |