Racing Victoria announce 2018 jumps racing program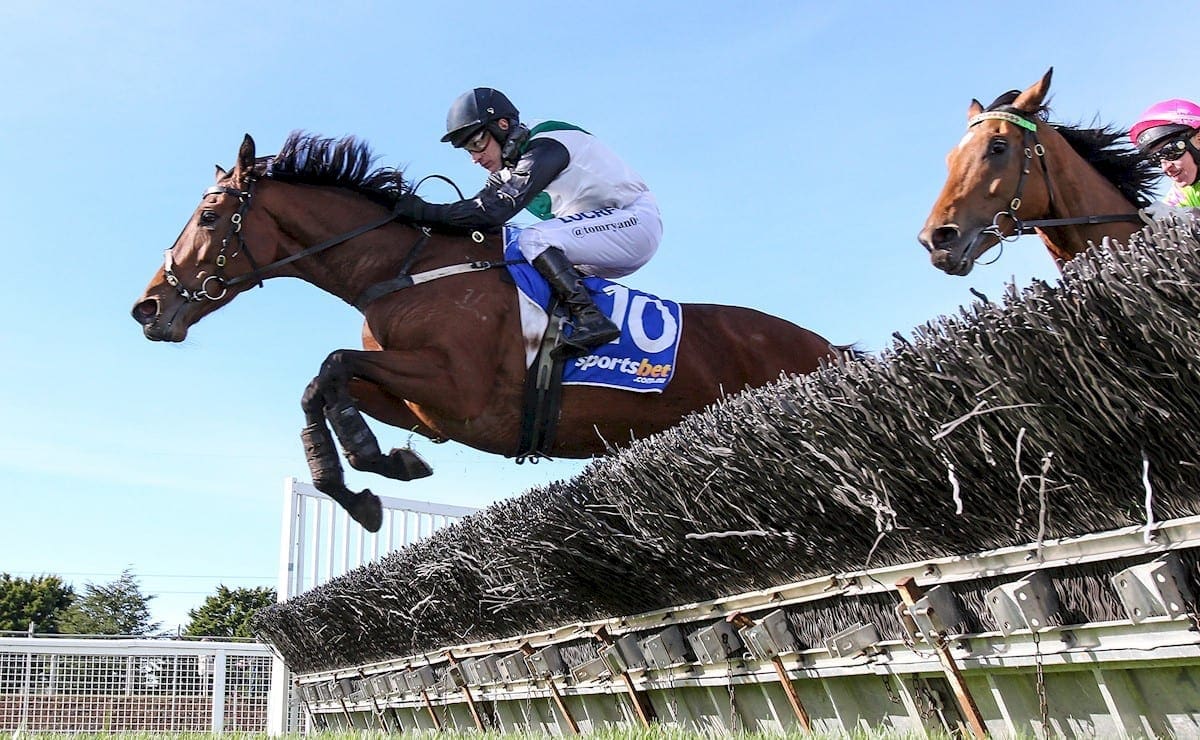 A showcase of jumps racing over two feature Sundays in July headlines the enhancements made to the 2018 Victorian jumps racing program which was released by Racing Victoria (RV) today.
Building on the success of the inaugural all-jumps Grand National Steeplechase program at Ballarat in August 2017, RV has announced that Warrnambool and Bendigo will both hold super jumps days next season also.
The addition of a fifth jumps race and two highweight races at Warrnambool's Kevin Lafferty Hurdle meeting and Bendigo's Mosstrooper Steeplechase meeting will see the race meetings conducted exclusively for jumps riders.
The reformatted seven-race programs, to be held on Sundays, 8 and 22 July respectively, will both host three hurdles and two steeplechases with existing $100,000 feature races for each discipline to spearhead the racedays.
The 2018 jumps racing season will begin at Warrnambool on Thursday, 15 March 2018 and run until Sunday, 23 September 2018 at Coleraine.
A combined total of $3.745 million in prizemoney will be offered across 64 jumps races that will include 43 hurdles and 21 steeplechases. Warrnambool is again the most active Club with 21 races programmed.
Other key changes and enhancements to the 2018 jumps racing program include:
An additional $150,000 in prizemoney to be offered across jumps races at the 2018 Warrnambool May Racing Carnival as follows:
An increase of $50,000 to the Grand Annual Steeplechase (5500m) taking it to $350,000 and the equal highest prize in jumps racing with the Grand National Steeplechase
Increases of $25,000 for both the Brierly Steeplechase (3450m) and Galleywood Hurdle (3200m) bringing the feature races on days one and two respectively to $150,000 each
Addition of a $50,000 Champion Novice Steeplechase (3200m) on day two of the Carnival, meaning that a minimum two jumps races will now be run on each of the three days
The return of jumps racing to Terang with two hurdle races scheduled on 23 March, 2018 nearly 10 years since the Club last hosted a jumps race in 2008
Enhancement of the Pakenham meeting on Sunday, 15 April as a key lead-up to the Warrnambool May Racing Carnival with four jumps races and prizemoney for the MJ Bourke Hurdle (3200m) and JEH Spencer Memorial Steeplechase (3200m) both elevated by 25% to $50,000
Prizemoney increases for the final two steeplechases of the season, with the Casterton Steeplechase (3800m, 9 September) and the Great Western Steeplechase (3600m, 23 September) at Coleraine both increased by 33% to $40,000.
In addition, RV has also announced today that it will continue to offer a $10,000 first win bonus to the connections of horses that register their maiden jumps victory. Since its inception in 2012, a total of $1.67 million has been awarded in first win bonuses.
In releasing the 2018 jumps racing program, RV Manager Racing Operations and Jumps Racing, Paul Bloodworth, said it reflects positively on the industry's continued investment and support of Victorian jumps racing.
"We are pleased to release the 2018 jumps racing program which is focused on providing more feature racedays to showcase the sport and for customers to enjoy, whilst rewarding those owners and trainers who participate within," Bloodworth said.
"We are looking to build upon the success of the inaugural all-jumps meeting at Ballarat by creating two further super jumps days at Warrnambool and Bendigo each with five jumps races and two highweight races.
"We have also acknowledged the significance of the three-day Warrnambool May Racing Carnival by injecting an additional $150,000 into the jumps prizemoney pool. This money will be split via a new Champion Novice Steeplechase and increases to the Grand Annual Steeplechase, Galleywood Hurdle and Brierly Steeplechase.
"After a decade off the scene, we're also pleased to announce the return of jumps racing to Terang with two hurdle races scheduled in March next year. It will be almost 10 years to the day since Terang last hosted a jumps race in 2008 and brings to 10 the number of tracks that will host jumps meetings next year."
Australian Jumping Racing Association (AJRA) Chairman, Sandy McGregor, said he welcomed the enhancements made to the 2018 program.
"The AJRA is very pleased with Racing Victoria's commitment to the sport and warmly welcomes prizemoney increases and more dedicated jumps programs," McGregor said.
"This program is the best we have had in many years and we thank Racing Victoria for its efforts."
The full 2018 Racing Victoria jumps program can be downloaded here: 2018 Jumps Program