Queensland apprentice rides five-timer at Warwick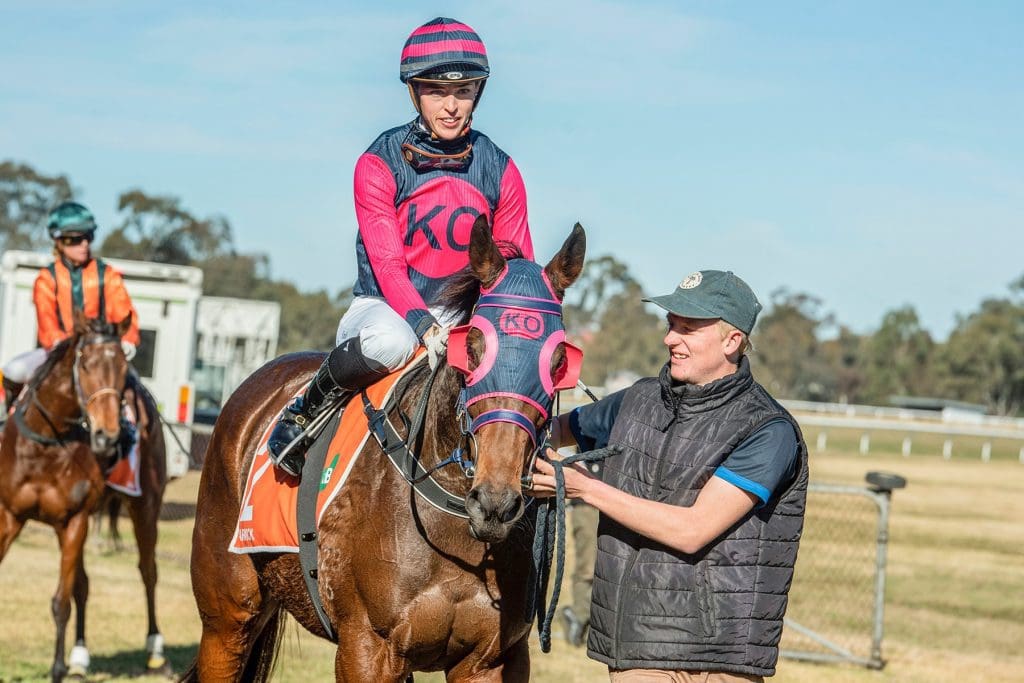 It isn't too often an apprentice jockey outrides a 4kg claim in their first weekend of professional race riding, but that is exactly what 21-year-old Emily Lang did on the weekend.
Apprenticed to Brisbane's Steven O'Dea & Matthew Hoysted, Lang participated in her first race meeting at Nanango on Saturday, riding one winner from her six rides.
She backed it up on Sunday at Warwick, taking five rides at the Non-TAB program, and unbelievably winning all five races – losing her 4kg claim in just 24 hours on the job.
Lang puts her immediate success down to months of preparation from not only her bosses, but also from her Queensland Metropolitan Jockeys Premiership-winning partner, Baylee Nothdurft.
While Nothdurft only recently decided to step away from professional riding, his experience and knowledge has helped Lang prepare for a career in the saddle.
"He's great, he's really good," Lang told HorseBetting.
"He basically explain everything to me, like the way he would ride it and all of that sort of stuff, so I'm really, really lucky to be able to have him there especially.
"Steven came out to the races on Sunday as well, so it was great to have him there because he's also very good at helping you with a bit of a plan."
While the apprentice hoop didn't go to Warwick expecting to leave with a 100% winning strike-rate, she said that connections of all five horses were confident they would run well for her.
Two winners for Lang were trained by her masters O'Dea & Hoysted, Furnaces On Fire and Ciao Bicky, so she went with a bit of confidence thinking that those two would run well for her.
While Lang still may not believe her feats, she was certainly well prepared, having participated in around 100 official barrier trials and jump outs during her 12 months at the successful Brisbane stable.
"It was unreal – I actually couldn't believe it," she said.
"I don't think I can still believe it. I was pretty confident on Steve's especially, and speaking to Baylee, they were pretty confident too.
"Most of the trainers that I was riding for yesterday all thought that theirs were a pretty good chance, but I was waiting to see how I went throughout the day.
"They all ran really well, and I was pretty lucky that they all got into a good spot yesterday, so I had a lot of luck go my well as well."
Lang will stay riding at Non-TAB meetings while she is still learning the caper, but her lack of experience hasn't frightened off trainers, as she already has a full book of rides at Wondai this Saturday.
"I've had a few people already call me about rides, so that's a plus," she said.
"I'll probably try and stay at the Non-TABs for the next couple of months or so."