Prebble's Majestic at the Valley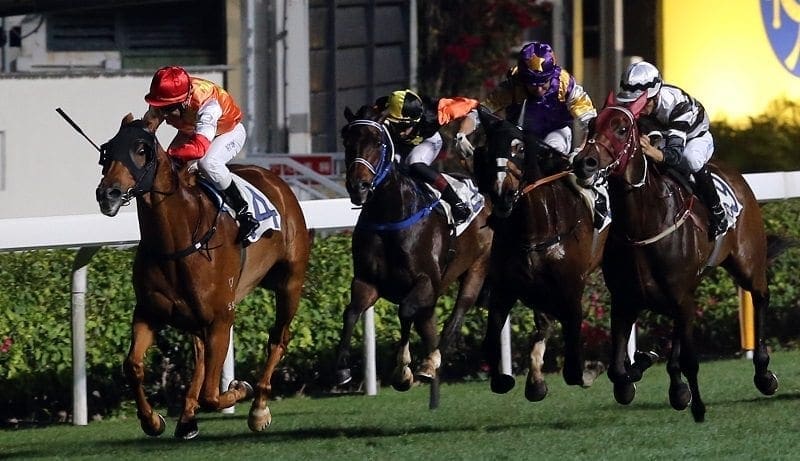 Brett Prebble took the kudos at Happy Valley tonight, Wednesday, 11 April thanks to an astute double that featured a longshot win on 54/1 chance Star Majestic (121lb).
The Australian ace had only one ride from 10 races at Sha Tin on Sunday but was on the mark for the 18th time this term aboard the Paul O'Sullivan-trained galloper in the Class 2 Pottinger Peak Handicap (1650m). That followed a race two win atop the Tony Cruz-trained Contribution.
"That's the way it goes at the moment, but if you give me a ride on a horse I'll win on it," the Australian ace said after guiding Star Majestic to a three-quarter-length win over Circuit Glory. Top-weight Litterateur (128lb) claimed third; the winning time was 1m 40.47s.
Prebble stalked the front-running Infinity Endeavour (119lb) through steady opening fractions of 28.42s and 25.66s. But, at the 700m point, the rider had his mount rolling up past the pace-setter and was driving, left arm whirling; Star Majestic had a length and a half on the field by the time he galloped out of the final turn.
"I could have led easy but there was no real pressure and Matthew (Chadwick) was pretty adamant and he likes to let them roll," the rider said.
"I got a beautiful run – just sat him one off – and I actually wanted it to slow down because I knew there were five or six in the race that pull hard, so if we could go through the first half-mile with them wasting their energy, I thought it'd take the zip out of them and I'd just go.
"They didn't have that finishing speed because they'd worked too much in the first half mile from going slow. It worked out good."
The win was the Sakhee's Secret gelding's eighth in Hong Kong and seventh at the course and distance. But it was his first in Class 2.
"He needs to be comfortable, that's the thing," the rider said.
"The Sha Tin track is riding a bit firm for him at the moment and when I won on him there a few runs back he gave me a good feel, he quickened and put them away easily. But then when he goes up into Class 2 everyone thinks he can't do it – it's not about that, it's about him feeling comfortable.
"He gets to the front and waits, he got there and he lugged in, he's a bit of an old boy but he's got the engine." Prebble added.
Earlier, the 40-year-old made the most of barrier one to make all on Contribution in section one of the Class 4 Mount Butler Handicap (1650m). Prebble booted the Street Cry four-year-old clear at the top of the stretch and the gelding held on by three quarters of a length to score at odds of 4.2.
O'Sullivan sealed his own double. Jack Wong made all on the trainer's Moment Of Power, the 3.3 favourite, in the Class 3 Nam Long Shan Handicap (1000m).

Three's Pretty for Teetan
Pretty Bauhinia (126lb) gave Karis Teetan the middle leg of a three-timer when successful in the evening's trophy race, the Class 3 Indian Recreation Club Challenge Cup Handicap (1650m).
Me Tsui's charge edged the verdict by a head, thanks to Teetan's decisive action just as the field began to curve towards the home run. Runner-up Let's Take It Easy (122lb) had a length on the winner when Alberto Sanna urged that galloper to the lead passing the 200m poll, but by then Teetan's early stoking from a deep position had built to a devouring momentum.
"Me had him in good form again today but when watching the races tonight I thought we might be in trouble because he gets himself so far out of his ground and I thought it might be tough to make up," Teetan said.
"He felt good at around the 700 (metres) to the 600 (metres) so I didn't want to waste any time, I had to let him go.
If I'd wasted any time and sat behind, he would have been flying home to be second or third. I just took a chance and he liked that. He has a long sustained run so he just kept making it."
The win was the five-year-old's second in his last three starts – all under the Mauritian rider – his two successes sandwiching a solid second to Winning Faith last month.
"The horse is flying," Teetan said. "This season, his last few runs have been so good – there's not much of him but he's been trying so hard."
The jockey opened his account for the night two races earlier in the Class 4 Mount Butler Handicap (1650m). Teetan bustled the David Ferraris-trained Electric Lightning to lead from a stalking berth and the four-year-old extended to the line for a two and three-quarter-length win at odds of 8.6.
The 51-rated gelding at one time held an entry for this season's Hong Kong Derby.
"I actually had a lot of hope for this horse and he was very disappointing, he seemed to have lost his way. He's had a problem but he's recovered well. Thank goodness he's come back and we're happy with him now," Ferraris said.
Teetan ensured a Ferraris double as well as his own treble when driving out Breeders' Star (131lb) to hold a nose advantage over the fast-closing Back In Black (121lb) in the finale, the Class 3 Siu Ma Shan Handicap (1200m).
Alberto Sanna took the opener on Good For You for the double-scoring Tsui, while Moreira was on the mark with Moore in the third race thanks to the front-running 2.4 favourite Bingo.