One-eyed star set to steal Kentucky Derby feel-good headlines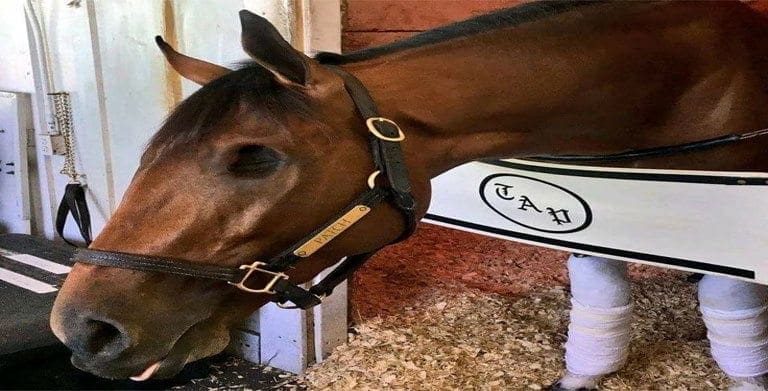 EVERYONE loves a horse racing feel-good story, but nothing much would compare to the story of 2017 Kentucky Derby hopeful Patch, which will run the race with one eye.
The bay colt, trained by champion horseman Todd Pletcher, is missing its left eye after veterinarians found a massive inflammation in the globe of its eye since June last year.
For lack of a better phrase, the eye-catching two-year-old will turn heads at Churchill Downs this Saturday when the Kentucky Derby runs for the 143rd time.
Its missing eye will have punters talking on and off the track, but Pletcher said there is no indication that having only one eye has affected its performance come race day.
"If you watched him train and didn't know that he had one eye, there's no indication of him doing anything peculiar in his training or in his races that would make you concerned about the one eye," Pletcher said.
Patch's connections will never know what caused the inflammation as a biopsy was never taken and after weeks of unsuccessful treatment, veterinarians were forced to remove its eye.

Patch was sent away for rehabilitation and Pletcher was confident that it would race again, but expectations have been exceeded with a Kentucky Derby start where it's currently +2500 at Bet365.com.
"It's a credit to him and his professionalism that he was able to adapt so seamlessly to it," Pletcher said. "I was concerned that it might compromise his ability in some way or the way he carried himself.
"I guess you don't know for sure but it certainly doesn't seem like it has."
To avoid startling Patch on its blindside, Pletcher and those working in the stables either whistle or talk to Patch.
"But that's what weird, he seems like he knows you're there," Pletcher said.
Patch hasn't had much racing experience having miss its two-year-old year, but finished off nicely behind Derby contender Girvin in the Louisiana Derby. That encouraging run was enough to force Pletcher's hand and he believes pace will be the key.
""The key is going to be the pace scenario," Pletcher said. "If it's a little faster up front and if he settles well, and if he's able to get a smooth trip I think it could work out for him."
Patch was paying as much as $40 earlier in the markets, but the support has started to come.
"I think he's got a little better shot than 40-1, but you know at the same time it's a difficult assignment for him or any horse in that scenario," Pletcher said.
"He's just going to have to buck some trends."
Ironically, Patch was named before the removal of its eye and this won't be Pletcher's first one-eyed runner in the Kentucky Derby after lining up Pollard's Vision in 2004 when it finished 17th.