Moore bullish about Able Friend in Queen's Silver Jubilee Cup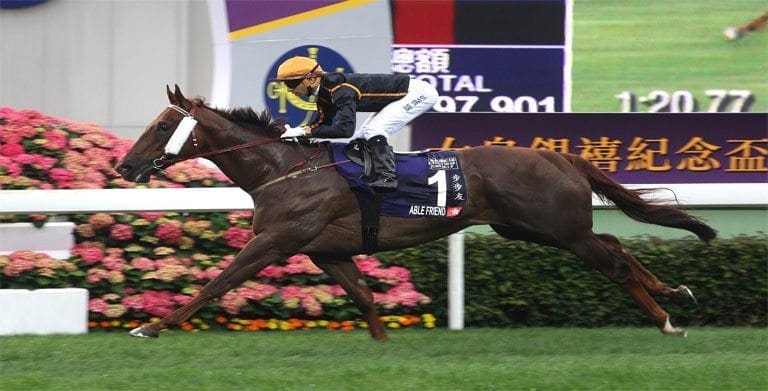 JOHN Moore is never shy when it comes to showing confidence in his runners, but the Hong Kong-based horseman is particularly confident with Able Friend ahead of Sunday's Group 1 Queen's Silver Jubilee Cup.
Moore galloped the son of Shamardal at Sha Tin on Thursday and he believes if the star runner gets clear running there's nothing that can stop it.
"You'll see on Sunday. If he gets clear, he'll just go," Moore said.
"I'm confident that if he gets clear running, on his work this morning and the fact that he has improved in his work, he'll be winning on Sunday.
"He's a few lengths better than even Helene Paragon."
Able Friend (+275 at Bet365.com) hasn't won for over a year and the former winner of the Queen's Silver Jubilee Cup needs to earn the trust of punters, but not that of Moore, who isn't doubting his runner.
"There's no fear in my mind," he said. "I think, when the adrenaline's running, he'll overcome the age factor, skeletal changes, or whatever – he's that good, he's just so much better than what's in Hong Kong at the moment.
"He's a fitter horse since the Stewards' Cup and I think he's the horse to beat. In my opinion, he should have won last time, and, if he's a fitter horse now, then he should be winning this time."
Both Able Friend and stablemate Helene Paragon worked well on Thursday with Helene Paragon working alongside Hong Kong Gold Cup contender Werther.
"He (Able Friend) galloped down the back and then eased right down and trotted down the straight because I just want to keep him on level ground and avoid any chance of lameness issues," Moore said. "I reckon he's run 53 or 54 seconds – a freshen-up for going over 1400m.

"Helene Paragon is in fantastic form. Sam Clipperton, who rode him this morning, said he's improved further from his last win, so that's good to hear. He galloped with Werther. They did the same as Able Friend in that they went out the back.
"If Able Friend was to not get clear running then Helene Paragon would take a load of beating, but I just think he's not as good as Able Friend."
Moore is also confident with Designs On Rome in the Gold Cup and he brings a strong two-horse charge into the Sha Tin feature.
"He's flying at the moment, Designs On Rome, he's really doing well," Moore said. "It's like he hadn't had any issues, this morning he just worked down the back and trotted down the straight, the same as with the others.
"For a horse that's had surgery in the past, he's really flowing over the ground at the moment."
Werther is currently a +175 chance at Bet365.com to win whereas punters aren't keen on Designs On Rome at $15.
"I'm looking really strong in that Gold Cup with Werther and Designs On Rome," Moore added. "Werther's not a hard horse to get fit and he pulled up clean, and if there's this moisture in the ground, he will love it.
"I'm expecting a big day on the weekend. I'm looking forward to it."