Mixed results for Classic winners at the BMW Hong Kong Derby draw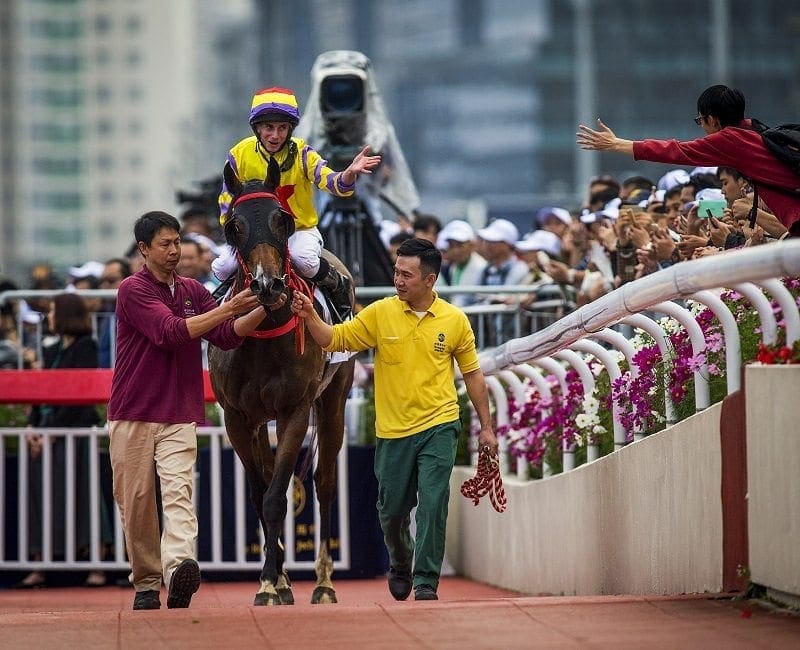 Nothingilikemore will have to overcome a wide draw to win the BMW Hong Kong Derby (2000m) at Sha Tin Racecourse on Sunday (18 March), but Singapore Sling will break from a low gate in the final leg of the Four-Year-Old Classic Series.
Trainer John Size was pragmatic about his Hong Kong Classic Mile (1600m) winner's assignment to barrier 13, widest but one in the field of 14.
"I don't see it as that much of a negative, horses have won from out in the wide gates before and it is what it is," Size said.
The trainer's Luger won from gate 12 in 2015, while other recent winners to have succeeded from a wide berth include Ambitious Dragon (2011) and Size's Fay Fay (2012), both of whom broke from gate 14.
Singapore Sling, second in the Classic Mile, had Nothingilikemore back in fourth when successful in the series' second leg, the Hong Kong Classic Cup (1800m), last time. The South African import drew gate two on that occasion, having drawn stall four in the Classic Mile, and this time he will break from three. Trainer Tony Millard was delighted.
"I couldn't have asked for a better gate. It's exactly where we wanted to be and it means he should get the run of the race," Millard said.
Exultant took second place behind Singapore Sling in the Classic Cup but will start from gate 12 at the weekend, alongside stablemate and possible front-runner The Golden Age in 11. Fellow Tony Cruz-trained runner Doctor Geoff will be widest of all in barrier 14.
"The only horse that will be comfortable out there is the The Golden Age because he'll be fast enough to go forward. I didn't mind that he drew 11," Cruz said.
"Exultant and Doctor Geoff will be out the back door, they'll be coming from behind."
Matthew Chadwick is slated to ride The Golden Age in the blue riband as he seeks to become the first HKJC Apprentice Jockeys' School graduate to win the Derby since Cruz scored atop Makarpura Star in 1995.
"I don't think being drawn out in 11 will make much of a difference, obviously we have to cross a few more horses than I'd like," Chadwick said shortly after the draw. "On past form, nothing else in the race has ever led before, and he's always shown sufficient speed to get there.
"I'll be interested to see what Nothingilikemore does from 13; apart from that, I don't think it will be a problem. The Golden Age's manners have improved in the morning – if he can relax, then we'll hit that first turn and he should prick his ears and idle."
Ping Hai Star is a late-comer to the Four-Year-Old Classic Series party, having progressed in recent months with an impressive hat-trick of handicap wins at 1400m to earn a rating of 103. The Size-trained gelding will start from gate nine under Ryan Moore.
"We need him to switch off and do everything right, but I think he probably needs a horse to be able to follow," Size said. "We want him to be able to settle and then track into it, and that gate should allow him to get dragged into the race."
John Moore is the most successful Hong Kong Derby trainer of the modern era with six wins and he was happy enough after his three contenders, Rivet, Rocketeer and Ruthven drew six, seven and eight, respectively.
"All three of them are drawn together and that's what you want, I said I wanted four, five and six, and we got six, seven and eight. It gives us options. The one to beat is Singapore Sling from that gate – three times he's drawn right there," Moore said.
Rattan drew gate four, Lockheed will break from 10, Savvy Six from two, Good Omen from one and Patriot Hero will start from stall five.