Millard's three-year-old Shines as Schofield, Wong join Moreira, Purton with doubles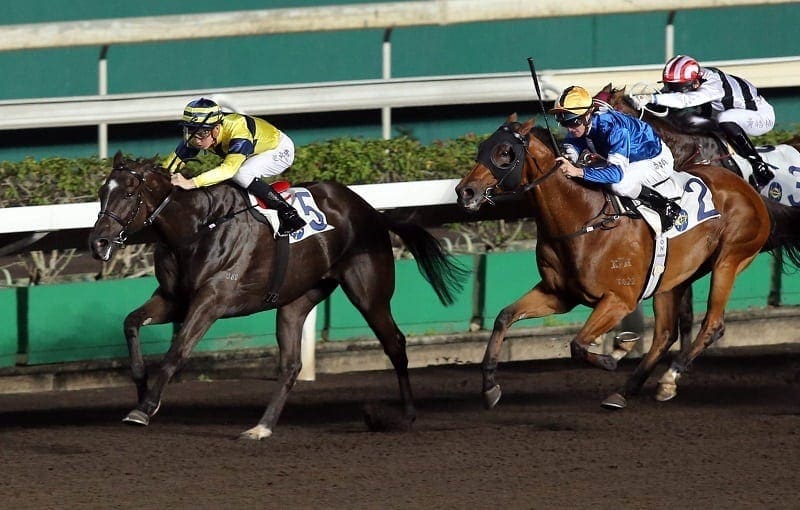 It was a night of riding doubles at Sha Tin tonight (Wednesday, 30 May) as four jockeys partnered a brace each. And while two of the protagonists were familiar faces Joao Moreira and Zac Purton, who struck a stalemate at the meeting in their quest to be crowned Champion Jockey, Chad Schofield and Jack Wong shared the spotlight with their own successes, to the delight of trainer Tony Millard.
Millard prepared a race-to-race double early in the night, and he could hardly have found two different horses to fill that brace in veteran Cloud Nine and emerging talent Shimmer And Shine.
Shimmer And Shine, ridden by Schofield, backed up a win on turf over the Sha Tin 1000m earlier this month by adding a dirt victory at his maiden attempt at the surface in the first section of the Class 4 Hap Mun Bay Handicap (1200m).
Millard believes that the Showcasing three-year-old could be one of a number of young horses to fly the stable banner in the coming years.
"I think this could be a special horse," Millard said.
"He's certainly come along the right way and I always thought that we could have an extra option with him in that he's versatile and could run on the dirt. The way he won tonight, though, he could be something special – he did it three-wide, no cover, and he still had a bit at the end. It was a very gutsy win.
"I think we will put him away now and we will look at next season."
Backed into 3.7 favourite, Shimmer And Shine defied a wide run near the speed to race to the lead at the 200m. His market rival Amazing Moment, ridden by Purton, loomed dangerously on the outside, but the bay responded well to eke out a three-quarter length win.
"I thought that run tonight was full of merit," Schofield said. "He sat three wide, faced the breeze, hit the front very easily and when he was in front, he had a good look, but when Zac came and challenged him in the last 50m, he stuck his neck out and was always holding them comfortably.
"He was cannoned into at the start on his second run and spit out the back and finished well through them. We knew we had a nice horse as after that and he's won his next two."
Cloud Nine, the only son of three-time North American champion sire Tapit in training at Sha Tin, had disappointed in two previous starts on the dirt, but it was a case of third time lucky on the surface for the former
Christophermarlowe as he produced a grinding one-length victory in the Class 4 Pui O Handicap (1800m) under Wong.
"He's just a one-paced plodder, that's all he is," Millard said. "The boy rode him exactly to instructions. The horse was actually suited being drawn out wide (gate 10) because when he draws in, he gets cut off because he has no early speed. It worked in his favour today.

"But he's an older horse, he's not really going anywhere. We're lucky to pick up another one, if that, but a lot of my horses haven't had too much racing this season – we've given them a lot of respect during the season – so it could be a happy hunting ground towards the end of the season for many of them. They are coming in on fresher legs."
The respective wins for Schofield and Wong gave the pair a double apiece. Schofield had earlier partnered the Benno Yung-trained Massive Millennium to take the Class 5 Silvermine Bay Handicap (1200m), while Wong later took the Class 4 Kiu Tsui Handicap (1650m) aboard House Of Luck for Francis Lui.
Moreira, Purton go win-for-win in title race
The big story heading into the meeting was Moreira's two-win lead over Purton in the jockeys' championship and that looked set to be the talking point again when the Australian rider narrowed the margin to one with his success on David Hall's Dr Proactive in the second section of the Class 4 Hap Mun Bay Handicap (1200m).
However, Moreira was able to hit back with a quick double on John Size's Infinity Endeavour in the Class 3 Cafeteria Handicap (1200m) and the Ricky Yiu-trained Speedy King in the Class 3 Cheung Sha Handicap (1200m) to extend his lead to three wins over Purton.
It took a last-race victory for Purton on Frankie Lor's Glorious Artist in the Class 3 Clear Water Bay Handicap (1650m) to maintain the two-win buffer heading into Sunday's 77th meeting of 88 this term.
"He still looks to have plenty of upside," Lor said. "There were no more 1800m races for him, which was a shame as he won in track record time last start, but I thought 1650m would be no problem as he won over 1400m on a synthetic track in the UK. I will take him back to the stables and see how he is, but if he pulls up OK, there is an 85 to 60 race in July that will suit him."
Freshman handler Lor, who sits second in the trainers' premiership with 55 wins, says that the battle between Purton and Moreira is something that should be embraced by trainers, owners and racing fans.
"It's great, this battle between Joao and Zac," Lor said. "Both jockeys are trying very hard and it is only a good thing. It is exciting to watch and great for our owners."