Mahrajaan brings Ritchie's Cup plan to fruition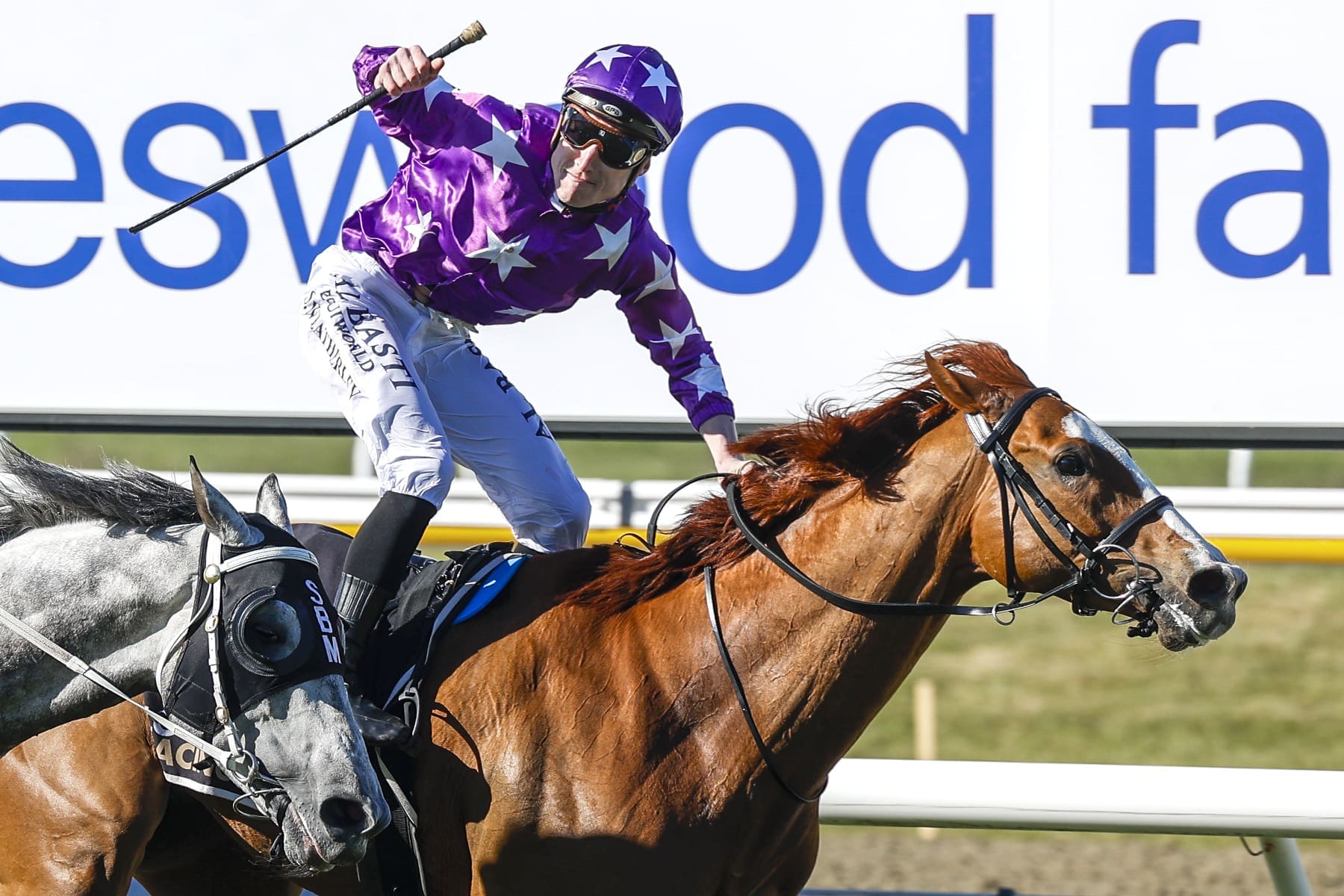 A close fifth behind Nest Egg on the first day of the carnival, imported stayer Mahrajaan went to a new level a week later and turned the tables on the hot favourite in Saturday's Group 3 New Zealand Cup (3200m) at Riccarton.
An American-bred son of Kitten's Joy, Mahrajaan was a three-time winner in England over 2000m and 2400m before Cambridge trainer Shaune Ritchie bought him for £75,000 at the Autumn Horses-In-Training Sale in Newmarket late last year with the specific purpose of targeting the Cup.
The gelding was unplaced in his first New Zealand appearances over 1400m and 1600m earlier this year, but as the distances increased, he steadily improved and kept showing Ritchie and his training partner Colm Murray enough to continue along their path towards Riccarton.
Mahrajaan had his final lead-up run in last Saturday's Listed Metropolitan Handicap (2600m), producing an eye-catching late run into fifth and crossing the finish line only 1.3 lengths behind Nest Egg.
Ritchie and Murray timed the six-year-old's preparation to perfection, peaking for Saturday's time-honoured two-miler and producing a career-best performance in the hands of jockey Sam Weatherley.
Mahrajaan was prominently positioned throughout the race, settling in third as Eulogy Show set a sedate pace through the first half. The pressure started to increase coming down the side of the track, and when a gap appeared along the inside, Mahrajaan lengthened stride and burst through.
He hit the lead turning for home and then had to call on all his fighting qualities through the final 400m, turning back the challenges of Nest Egg and Waisake to score a hard-fought win.
From 17 starts, Mahrajaan has now recorded four wins and six placings, earning more than $300,000 in stakes.
"It's absolutely fantastic," said Ritchie, who had previously won the Cup with My Scotsgrey in 2009.
"Last year we didn't have a single runner in the Melbourne Cup Carnival or down here in Christchurch, and I wanted to do something about it and see if I could find a nice staying horse to aim at these good races.
"We went to the Horses-in-Training Sale for the specific purpose of finding that type of staying horse, and he's the one that we came away with.
"We were hoping to get him to either the Melbourne Cup or the New Zealand Cup. We soon decided that he probably wouldn't have the speed for a Melbourne Cup, so we concentrated on Riccarton instead. It's great to pull it off.
"I thought he ran really well in the Metropolitan on the first day, which made us think we had him on target for the Cup. As a trainer, you're always doing your very best to have them peaking for these target races. Sometimes it comes off and sometimes it doesn't.
"Coming into today, we were fully aware that quality horsemen like Allan Sharrock and Stephen Marsh were trying to do the exact same thing with their horses, so it was never going to be an easy task. To come away with this result, there's a real sense of satisfaction."
Ritchie said Mahrajaan is now likely to bypass the Group 3 Wellington Cup (3200m) at Trentham in January.
"We'll have to be careful with his rating now, so I think he's almost certainly not going to run in the Wellington Cup under its handicap conditions," Ritchie said.
"We could have a look at the Auckland Cup (Group 2, 3200m) in March. He's clearly a horse that needs good ground, so that's something that we'll need to be mindful of.
"He can have a break now, but probably not a particularly long one, since he's not going to be a winter or a wet-autumn horse."
2023 New Zealand Cup Replay – Mahrajaan | T: Shaun Ritchie & Colm Murray | J: Sam Weatherley
---