Kentucky prospects stamp their quality with impressive wins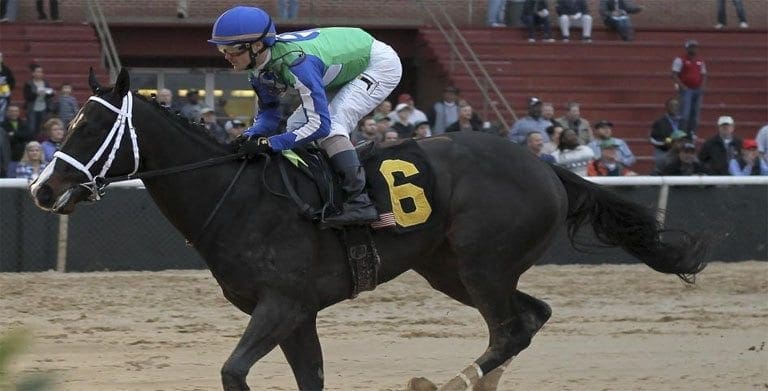 TWO Kentucky Derby and Oaks prospects showed their hand this week with stylish wins and have since rocketed up the 2017 Kentucky leaderboards.
Stakes debutante Lockdown was an easy winner of the Busanda Stakes at Aqueduct Racetrack and Uncontested lived up to its name in the Smarty Jones Stakes – with both horses now likely to continue their lengthy preparations to the Kentucky Derby and Oaks in May.
Lockdown is a Juddmonte Farm homebred which picked up 10 points in the Kentucky Oaks rankings after tipping out short favourite Libby's Tail by 2.5 lengths on Sunday.
The Bill Mott-trained filly looked to have a great stride and winning jockey Kendrick Carmouche agrees.
"With the way Bill Mott trains horses, he can get her to make the distance," Carmouche said.
"She has such a long stride, you just have to time her run and let her get into her stride and she'll take you home from there.
"I just put pressure on the gate to the wire and I had to move around the turn to make sure I held her steady."
Carmouche is hoping to stick with the daughter of First Defence for the $1 million Kentucky Oaks which was taken out by Cathryn Sophia last year at odds of $5.
"Hopefully the team stays together and I get to stay on her," he added.
Assistant trainer LeAnna Willaford said everything went to plan during the run and the filly will be primarily aimed at the Florida juvenile races in the coming months.
"The plan coming in was to have her in stalking position and take it to them when the time came. Thankfully, everything worked as planned," Willaford said.
"She's been training real well, and I have to think eventually she'll end up in Florida.

"We'll see where she goes from there after talking to the Juddmonte people."
Another quality winner this week was Uncontested, which has firmed into $17 at Bet365.com for the 2017 Kentucky Derby following its impressive Smarty Jones Stakes win on Tuesday.
The $2.25 favourite won the opening leg of Oaklawn Park's four-race series of Kentucky Derby preparations with a 5.25-length romp.
The son of Tiz Wonderful was sent forward by jockey Channing Hill and after being challenged by Petrov around the home turn, Uncontested pulled away for an eye-catching victory.
"I almost feel bad getting after him," Hill said. "He's a horse that fools you. At the top of the lane he was traveling really nice and he was handling the track well.
"He's such a cool, classy little guy. He doesn't lollygag, but he can get a little lazy on you. He was still moving forward, but I just gave him a few taps as a reminder about what we were doing today and he absolutely cruised from there."
Trainer Wayne Catalano was happy with the result on a rain-affected track which was new ground for the $20,000 sales purchase which won its maiden by six lengths.
"It worked out how we wanted it to," Catalano said. "The goal was break and go. You think you want to be on the front end, but when you do that, there's always a cavalry charge.
"You just have to let it play out. You never want an off track, but he handled it before OK. Sometimes it rains on the first Saturday in May, so you better be ready."
Uncontested is expected to contest the $500,000 Group 3 Southwest Stakes at Oaklawn on February 20, which is the second leg of the series which also features the $900,000 Rebel Stakes and the $1 million Arkansas Derby which is a main betting guide for the Kentucky Derby.
Updated 2017 Kentucky Derby market
Classic Empire – $12 at Bet365.com
Mastery – $13
Gormley – $17
El Areeb – $17
Mo Town – $17
Uncontested – $17
Saints Fan – $21
Battalion Runner – $21
Practical Joke – $26
Mccracken – $26
Fact Finding – $26
Hemsworth – $26
American Anthem – $26
Beach Bum – $29
Faja – $34