Kentucky Derby hopeful Irish War Cry to save New Jersey racing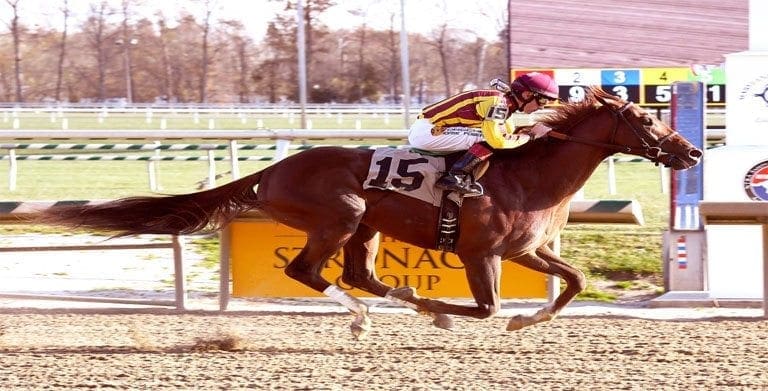 THE current thoroughbred racing situation in New Jersey isn't a bright one, but one horse has the ability to pull the industry out of the doldrums.
Three-year-old talent Irish War Cry was an impressive winner in the Wood Memorial at Aqueduct on Sunday and it immediately shortened into $11 at Bet365.com, but it will be carrying more than just the punters money on its back in Kentucky this May.
It will be representing New Jersey – a state where thoroughbred horse racing is on a significant decline, but Irish War Cry has a chance of turning things around for the once-proud racing state, in particular the breeding industry which produced only 85 registered foals last season.
Executive Director of the Thoroughbred Breeders' Association, Michael Campbell, said the colt's success has already had an impact on the industry.
"He will have an impact, I think he is already having an impact right now, but people aren't rushing to come here because of it," Campbell said.
"Our hope is that he draws more attention to the program and has the same effect that Smarty Jones had on Pennsylvania years ago. When Smarty Jones won the Derby and the Preakness and went to try for the Triple Crown.
"He had a real impact on Pennsylvania and receiving those casinos at the race tracks. That that has a similar type of effect here."

Monmouth Park, known as "the Shore's greatest stretch", was formerly the highlight track in New Jersey, but it now hosts only 50 meetings after it was excluded from consideration for one of two casinos to be constructed outside of Atlantic City.
Campbell highlighted the glory days of the breeding industry when four major race tracks were being used, which directly affected foal numbers.
"At the highest, when there was a race track circuit in New Jersey with Monmouth Park, the Meadowlands, Garden State and Atlantic City, our foal crop was between 1,200 and 1,500," Campbell said.
"You can really see the decline when the racing days started to decrease, from 210 days, to 141, to 71, and to the current schedule which could be 57 (including seven days at the Meadowlands).
"People need opportunities. Combined with the surrounding states having breeding program and purses fueled by alternate sources of gaming, we're in a tough spot right now."
It's tough for any horse to win the Kentucky Derby, but it's a race for great storylines and the fate of New Jersey Racing might just hang in the balance with Irish War Cry this May at Churchill Downs.