Jaden Lloyd leads Queensland charge in NARS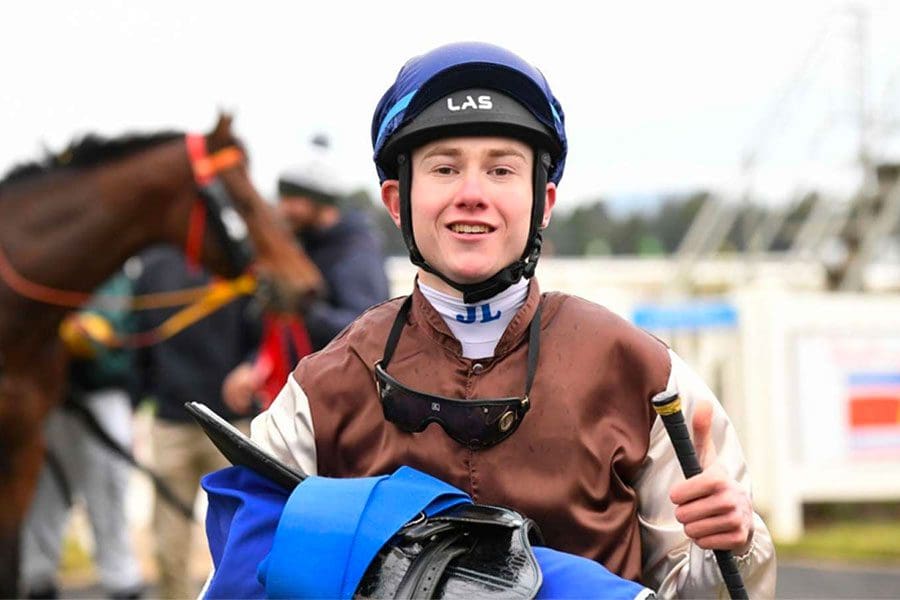 Queensland will have its best chance yet at taking out the National Apprentice Race Series (NARS) as it returns in 2022.
Racing Queensland confirmed the 11 jockeys that will represent the state in this year's series, with Jaden Lloyd leading the charge.
Lloyd currently sits third in the Queensland Metropolitan Jockeys' Premiership (QMJP) behind Jim Byrne and Ryan Maloney, so he has been selected as Queensland's official representative for the NARS.
Also donning the maroon breaches is fellow young gun Kyle Wilson-Taylor, who is fourth on the QMJP, just 2.5 wins behind Lloyd.
From last to first!

Some win from Dreamreacher after a peach from Jaden Lloyd 👌 pic.twitter.com/gM6ZXeLd1m

— SKY Racing (@SkyRacingAU) February 19, 2022
The series begins at Strathalbyn in South Australia on Wednesday, March 9, where Toowoomba-based apprentice Angela Jones will represent the state. Jones has ridden 41 winners already this season at provincial level, recording an impressive winning strike rate of 18.6%.
On the following Wednesday (March 16), the series will head to Doomben, where nine of the state's top apprentices will be riding as part of the series: Lloyd, Wilson-Taylor, Leah Kilner, Wendy Peel, Marnu Potgieter, Adin Thompson, Madeleine Wishart, Alex Patis and Sheriden Tomlinson.
At that meeting, there will be two apprentice races run and won, where a $5,000 bonus will be awarded to the winning trainer of each of the two races.
On March 27, the third NARS heat will head to Hobart, where Melea Castle will represent Queensland, before the series ends on March 30 at Sandown. Wilson-Taylor will be the sole Queensland-based apprentice riding at the Sandown meeting.
Racing Queensland EGM Operations Adam Wallish said that he is looking forward to seeing these apprentices "compete with the best that the other states have to offer".
"The National Apprentice Race Series continues to be a fantastic concept for apprentices across the nation, and allows some of Queensland's best and brightest to travel interstate and experience a number of tracks across the country," Wallish said.
"Our apprentice ranks continue to flourish and remain as strong as ever, evidenced by both Jaden Lloyd and Kyle Wilson-Taylor's respective seasons, which sees them both at the top end of the metropolitan premiership.
"I look forward to following the series return in 2022, watching our young Queensland hoops compete with the best that the other states have to offer."
A poised and patient ride by apprentice hoop Kyle Wilson-Taylor got the Gary Duncan-trained SEAT OF POWER kicking late and getting the money in Race 3 💰The step up in distance proved to be the key for the 7-year-old🔥#QLDisRacing🏇 pic.twitter.com/bvoBHtSE4c

— RaceQ (@RaceQLD) February 12, 2022
The series was first held in 2008 and went through until 2019, before COVID-19 brought a stop to interstate travel, so it is expected that the competition's return will be well received.
South Australia has dominated the series in its 11-year history, winning six titles, while Western Australia (2), Victoria (2) and New South Wales (1) are the only other states to have reigned supreme.
Queensland finished a close second in 2019, just four points behind South Australia.
Points are awarded for the top five placings in each leg of the series as follows:
1st – seven points
2nd – five points
3rd – three points
4th – two points
5th – one point
Each rider in the series will wear coloured breaches for their state, which is in line with the advertising campaign for the series, which announces that 'The Future Has Arrived'.
More horse racing news