Hong Kong Sprint runner-by-runner guide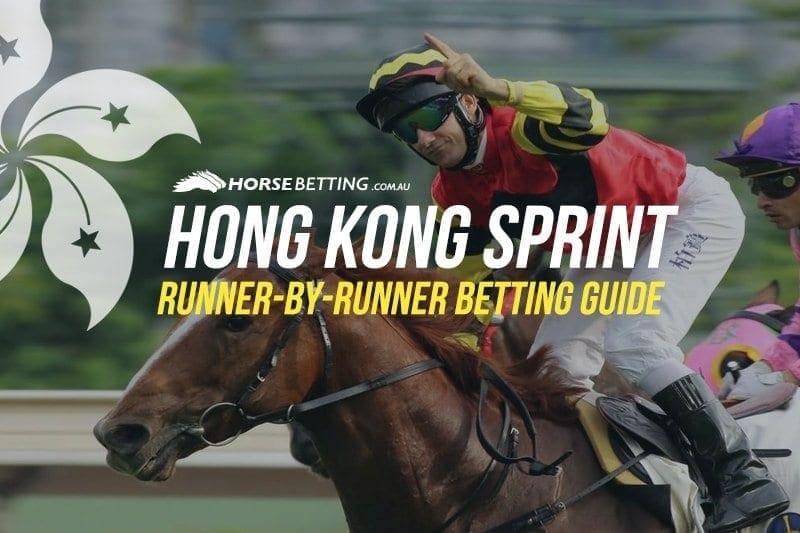 RECOGNISED as one of the premier sprint events in the world, the Hong Kong Sprint is a true international event.
Pitting the best local hopes from Hong Kong against the overseas brigade, a win in the HK$18.5 million feature ensures the winner enters the annals of international sprinting history.
Mr Stunning
Online bookmakers like Ladbrokes know the importance that both the Hong Kong Sprint and the other three group ones of the Hong Kong International Races have to the thoroughbred community and put up their markets well in advance of the 1200m feature.
Our comprehensive runner-by-runner guide below shows the competitors in the group one sprint so you can make an informed decision before wagering your cash.
[rmOC_events_list event_ids=1175450_05]
1. Mr Stunning (4)
Country: Hong Kong

$2.60

Jockey: Nash Rawiller 57kg
Trainer: John Size
Form: 28611
5yo Bay Gelding
Local hope and deserving favourite Mr Stunning brings in sparkling form into the Hong Kong Sprint. Winning two races on the trot including victories in back-to-back Group Two events against a number of its Sunday competitors, Mr Stunning looks well placed it make it a hattrick of wins in what would be its biggest victory to date.
2. Lucky Bubbles (1)
Country: Hong Kong

$4.60

Jockey: Hugh Bowman 57kg
Trainer: Francis K W Lui
Form: 55129
6yo Chestnut Gelding
There is no doubting Lucky Bubbles' winning pedigree, but the horse has been on a slightly indifferent run as of late. Three starts back the horse took out the Group One Chairman's Prize, but the six-year-old's last-start ninth in the Group Two Jockey Club Sprint left a lot to be desired. Bookies are clearly prepared to forgive the run given it encountered a wall of traffic when the field hit the straight.
3. Peniaphobia (9) (IRE)
Country: Hong Kong

$21

Jockey: Matthew Chadwick 57kg
Trainer: Tony Cruz
Form: 25984
7yo Bay Gelding
The 2015 winner of the Hong Kong Sprint looks to be a numbers booster in this race. The horse has won just twice in the last two years, and its last group one win came in the 2015 feature. The last-start fourth in the Jockey Club Sprint may give punters false hope, but we're not at all prepared to invest in the son of Dandy Man.
4. Thewizardodoz (1)
Country: Hong Kong

$6.50

Jockey: Jaoa Moreira 57kg
Trainer: John Size
Form: 43195
6yo Bay Gelding
Thewizardofoz is a proven group performer in Hong Kong, but its recent form leaves a lot to be desired. The son of Redout's Choice won the Group Three Premier Cup back in June but has failed to place in two subsequent runs, the last of which was a disappointing fifth in the Group Two Jockey Club Sprint. We're prepared to overlook Thewizardofoz in this one.
5. Amazing Kids (6) (NZ)
Country: Hong Kong

$10

Jockey: Brett Prebble 57kg
Trainer: John Size
Form: 69832
6yo Bay Gelding
After an ordinary sequence of four-straight second half of the field finishes, Amazing Kids has turned its form around remarkably. Since the horse's eighth placed finish at the beginning of October it has yet to miss a placing, finishing third and second respectively in back-to-back group two events. Amazing Kids looks to be peaking at the right time and has the ability to cause an upset.
6. Not Listenin'tome (10)
Country: Hong Kong

$26

Jockey: Tommy Berry 57kg
Trainer: John Moore
Form: 36207
7yo Bay Gelding
Not Listenin'tome is the only runner John Moore is taking into this year's Hong Kong Sprint, and we doubt he'll be walking away as a winner this year. The horse has not registered a win in over 12 months and and finished inside the first half of the field just once in its last five group one attempts. We suggest looking elsewhere.
7. Signs Of Blessing (5) (IRE)
Country: France

$26

Jockey: Stephane Pasquier 57kg
Trainer: Francois Rohaut
Form: 18510
7yo Bay Gelding
Signs Of Blessing has decent form over its last five runs, but the troubling aspect is that it has never finished better than fifth in its three group one runs this year. A couple of big ticks is the fact it has saluted in group ones in the past, and it has ran in last year's edition of this race. The last-start 12th in the Group One Prix de l'Abbaye de Longchamp was lacklustre however and we do not think Signs Of Blessing will be a factor here.
8. The Right Man (13) (GB)
Country: France

$34

Jockey: Francois-Xavier Bertras 57kg
Trainer: Didier Guillemin
Form: 31071
6yo Brown Gelding
The Right Man is second of the two French imports vying for the Hong Kong Sprint crown, and based on the recent form there's no reason why it can't mount a serious challenge here. The horse has claimed an international group one tile – Al Quoz Sprint – and is fresh of a last-start win in the Group Three Prix De Seine-Et-Oise. Looks to be a better chance than some of the local runners that are higher in the market.
9. Blizzard (3)
Country: Hong Kong

$23

Jockey: Gerald Mosse 57kg
Trainer: Ricky Yui
Form: 43025
6yo Chestnut Gelding
The solitary entry for champion trainer Ricky Yiu in the Hong Kong Sprint looks to be simply making up the numbers unless it experiences an incredible form reversal. The horse has not raced since its fifth-placed finish in the Group One Sprinters Stakes, and a placing in the Sprint Cup does little to boost our confidence of toppling the winner of that race, Mr Stunning.
10. D B Pin (12) (NZ)
Country: Hong Kong

$8.50

Jockey: Olivier Doleuze 57kg
Trainer: John Size
Form: 12363
5yo Bay Gelding
The ultra-consistent D B Pin is one that is being overlooked in the market to our eye. The horse has missed a placing just once in its entire career. Across its last four starts just once has it finished worse than third in four group contests. This horse is a competitor, but whether it has the class to topple some of the more fancied rivals remains to be seen.
11. Stormy Liberal (11) (USA)
Country: USA

$15

Jockey: Silvestre De Sousa 57kg
Trainer: Peter Miller
Form: 21181
6yo Bay Gelding
On form alone Stormy Liberal has to be considered here, but there are mitigating circumstances coming into Sunday. The Group One Breeders'Cup Turf Sprint winner has not raced on a closewise track, a racing style that has toppled many a horse of yesteryear. The class factor here makes the horse an enticing bet, and we think Stormy Liberal is one for the exotic players.
12. Let's Go Donki (7) (JPN)
Country: Japan

$17

Jockey: Yasunari Iwata 55.5kg
Trainer: Tomoyuki Umeda
Form: 92202
6yo Chestnut Mare
We were surprised to see Let's Go Donki so far out in the odds considering how good the recent form has been. In three of its last four races the horse has finished second, and three of those contests were group one events. The worry may be the fact Let's Go Donki has not raced since the beginning of October or because it has never ran in Hong Kong, but the class factor means we have to consider the five-year-old.
13. Once In A Moon (2) (JPN)
Country: Japan

$26

Jockey: Zac Purton 55.5kg
Trainer: Makoto Saito
Form: 11123
6yo Chestnut Mare
Once In A Moon has experienced a quality 2017, winning three races and placing another three occasions across six starts. None of those races were in group affairs however, and one of the loses came against Sprint competitor Let's Go Donki. The odds reflect Once In A Moon's chances here.