Former owner Tregea worried Incentivise 'may not race again'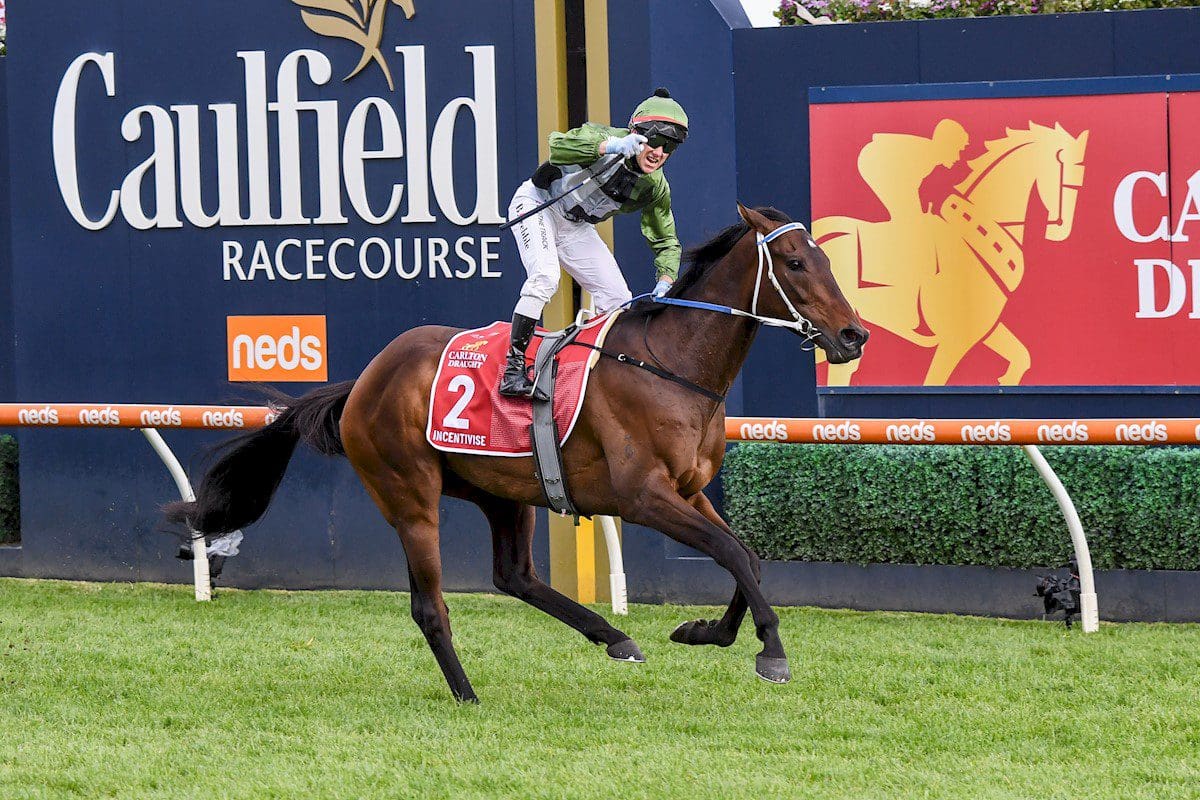 The former trainer and owner of Incentivise, Steve Tregea, has revealed that the horse is only a "50-50" chance of ever racing again.
Incentivise won nine races in a row, beginning with a maiden on the Sunshine Coast in April and culminating in a Caulfield Cup romp in October, before finishing second to Verry Elleegant in the Melbourne Cup.
After the gelding's dominant nine-length win at Eagle Farm on June 5, leviathan owners Brae Sokolski and Ozzie Kheir bought into the son of Shamus Award, although Tregea still owned the majority share.
Let's re-live a bit of Incentivise magic! pic.twitter.com/RRPAJtmVnY

— Racing.com (@Racing) October 17, 2021
Although Tregea still part-owned the galloper, part of the deal was that the horse would be transferred to Peter Moody's stables in Victoria.
However, after somewhat of a dispute between shareholders over the horse's wellbeing following an injury sustained in the Melbourne Cup, Tregea has parted ways with his horse of a lifetime.
"I think it's one of those things, if you haven't got any positives to say, say nothing, and that's sort of the approach I'm going to take," Tregea told Steve Hewlett on RadioTAB.
"I don't want to do anyone else's reputation an injury, and I don't want to try and justify my case, but suffice to say that the horse came back in very ordinary condition – very poor condition, in fact – and I was not happy with the arrangement, so I decided to – the horse is injured, he may not race again – that we're better off out of him.
"To say there was a dispute amongst the owners is not exactly true, but some very strange things happened with one of the other shareholders. I wasn't comfortable being involved with somebody like that, so I just decided I'm better of out. Simple as that."
The original plan was for Tregea to look after the horse at his Toowoomba base given how well he knew the gelding.
Tregea is set to home him until he is ready to go back into work or be transferred back to Moody, with the next set of scans likely to paint a bigger picture.
Those next scans were scheduled for Wednesday, March 2, but there is some uncertainty now due to flooding in South-East Queensland, so they may be delayed until next week.
Mighty mare!

Verry Elleegant wins the 2021 Lexus Melbourne Cup is superb style from Incentivise under @mcacajamez for @cwallerracing at @FlemingtonVRC… pic.twitter.com/RzL3PcDpbs

— At The Races (@AtTheRaces) November 2, 2021
Tregea said that compared to the gelding's condition when he first arrived back in his stables, he has improved drastically, but there is still plenty of improvement to come if he is to get back to racing.
"He's good now," he said.
"I said to the other shareholders that he took a very, very long time to come good and put weight on again.
"Just in the last couple of weeks, he's going well. For the first time he's wanted to have a play with the other horses in the paddock – he's quite happy and putting on weight.
"All this is part of the problem – the Melbourne vets cleared him and said he was fine. There was nothing wrong with him, put him back into work, eight weeks off and get him ready for the Sydney carnival.
"But things didn't seem right, the vets that were treating him up here before he left weren't happy.
"They said bring him home and get a full investigation done at Gatton Uni which is one of the only places that can do an MRI.
"It could have been done in Melbourne, but the parties down there didn't want to do that, so I decided as manager I could overrule them and bring him home, so I did.
"We got it done and it appeared he had several injuries – mostly to his suspensory (ligaments) on the inside of both fetlocks.
"A couple of other minor things, but we won't really know whether they're healed.
"He's had a pretty exhaustive course of treatments and things while he's been spelling, so hopefully they've done the job and helped him heal."
Whether or not Incentivise will return to racing remains to be seen, although Tregea's vets do have an "optimistic view".
"The vets always give you and optimistic view, so you've got to factor that in," the former owner said.
"They think that his chances of racing again are fair, but like all these injuries, wear and tear takes its toll over time; we've only ever had a couple of them, and they've raced again, but not successfully, and they've ended up going again (being injured) in the same area.
"It's 50-50 I guess."
Prior to his maiden win, Incentivise had won just $1,400 in prizemoney, but now, the son of Shamus Award has amassed over $5.7 million, including three Group 1 successes.
Incentivise has won nine of his 13 starts, as well as one minor placing which came in the Melbourne Cup.