Doubles aplenty at Happy Valley; 100 up for Rispoli and Poon scores IJC spot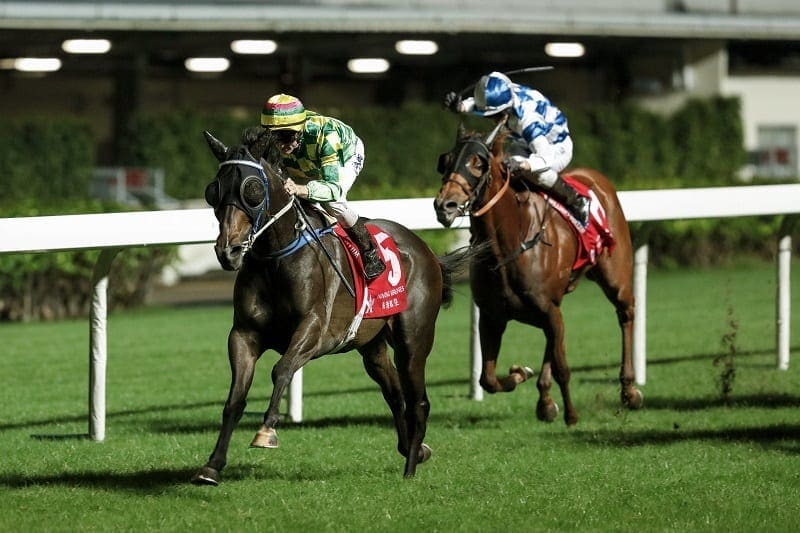 Premiership pacesetters Zac Purton and Karis Teetan went blow for blow at Happy Valley tonight with two winners apiece so the jockey's title status quo was maintained with reigning champion Purton, now on 30 wins, leading the challenger on 27.
No surprises there – other than Purton's second winner Green Luck started at 29/1 which would have been an extraordinary bonus for his loyal followers. This was the longest priced winner he's ridden all season and the least market fancied for more than six years – since he won on 31/1 chance Groovy, in June 2012, for Dennis Yip who landed a double tonight as did Green Luck's trainer Caspar Fownes.
Fownes also prepared the night's opening winner Smart Baby, the first leg of Purton's double and was denied a treble in the final race, by just a neck, by the Yip trained Starlight who provided Umberto Rispoli with his 100th winner in Hong Kong.
But for all that and no doubt the double winners and the popular Italian Rispoli had good reason to be happy with the night's proceedings, it's probable that none would be happier than local jockey Matthew Poon who secured the final spot in the International Jockeys' Championship.
He did so, sitting at home, as he's currently suspended but with chasing rivals Chad Schofield and Douglas Whyte failing to ride a winner to match Poon's tally of 14 for the season, the 24 year-old gains the final of four places allocated to Hong Kong based riders.
It will be his first IJC appearance. He joins last year's winner Purton; Teetan who debuted with a dead-heat for ninth in last year's event and Vincent Ho who finished fifth, in 2014, at his only appearance.
Longshot no shock to Fownes
Fownes said he was not surprised by the long odds win of Green Luck who was racing for the third time in Hong Kong after winning two races in Queensland, Australia.
"He's a bit of a character, this horse," Fownes said of Green Luck, "he's a bit of a lad who wants to do it his way and he has a few quirks but I said to Zac (Purton) before the race 'he's got an engine' so it was no shock at all that he was able to win.
"He won like a nice horse tonight and he'll pay a price in the ratings but I think he's a chance to go on with it."
Purton produced a superb, ground-saving ride to win on the longshot Green Luck. From gate 8, he snagged behind his rivals to settle well back on the fence and then weaved his magic to weave a path between horses on straightening.
It was not dissimilar to Teetan's effort on the Tony Cruz-trained Gold Land in the preceding race. Gold Land settled midfield on the fence and the Mauritian jockey elected to wait for the fence run which finally, but very narrowly, came inside the eventually third placed Association Fans.
Keetan's first win was more straightforward with Fantastic Fabio leading throughout in the Class 4 Jackson Handicap. Some might have lamented the rain which began to fall before this event but not the jockey who looks destined for his best ever season.
"I think the rain helped him. I pressed him to get to the front but then he relaxed like he was really enjoying it. He felt really good and was full of running right to the finish," Teetan said of the horse who did well to defy his rivals with top weight of 133 lbs.
Age hasn't wearied Ocean Roar
Ten years of age and ten race wins to his name. That was until tonight when the Jimmy Ting trained veteran Ocean Roar notched his 11th career success when simply too fast for 11 younger rivals despite not having won since the 11th month last year.
The gelding, ridden by Dylan Mo, jumped to the front from barrier one and never looked likely to be overhauled. Each of his wins has been over the Happy Valley 1000 metres course and he's not been headed in any one of them. The evergreen sprinter has now won races in seven consecutive seasons.
The perfect draw and the drop to Class 5 made the difference for the horse trained by Jimmy Ting who maintained his lead in the trainer's premiership. Ting has 17 winners for the season and is one clear of Tony Cruz. It was Mo's ninth win for the racing year which has him just inside the top ten on the table.
"Go you good old thing," was broadcaster Tom Wood's late call as if to urge on the faithful servant who, under Hong Kong Jockey Club rules, must be retired at the close of this season.
Speaking of premiership tables and popular local jockey Vincent Ho is now outright third on the jockey's table (with 15 wins) after winning on Shining On for trainer Francis Lui who, like many of his counterparts, is in New Zealand for the Ready To Run Sales. Liu purchased two two-year-olds on day one of the Sale.
The Wayfoong Centenary Bowl went to Har Har Heart, partnered by Silvester de Sousa, with the five-year-old adding his name to the list of Size winners prepared from Conghua.