Determined Ellerslie win sets up Levin Classic for Age Of Fire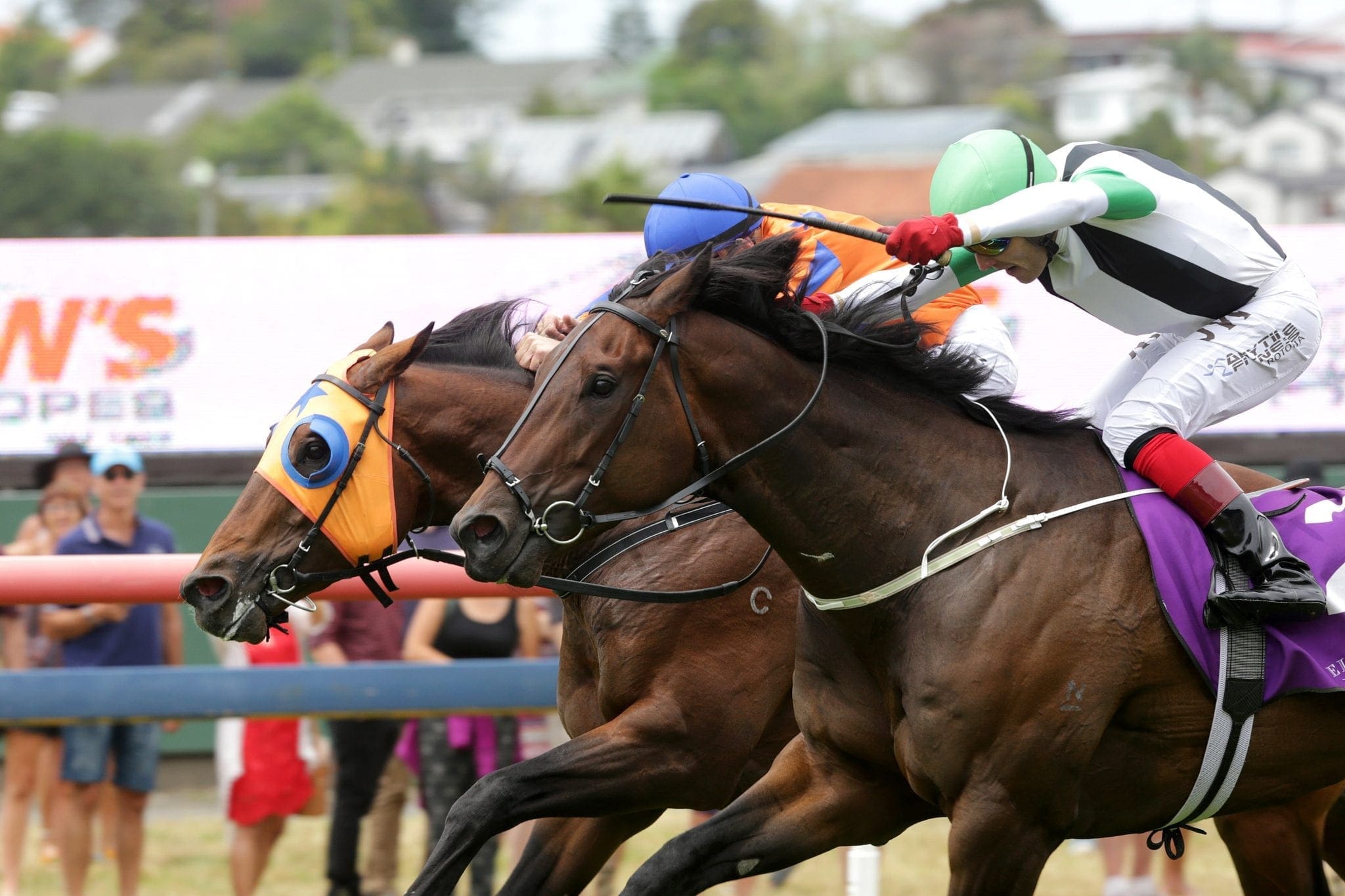 A determined late run has carried talented three-year-old Age Of Fire to victory in the Shaws Wires Ropes (1400) at Ellerslie.
The Stephen Autridge and Jamie Richards trained three-year-old was having his first run since finishing second in the Group 1 2000 Guineas (1600m) at Riccarton in November. Among his six rivals today was stablemate Embellish, who won the Riccarton feature, and Ever Loyal who had finished off into third that day.
Punters expected the trio to feature prominently once again and that was the case although shortly after the start the scenario looked less likely with both Age Of Fire and Embellish settled at the rear of the field as Ever Loyal set a moderate speed out in front. Allowed to dictate throughout, Ever Loyal looked to have stolen a victory when he kicked hard into the home straight and established a break on the field.
Rider Matt Cameron angled Age Of Fire towards an inside gap and set out after the pacemaker while Opie Bosson on Embellish chose to loop the field and make his run out wide. Former top juvenile filly Belle du Nord had also joined the Te Akau Racing pair chasing Ever Loyal and the trio quickly closed on the leader who had begun to drift towards the centre of the track.
Despite his wayward tendencies Ever Loyal looked home for all money until several huge bounds carried Age Of Fire alongside and into the lead as the pair hit the finish line.
Cameron was quick to praise the Fastnet Rock colt's effort after the combination had experienced some difficulties shortly after the start.
"We weren't brilliantly out of the gates as he stumbled a little bit," he said.
"They didn't go overly quick and the second horse was a bit wayward when we got the split up the fence. It was a good run and he backed up his form from his last start.
"He's a nice horse and well behaved for a colt, he's going to be a lovely Derby horse."
Co-trainer Jamie Richards was of a similar mind after the race.
"It was a lovely ride although he probably ended up a little further back than we wanted," he said.
"The leader got it soft in front, which was the place to be, so it was a good effort."
Richards outlined the likely path for his stable pair after the race including another tilt at a Group One contest for Age Of Fire.
"He will go straight to the Levin Classic now where the mile will suit him," he said.
"He's not eligible for the Karaka Million 3YO Classic so Trentham is his target.
"I thought Embellish ran well, he got back further than we wanted and had to come wide and stuck to it well.
"He will be seen in the Karaka Classic with a set of shades on and hopefully ridden a little closer to the speed."
The Group 1 Grant Plumbing Levin Classic (1600m) is the feature event at Trentham on 13 January with the $1m Karaka Million 3YO Classic (1600m) run at Ellerslie on 27 January