Corey Brown stars on return to Flemington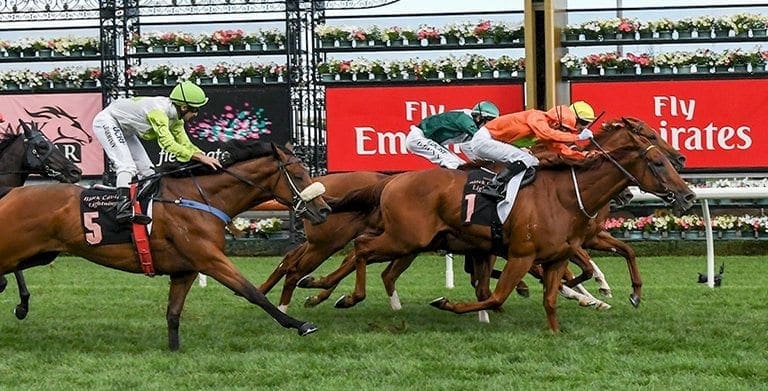 Corey Brown has made a triumphant return to the Group One stage in Australia aboard Terravista in the Lightning Stakes at Flemington.
Brown only recently returned to Australian racing, based in Sydney, after almost four years in Singapore and his visits to Flemington where he recorded his biggest win on Shocking in the 2009 Melbourne Cup have been rare in recent years.
But after getting a win aboard Post D'France on the undercard to Saturday's Lightning, Brown then took out the feature race of the day when the Joe Pride-trained Terravista burst through late to win the weight-for-age sprint in a photo-finish over Spieth.
It was Brown's first meeting at Flemington since the 2014/15 season, while his most recent winner at the famous Melbourne track came during 2012/13.
Saturday's Lightning Stakes on Terravista was Brown's first Australian Group One win since the 2012 Toorak Handicap on Solzhenitsyn and he said things had been going well since his return.
"Obviously the first day back riding in Sydney (January 28) I rode a winner for Peter Snowden, who has been very good to me," Brown said.
"And it was just good to get the association back going with Joe because over the years I've had a lot of luck for Joe. Our strike rate is actually really, really good.
"He's been very, very good to me over the years and it's just good to strike back with a Group One."
Brown has ridden more winners for Pride than any other jockey.
"I actually wanted to stalk Hughie (Bowman) on the second horse (Spieth) but they were going too slow so we basically raced head and head," Brown said.
"I could see Hughie getting a run to the inside as I was coming out searching for the run.
"It actually opened up really well for me but the moment he got daylight he pinned the ears back and it was the Terravista of old. He really had a dig getting to the line."