Baster's plan B helps Pinot win the VRC Oaks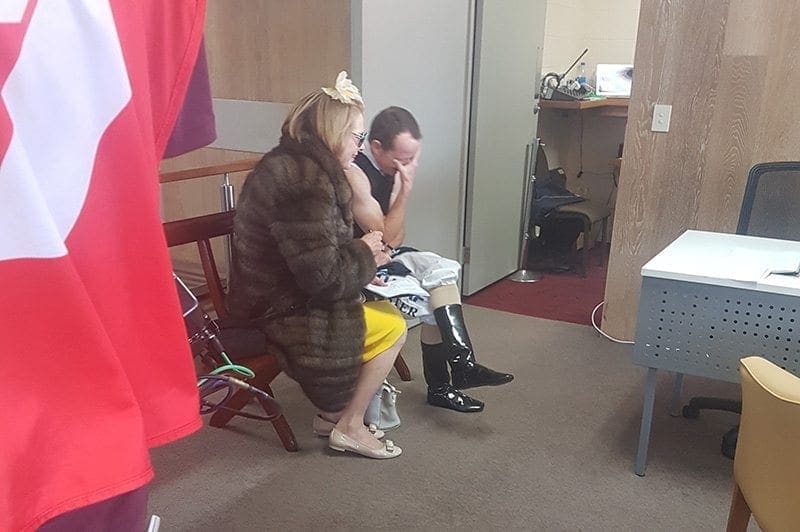 JOCKEY Stephen Baster admitted the pre-race plans "went out the window" after a tardy start for Pinot in the VRC Oaks.
The winning jockey put forward a masterful ride to insert the filly into the race after making a slow getaway, circling the field at the right time and sprinting away to record Gai Waterhouse's first-ever Oaks crown and return $5.80 at Ladbrokes.
Baster – who was spotted by HorseBetting.com.au chatting to the trainer 30 minutes before the race – said he had to change tactics after a flat start.
"We were just going through the race," Baster said when asked what was discussed.
"She asked me what my thoughts were and told me hers, then we basically came up with a plan, which went out the window once the race started.
"Luckily plan B worked."
Although the beginning of the race did not pan out as he would have liked, Baster said the horse was good enough to overcome being one of the last out of the stalls.
"I obviously missed the kick, but I was able to slot in and switch her off, but I looked up and Aloisia was having an easy time of it crossing outside the leader and I didn't want to give her too much of a head-start.

"I also knew Gai wouldn't be too happy if I stayed back there, but I just took my time until they settled in their positions and just went around them.
"I was obviously worried with the amount of work I had done, but I got an easy time for a good half mile, and she switched off and relaxed really nicely outside the leader, so I thought if I can hold onto her until the 600m she was going to be hard to out-sprint."
Baster wasted no time putting Pinot into the race, making his way around the field after the opening 400m to just sit outside the leaders.
The horse was able to get there fairly cheaply and eventually settled just behind Rimraam, which lead into the straight. The hoop then peeled Pinot off the leader's back at the vital stage and kicked the horse straight past its rivals to record a comfortable one-and-a-half-length win.
Baster said he had no doubt Pinot had the race won at the 200m mark.
"I was fairly confident," the jockey said.
"She was feeling strong under me. People have seen she can zig-zag all over the straight when she's tired.
"She was pretty strong at the furlong and I was pretty confident."