Acutus continues winning run at Ruakaka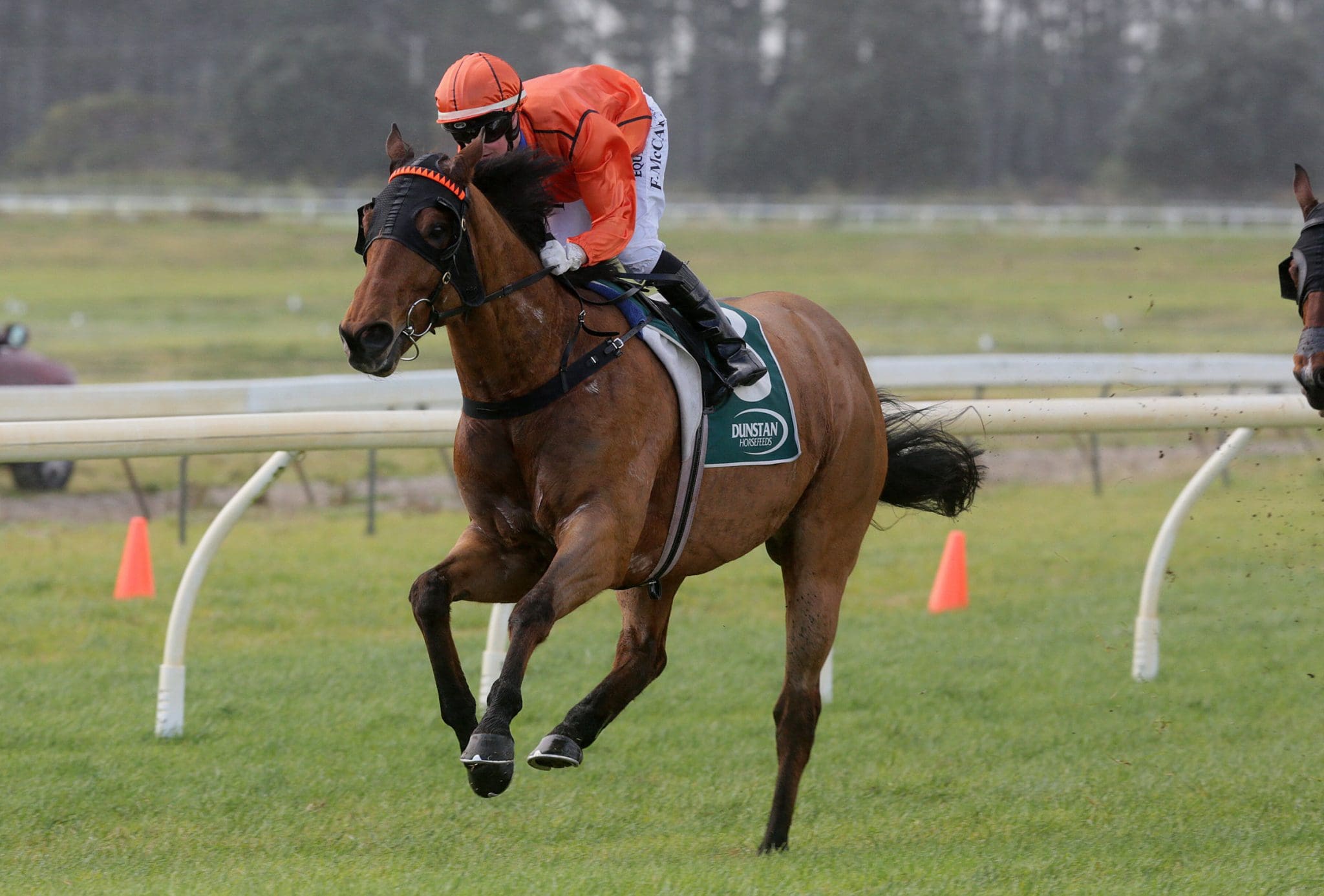 Track specialist Acutus continued his blossoming love affair with the sandy Ruakaka surface when he dominated his open class rivals in the Dunstan Accumulator (1400m) at the northern venue on Saturday.
The Bob and Jenny Vance-trained and part-owned seven-year-old set up all the pace in the hands of apprentice Eilish McCall before staving off his challengers to record his sixth career victory and second at the track in his last three starts.
Sharing in the ownership of the Sepoy gelding is Bob and Jenny's daughter Maija, who wasn't at the course to take in the action first-hand, but was cheering on her favourite from her home in Cambridge.
"That was really exciting and a big thrill as he seems to just love it there at Ruakaka," Maija Vance said.
"He's not quite up to the best spring sprinters but this type of race suits him perfectly and he is just thriving at the moment.
"We've also changed a few things with him including having females ride him now.
"Originally we thought a stronger male rider was needed as he can get a bit lazy, but we have had Eilish on him for his last three runs for two wins and a second, so he really seems to appreciate her touch.
"I think there is a similar race back up there later in the month, so I guess it makes sense to go back for another try."
Vance is currently undertaking a special project of her own as the three-year anniversary of her horrific race fall at Rotorua, that left her with serious spinal injuries, fast approaches.
In September 2018 she suffered rib fractures, smashed teeth, a punctured lung and broke her back in five places, leaving her with no feeling or movement from the waist down after falling from Zedsational during a hurdle race at Rotorua.
Told she may never walk again, the plucky 30-year-old has made a remarkable recovery to the point where she can now ride trackwork at least twice a week.
"I've managed to make steady progress over the last couple of years since my accident and I'm now able to ride trackwork and have even ridden in a couple of jumpouts," she said.
"I have quite a bit of sensation in my legs and a lot more movement, although it is never going to be back to normal as all the feeling won't come back.
"I've just had to learn how to do things without that feeling, figuring out how to cope with that.
"I was told my progress would probably stop after 18 months, but I feel I have done better than that, as I'm much stronger and keep getting better.
"I started back riding trackwork and would ride one horse and then not be able to do it again for a week. Now I can ride three in a morning and I'm ready to go again two or three days later."
Vance also has a special project she is working on with former racehorse Castello Royale, which has her excited as she gets him ready for a future career in the equestrian sports arena.
"I've got a couple of horses including Castello Royale and I've been doing some jumping with him," she said.
"I'm trying to get him ready for a career off the track which is really enjoyable and a real challenge.
"At the same time, I've also got a Palomino who isn't a thoroughbred, that I'm going to try and compete with in the show-jumping arena.
"I'm looking forward to doing competitions with him, but he is still pretty green like me, so I'm learning alongside him.
"I don't think too much about my accident these days as I've got plenty on my plate and much more to achieve."