2017 Preakness Stakes news and early betting market tips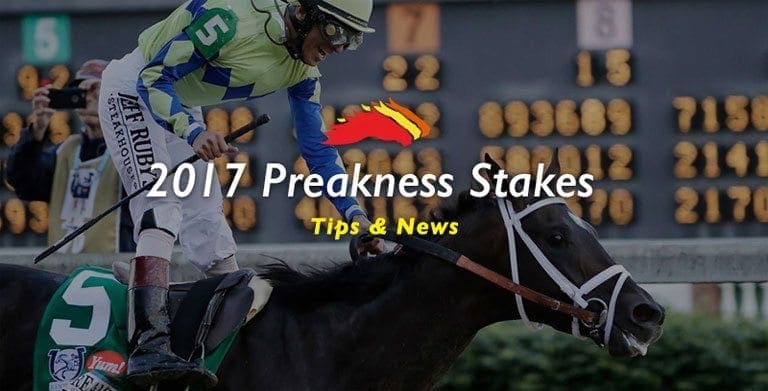 THE Preakness Stakes is always an intriguing race as the winner of the Kentucky Derby automatically has Triple Crown aspirations.
The burden to repeat the efforts of American Pharoah in 2015 will belong to the Todd Pletcher-trained Always Dreaming, which is the current favourite to win next Sunday's Preakness Stakes at Pimlico.
Pletcher has travelled the $2 favourite at Bet365.com to Pimlico early, in the hopes that it will give him time to make any last minute adjustments if they should arise.
"I think the fact that he was so headstrong when he got here, that I don't think staying here for another week is going to be an advantage," Pletcher at Churchill Downs on Monday.
"I don't think going to Belmont for a week and then moving again is an advantage. So just looking at what the options are, I think, Pimlico generally, there's not a lot of horses training there.
"I think it'll be a quiet environment, give us time to get him settled in, and if we need to make any adjustments, we'll have time to do that."
We reported last week that Always Dreaming hasn't had the easiest of careers to date, but co-owner Vincent Viola believes its unique preparation was nothing short of genius.
"I really felt that he (Pletcher) had managed the horse in a very unique way," Viola said. "I thought the horse was showing us, through his response, through his training, that he was progressing. And the anecdotal evidence was validating that.
"He was gaining weight. He was higher on his toes. He was alert and engaged. You know, horses, they know their business, and he, after the race, and up to the Florida Derby, had displayed that…
"I mean, making the choice to not going for the Fountain Of Youth, and going to a mile-and-an-eighth allowance race, I don't think the efficiency, if not brilliance of that, genius of that, should be underestimated.
"I said to Todd, 'I will not be surprised if other trainers look and study this campaign.' Because this horse is fresh. You guys saw it. Now, we were all concerned he might be too fresh."
Being on the fresh side is a worry for connections, but exercise rider Nick Bush believes it has plenty more to offer.
#AlwaysDreaming settles into the same stall as the past three #Preakness winners. Will he be the fourth?! pic.twitter.com/uY4lT73vGo

— Preakness Stakes (@PreaknessStakes) May 9, 2017
"He's got a lot in the tank," Bush said. "I don't think we've seen anywhere near the bottom."
Todd Pletcher has used draw reins in the past, which allows horses to settle better throughout the run and he plans to use them again in the 2017 Preakness Stakes.
"So basically draw reins, they're designed so they go into the girth, which is what holds the saddle in place, so they go from the girth through the bit back to the rider's hands," Pletcher described. "And basically what it does is, it keeps the horse's head down, and when the horse pulls, he's not only pulling against the rider's hands, he's also pulling against the girth.
"It gives the rider added leverage and is able to keep the horse more under control and keep the horse framed up with his head down instead of up.
"When Always Dreaming gets aggressive, he knows that if he puts his head up, he can break the rider's hold a little bit, and that allows him to go at a faster pace. So that's what the horse wanted to do, and we didn't want him to be able to do that in his gallops leading up to the race.
"So the draw reins basically gave more leverage, more control."
Pletcher doesn't believe the change in track will have any effect on the champion three-year-old, which will likely be the subject of big bets throughout the week.
"He's run well at Belmont," Pletcher said. "He's run well at Saratoga. He's run well at Tampa. He's run well twice at Gulfstream on two very different tracks. You know, the allowance win was on a very deep, cuppy, dry surface and the Florida Derby was on a fast, really fast, surface, and then here on a sloppy surface.
"So it's great when you don't have to worry about all the variables that you can't control."
Preakness Stakes field starts to take shape
Kentucky Derby runner-up Lookin At Lee finished well above expectations last Sunday and the Preakness is "definitely a possibility".
"We are going to give his run yesterday the respect that it deserves and wait until he goes back to the track. Just make sure he's the Lookin At Lee that has spoiled us to this point," trainer Steve Asmussen said.
The talented three-year-old was one of the despised outsiders for the Kentucky Derby, but it pulled out all the stops and was beaten only by Always Dreaming in the run to the line.
"I'm just proud of his efforts," Asmussen said. "Glad he got into the race and got a chance to show who he is. I thought the winner ran a great race, and Lee did all he could do."
It was ridden by Corey Lanerie on Sunday, who stuck to the rails before chasing gamely behind the winner. Asmussen thought Lookin At Lee could have picked up Always Dreaming, but he paid credit to the winner.
"He gives you a lot of confidence," Asmussen said. "He just keeps coming. He doesn't hesitate."

"I thought Corey was a great fit for him and did a wonderful job. He got a dream run. He got his chance. Around the turn when he moved up and at the head of the stretch, I thought he was going to get there. Always Dreaming had a lot left and ran well under the wire."
The last horse to finish in the first three in the Kentucky Derby after drawing barrier 1 was Risen Star, which went on to the both the Preakness and the Belmont Stakes.
Another Derby runner which could press on is Classic Empire, which pulled up on Monday morning with an eye half shut.
"A lot of it is just going to be how quickly his eye can come around. He also got cut up quite a bit yesterday," Casse said.
"He looks a bit like Muhammad Ali after a rough night. We're just going to have to wait and see."
Classic Empire was one of the better-fancied runners, but was run into after the gates opened. That forced a chain reaction and jockey Julien Leparoux told Casse that he's not sure how to remained upright.
"Believe me, after yesterday I'd like another crack at everybody because he had a trip from hell," Casse said.
"We're going to have to see how his eye does. Eyes are funny. Some will be fine in 24 hours. Some take weeks. We're going to take it day by day.
"Julien said he didn't know how he stayed up, he got hit so hard. I'm amazed. The crazy thing is that yesterday was probably the best race of his life, and he may have raced the entire race with one eye because that's probably when it happened."
2017 Preakness Stakes market and early tips
Always Dreaming – $2
Classic Empire – $5.50
Lookin At Lee – $9
Royal Mo – $11
Gunnevara – $13
Hence – $13
Conquest Mo Money – $17
Multiplier – $17
Cloud Computing – $21
Senior Investment – $26
The wet track conditions at Churchill Downs can throw a spanner into the works for punters, but we think sticking with the favourites for this should be a good strategy.
Always Dreaming looks to have superior talent to those of these, and despite the fact it's not one of the strongest thoroughbreds to attempt the Triple Crown, it can only beat what's in front of it.
Classic Empire on the second line of betting is a risk with its eye troubles, but on a dry track it could turn the tables. It would pay to follow any positive betting moves for this runner.
Lookin At Lee ran out of its skin to run second in the Kentucky Derby, but that might have been a flash in the pan-type performance. There's no doubting its ability to run good races, but the $9 is a touch short and we'd be wanting at least $3 for it to finish in the first three.