Isotope takes a well rested spell before preparing for The Galaxy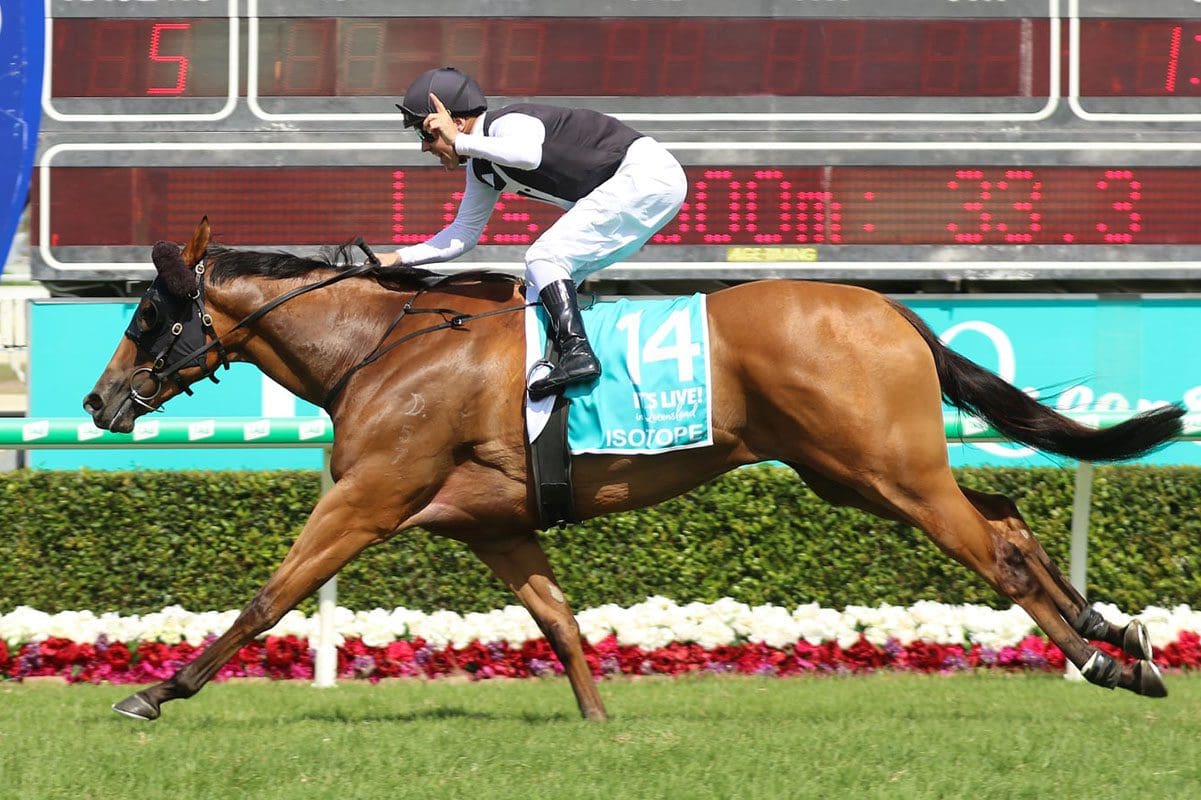 Arguably Queensland's best racehorse, Isotope is on track to win an "elusive Group 1" according to her trainer Tony Gollan.
The four-year-old mare survived a life-threatening colic attack in 2021, and returned as a winner in last Saturday's $1 million Magic Millions Snippets (1200m) on the Gold Coast.
Gollan had accepted with Isotope on New Year's Day at Doomben in the Listed Nudgee Stakes, but after a downgrade of the track throughout the afternoon, he opted to scratch his Group 2 winner and wait for the Snippets instead.
"I always felt even missing that run on New Year's Day that she was right up to the mark, and once she begun cleanly from the gates, I never really had a nervous moment," Gollan told RadioTAB.
"We have great belief in her ability at a level she was at against last Saturday – which was deep enough race on Magic Millions Day.
"That's the great thing about her – she's so versatile; you can show speed on her, she's not a horse you have to tuck away with cover, you can do a bit on her at the barriers and she will always come back for you.
"She's a versatile filly in the way we can ride her; we've seen her come from well back off the speed the day she beat Away Game last Summer, which I think is one of her biggest wins."
Let's relive the final stages of Isotope winning today's $1M @mmsnippets Snippets over 1200m given an awesome ride by @RMaloney_Jockey in a scorching 1:08:12 🔥

The best is to come from this @tonygollan trained mare we secured 3 years ago at @mmsnippets for $170k from @daandine. pic.twitter.com/eORBwZ8Npc

— Black Soil Bloodstock (@Black_Soil_Bsk) January 15, 2022
The consistent daughter of Deep Field has never really run a bad race, apart from her disappointing 10th in the 2020 Group 1 J.J. Atkins, which Gollan says she can be forgiven for due to the poor state of the Eagle Farm surface.
The $1.1 million earner has only had 11 starts, winning six of those and placing second on a further three occasions, proving that she is in an elite group.
"I certainly love the way that my mare now has developed into a beautiful strong horse and I think handled correctly, we can hopefully get an elusive Group 1 with her in the next year or two," the mare's trainer said.
"Saturday's mission for me was to work out what we do next really.
"Do we step back out towards that 1400m again or even the 1500m towards the Coolmore, or do we keep her to those shorter sprinting trips restricted to around that 1200m distance?
"I think at the moment – I haven't fully cemented it in yet – but I think at the moment we'll keep her to those shorter sprinting trips."
Isotope will now have up to 10 days in the paddock at Embrook Stables, a spelling farm at Beaudesert, before being set for a trip to Sydney in the autumn.
The mare will be targeted towards the Group 1 The Galaxy on March 19 at Rosehill Gardens, which is the same meeting that she won the Listed Darby Munro Stakes at in 2021.
Absolute utter class!! Congratulations @tonygollan and @Black_Soil_Bsk as Isotope (Deep Field) proves simply too good for G1 winner Odeum in the Listed Darby Munro Stakes 🏆🎉@TDNAusNZ @anz_news @mmsnippets @BrianSiemsen @daandine @daandine @SkyRacingAU @SEN_track @NewgateFarm pic.twitter.com/FFeO6Ojw3h

— Ryan Maloney (@RMaloney_Jockey) March 27, 2021
"To head to The Galaxy without another run, obviously 1100m I want to have her pretty fresh," Gollan said.
"She'll have one or two trials in Brisbane prior to going away.
"But she can handle soft grounds, so if the track is soft down there around Golden Slipper time – it's not Golden Slipper Day – but it allows her to be competitive on that sort of ground; she actually won at that day last year.
"Hopefully we'll head down there for The Galaxy and be very competitive.
"It gives me nine weeks – it gives me plenty of time to give her a bit of rest and build her back up and hopefully have her spot on.
"She a 105 rater now; she'll make the field I'd imagine and she'll get a pretty nice, light weight under handicap conditions."
Isotope currently sits on the fourth line of betting with Sportsbet at $8, just behind three-year-old colts Home Affairs, Paulele and In The Congo.