Tsaikos brings dominant form into Alice Springs Cup Carnival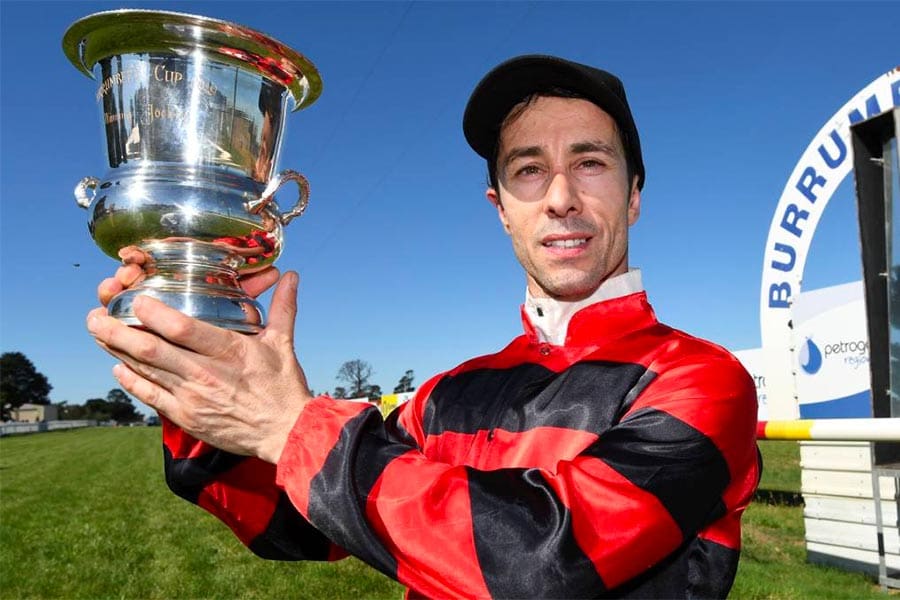 It would be wise to keep an eye on one certain jockey during the 2022 Alice Springs Cup Carnival, which starts on Saturday.
Stan Tsaikos has dominated the scene in recent years.
Two years ago, Tsaikos rode 23 winners for the 2019/2020 season at Pioneer Park to finish second behind Terry Treichel (24).
Tsaikos claimed his first Alice Springs jockeys' premiership when he booted home 24 winners for the 2020/21 season, but this season he has seemingly found another gear.
There have been 22 meetings during the 2021/22 season in the Red Centre and Tsaikos already boasts 30 wins, ahead of Paul Denton (20) – and there are a further 11 meetings scheduled.
Last season he saluted on 12 occasions in Darwin and this season he has already tasted success 12 times at Fannie Bay in the Top End.
In recent times, it's not unlike Tsaikos to ride four or five winners on the program at Alice Springs.
There is no secret to his success, but if Tsaikos' mount is in front turning for home they're hard to catch.
READ: No plans to leave Alice Springs for Philpot after 100th win
Tsaikos started his rising career in Victoria some 25 years ago and agrees he is having his best season since he was an apprentice.
Since 2017, Tsaikos has been doing the Northern Territory circuit where he has appeared at the Alice Springs and Darwin Cup carnivals.
Happy to fly in and fly out of Alice Springs from Victoria, Tsaikos has had to spend more time in Alice Springs since last year because of the Covid lockdown.
"Obviously, it's extremely competitive with a lot of riders in Victoria and opportunities are scarce – so I ventured here and made the most of things," Tsaikos said.
"It's taken five seasons to get to the leading rider status and obviously without the support of trainers I wouldn't have achieved it.
"Gillett Racing and other trainers have supported me along the way – Greg Connor when I first started coming up to the Red Centre.
"Sarah Robbins is a good friend – she and her partner were supporting me with the small numbers they had. It just grew from there.
"Following the carnivals can be lucrative, especially if you take out one or two feature races."
Last year, Tsaikos won the NT Guineas (1600m) in Alice Springs on Valley Prince and the Metric Mile (1600m) in Darwin on That's Justified for the Gillett stable.
Despite his recent run of success, Tsaikos couldn't hide his admiration for Terry Gillett and wife Leanne.
"Terry and Leanne put a lot of hours into their horses and I think it shows on race day," he said.
"I'm lucky to hook up with them – the love for their horses is huge.
"Terry and I had a 50 per cent strike rate last year as trainer and jockey – that's unheard of.
"I can't thank the Gilletts enough, and the owners and connections for supporting me and backing me."
Tsaikos spent a year in Tasmania many years ago and last year he finished third in the Launceston Cup.
"I've been following Carnivals because of the fact that I have had to venture out of Victoria," he said.
"I have been bouncing between three states.
"It just comes down to opportunity and making the most of it.
"Putting your best foot forward and being in the right place at the right time.
"I'm in good nick, I'm keeping well and my weight is good.
"I just try to get the best result every time I step out. That's what it all boils down to.
"Keep yourself right. Keep fit and giving yourself every possible chance."
READ: Punt Drunk: The greatest field of all time?
In 2010, Tsaikos was sidelined for five years because of a neck injury following a fall – that allowed him to give his body a rest.
Tsaikos, who has a full book of rides on Day 1 of the Alice Springs Cup Carnival, is adamant Dakota Lee, Valley Prince, That's Justified, Duke Of Hearts and Supreme Times will fly the flag for the Gillett stable in feature races.
"Dakota Lee has won seven from seven and she won over 1400m for the first time last weekend – she steps out in the NT Guineas next weekend," he said.
"I don't see anything getting near her. I think she is a superstar – better than former Alice Springs galloper Desert Lashes.
"Last year's Guineas winner Valley Prince – we're plotting a path towards the Alice Springs Cup (2000m) with him.
"That's Justified will back up in the Chief Ministers Cup (1600m) – a race he won last year by seven lengths where he also broke Savatoxl's record.
"Duke Of Hearts is a very good horse – he ran fourth in the Pioneer Sprint (1200m) last year and will back up in the same race in a few weeks.
"Supreme Times has won his last three, but has to basically win on Saturday to make the Pioneer Sprint."