Young female jockey Jade Hampson wins at her first race ride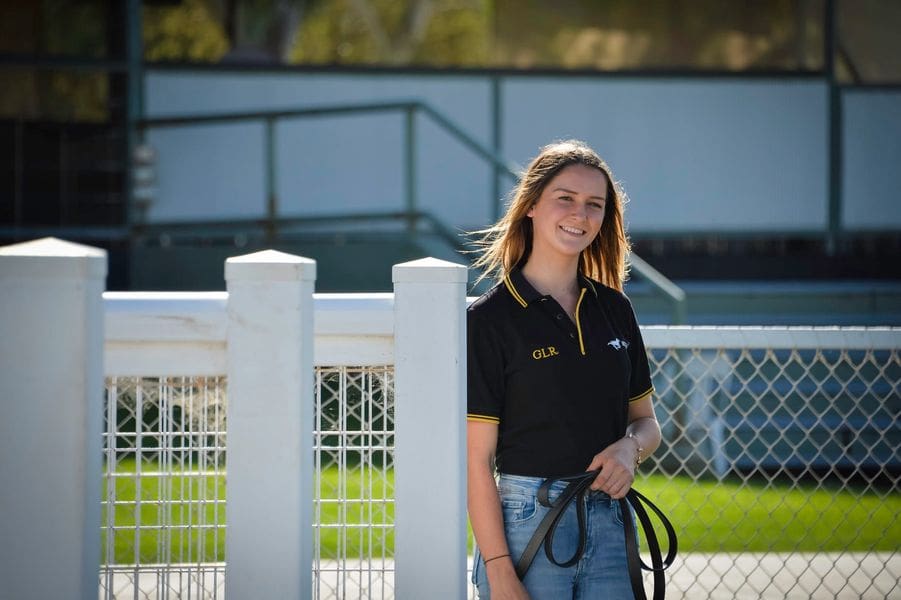 It's no secret that female jockeys are making a serious impact on the Northern Territory racing landscape of late.
They have been booting home winners on a regular basis in Darwin and Alice Springs.
Jade Hampson has now joined the jockey ranks and she maintained the status quo with victory in her first race during last Thursday's meeting at Fannie Bay.
The 18-year-old apprentice booted home the Tayarn Halter-trained four-year-old mare Pointo's Pick in the Bet365 Odds Drift Protector Maiden Plate (1300m) – the opening event on the Darwin program.
After endless trials and track work, Hampson finally got to launch her riding career in what proved to be a memorable day.
"Yeah, it was great. I didn't expect to win my first race," she said from Alice Springs on Sunday.
"It was definitely a highlight and a bit of a bonus to the day.
"I wasn't actually nervous until my second ride – I don't know what that was about.
"I was more excited leading up to my first ride. I have waited a while for the day to arrive."
And it's a day that Hampson is unlikely to forget as she finished second in her two other rides on the five-event card in the Top End.
Hampson has been surrounded by horse racing all her life as her mother Katrina was a trainer.
"I grew up in Geraldton and then I was in Broome for five years. I've been in Darwin for about six years now," she said.
"I was always around it. I was dealing with horses around the stables for as long as I could remember.
"I started riding the racehorses when we were in Broome.
"I was just riding them out in the bush and down at the beach a bit – mainly the quiet ones.
"When it came to riding track work the stewards let me start riding just before I turned 14.
"I have been in Darwin for a while working for trainer Tayarn Halter and Lindsay Schmidt, and Garry Lefoe.
"Due to circumstances, I have been waiting to do my apprenticeship for about two years now.
"I was pretty prepared for the day leading up to my first race. It wasn't too stressful. It was good.
"I have been doing trials for about three years now.
"I had to do a lot of trips away to Morphettville, Murray Bridge and Strathalbyn in South Australia riding trials down there.
"I had done a lot of trials leading up to Thursday and been riding track work for about four years.
"I'm living in Alice Springs and flew back to Darwin leading up to the meeting last Thursday
"Not riding in Alice over the Carnival just because they're bigger fields."
After five minor placings in her past five starts, Pointo's Pick finally cracked it for a win at her 27th career start.
The former Queensland galloper jumped well from the inside gate and pushed up along the rails to head the field passing the 1000m.
Pointo's Pick, a +250 hope with horse racing bookmakers, was travelling comfortably and once turning home kicked clear to overcome Phil Cole's It's Pins and Chris Pollard's Gooseontheroof by four lengths.
"To be honest it went pretty quick for me. I was lucky, my horse jumped really nice for me," Hampson said.
"Pointo's Pick just travelled nice. I just let her roll. I have ridden most of her work and I know what she sort of likes.
"Just wanted to keep her happy and just get her around the corner, and she did that very nice for me.
"Once I started pushing her out I didn't hit her at all. I gave her a slap on the shoulder and she just got away from them. She did it really easily."
Claiming 4kg as a first year apprentice was a bonus, which was also proved to be the case for Hampson in her two other rides.
Garry Lefoe's Ima Puppett (+320) finished second behind Phil Cole's $-133.33 favourite Looking For You (Tessa Townsend) in the Sky Racing 0-54 Handicap (1300m).
And Tayarn Halter's Don't Wait ($-181.82 favourite Poupee (Sonja Wiseman) in the Ladbrokes Live Betting 0-70 Handicap (1000m).
"Looking For You and Poupee were definitely hard horses to beat. I was happy with the runs of both of my horses," Hampson said.
"It was definitely a big run from both of them. The other two horses that won were quality horses and I couldn't get there.
"As far as last Thursday was concerned it couldn't have gone any better.
"I will keep riding in Darwin until the Alice Carnival is over – then I will be able to ride in Alice as well."
Speaking of Alice Springs, the racing fraternity assembled in the Red Centre for the Alice Carnival were watching at a pub when Hampson saluted aboard Pointo's Pick.
"Honestly, I had tears in my eyes watching that young girl. She has ridden some track work for me," prominent Northern Territory trainer Kerry Petrick said.
"To watch this beautiful girl with what she's gone through to obtain her licence and have her first ride today and it being successful – I honestly look at this young girl and believe that she will end up a metropolitan jockey.
"To see one of our local riders start from scratch. It's very difficult in the Territory because we have to send young riders south for them to do their trials.
"It's not an easy thing for us up here. To see this young girl succeed today and win was just something out of this world."
Pointo's Pick Gives Jade Hampson Her First Win As Jockey At Her First Ride
---