Wiseman could make ultimate comeback from injury on Alice Springs Cup day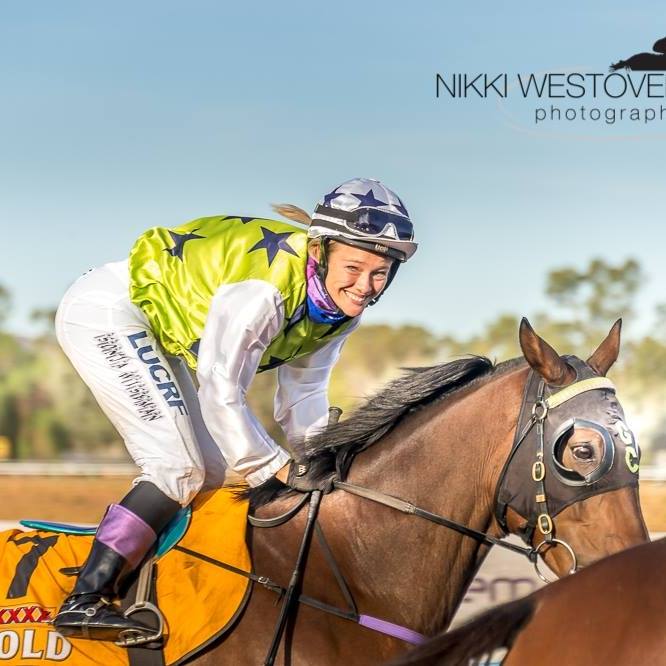 IF Saturday's effort in Alice Springs is any guide, then Darwin-based jockey Sonja Wiseman is just two rides away from making the ultimate comeback from injury.
Wiseman had a day out booting home four winners on the eight race program, which included victory in the two feature races on Day 3 of the Alice Springs Cup Carnival at Pioneer Park.
Tanner ($3 equal favourite with online bookmakers) made it three straight wins and qualified for the $100,000 Pioneer Sprint (1200m) on May 1 with victory in the $25,000 Ladbrokes Switch WFA (1200m) for Port Augusta trainer Trevor Montgomerie.
Trident ($3 with horse betting sites) then made it four wins from his last five starts to stake his claim as a serious threat in the $110,000 Ladbrokes Alice Springs Cup (2000m) next Sunday after taking out the $40,000 Red Centre Technology Partners Chief Ministers Cup (1600m).
And both horses could not have been more impressive.
The fact that Wiseman is back in the saddle at all is a blessing.
The 30-year-old, who made a name for herself as a successful rider in Cairns and Townsville, was involved in a three-horse fall at Fannie Bay on July 28 during last year's Darwin Cup Carnival.
After being dislodged from her mount Supreme Times entering the home straight, Wiseman landed heavily with her health and career suddenly in jeopardy.
Fellow jockeys Wayne Davis (Somervell) and Alice Lindsay (Jomera) game to grief as well, but thankfully Davis – the only Group 1 winning jockey based in the NT – and Lindsay – who has relocated to South Australia – are back riding.
Sadly, Jomera didn't survive the ordeal.
"I was very lucky. I didn't break any bones or anything," Wiseman said.
"I hit my head, and had a seizure and they classed that as a traumatic brain injury.
"It was basically beyond concussion and I lost memory for about two months.
"I have no recollection of the fall or anything prior to that.
"The emotions were all of the place because your brain isn't working properly.
"It was pretty hard to come back from that, but I'm back and I'm probably riding better than ever.
"I've been lucky enough to have some really good support from my partner Tom and others in racing – probably wouldn't be riding as good as I am without them."
Tom Logan, a former jumps jockey in Victoria, is a trainer in Darwin and it proved a memorable occasion for the young couple when Wiseman returned to the saddle in the Top End on Melbourne Cup Day.
"Tom had just taken up his trainer's licence and his first runner Fromthenevernever won," she said.
"That was my first ride back after my race fall, so there was a bit of pressure (she laughs). It was nice to have a win for him."
Wiseman and Logan have teamed up to post their fair share of winners in Darwin and seem settled in the Top End.
"I have been riding for about 10 years now – with a couple of breaks and injuries in between," she said.
"Rode most of my career all over Queensland. I did ride down in South Australia and Victoria, but I didn't get much of a go down there.
"I ended up in the Northern Territory and it kicked off from there.
"Tom and I met in Alice Springs about five years ago now. We moved to Darwin a couple of years ago.
"We then left and went down to Victoria and came back to Darwin again.
"Then I had the race fall and I was out for a while. It was a rocky road."
Incredible was the best way Wiseman could describe her effort on the weekend where she also triumphed aboard $1.90 favourite Halgard (Dick Leech) and $1.80 favourite Jet Jackson (Mark Nyhan).
The prospect of Wiseman winning the two biggest races on the Alice Springs Turf Club's calendar is not out of the question as Tanner and Trident are humming.
Tanner settled midfield from a wide gate before switching to the rails to seal victory, while Trident once again settled at the back of the field before weaving his way through the field once exiting the back straight with blistering speed to seal an emphatic win.
25,000 Ladbrokes Switch WFA (Pioneer Park, Alice Springs, 1200m) – Tanner
---
Montgomerie was adamant five-year-old gelding Tanner had ability, but he had to win on Saturday to make the Pioneer Sprint.
"He probably settled further back than I expected. Got the rail run and he just flew home," Wiseman said.
"We've won our last three runs and he just seems to be improving every start – I think he might be half a chance in the Pioneer Sprint.
"He is an old-battler kind of horse – like he puts in 110 per cent and if another horse is right up beside him he'll fight it out which is really good too.
"At the 500m, the second-placed horse Signor Fangio went past me and I was like 'oh no' – but he had to go around them and we took the short cut."
Long-time Northern Territory trainer Mark Nyhan stated that four-year-old gelding Trident is the best horse he has ever had and Wiseman could only concur.
"Oh yeah. He is just an absolute weapon of an animal," she said.
"He is one of the smartest horses I've ridden for a long time. He is a horse who will fight out a finish and is just tough.
"He loves getting back and flying home. We made our move at the 700m and I just followed Count Of Essex, who finished second.
"As soon as he was in the clear I knew that we were home.
"Honestly, I wasn't concerned that we were so far back.
"I've won four on him now. Every time I've ridden him he has always gone back and just flies home.
"He raced over 1000m prior to his last start. He got back in that and still flew home for a fourth which was amazing because it was unexpected as he is a miler.
"He has one of the quickest sprints I've sat on.
"Trident won with 64.5kg a couple of starts back in Darwin, so weight doesn't worry him either."
$40,000 Chief Ministers Cup (Pioneer Park, Alice Springs, 1600m) – Trident
---
Tanner and Trident lumped 58.5kg and 59kg, respectively, at a weight-for-age level on Saturday and what they will carry come the Pioneer Sprint and Alice Springs Cup will be revealed on Monday.
Wiseman, who heads back to Darwin on Monday to ride at the Anzac Day meeting, expects both horses to receive a penalty.
"Yeah, unfortunately, but that's just how the cookie crumbles," she said.
Like other female riders in the NT, Wiseman is enduring a purple patch of form of late and is among the leading riders in Darwin and Alice Springs despite missing the opening three months of the 2021/22 season.
She sits in equal second place (15) with Paul Shiers in Darwin behind Jarrod Todd (28), who was aboard the horses that finished second behind Tanner and Trident on Saturday.
In Alice Springs, Wiseman (13) is now fourth behind Stan Tsaikos (32), Paul Denton (21) and Jessie Philpot (17).
Overall at a NT level, Wiseman (28) is third behind Tsaikos (44) and Todd (30).
Happily, Supreme Times – the horse that Wiseman fell from last year – is now trained by Terry Gillett in Alice Springs and having won its past four starts is considered a huge chance in the Pioneer Sprint.