Whittle edges out Gillett in Alice Springs trainers' premiership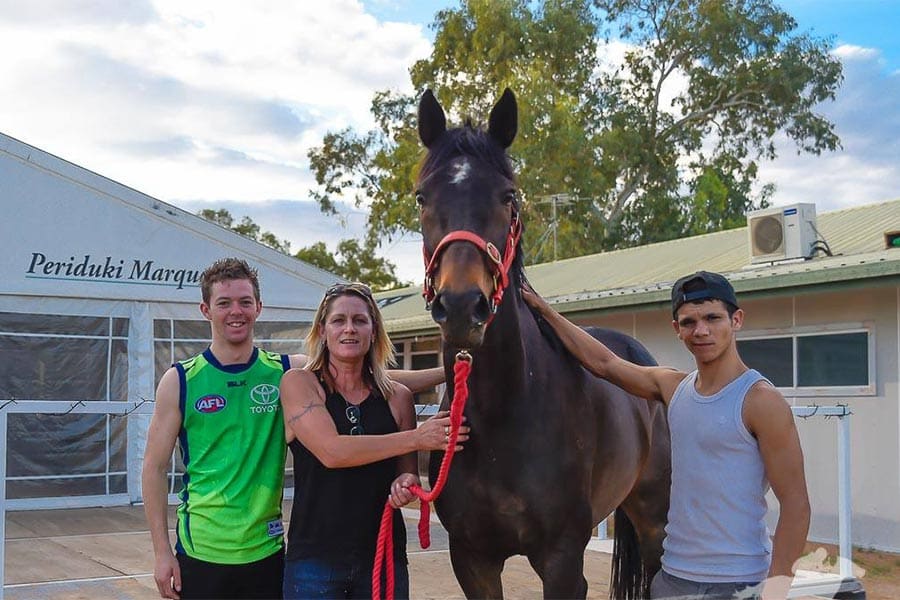 Lisa Whittle landed a double last weekend to claim the Alice Springs trainers' premiership for the 2021/22 season.
For years, Whittle dominated the Red Centre landscape and she seemed to have a mortgage on the premiership before relinquishing the title to Terry Gillett a year ago.
For Gillett, a former Alice Springs jockey, it was his first trainers' premiership.
It was the Alice Springs Turf Club's 33rd and final meeting of the season on Sunday with Whittle and Gillett locked together on 30 wins each.
By the end of the day, Whittle (32) had regained her title from Gillett with Greg Connor (19) coming third.
Gillett, who won the premiership last year with 26 wins from Connor (25) and Whittle (21), jumped out of the blocks at the start of the 2021/22 season and held a comfortable lead over his fellow trainers before Whittle gradually ate away at the deficit.
To be fair, the consistency of the Whittle stable could not be questioned as from the end of the Alice Springs Cup Carnival on the first day of May.
There were five races set down at Pioneer Park on Sunday and both trainers had at least one runner in each race.
Whittle had nine representatives, while Gillett had six starters.
Whittle managed a second with $3.50 favourite Like A Heartbeat (Sonja Wiseman) and Gillett managed a third with $8 hope Future Dreams, ridden by his daughter and apprentice Dakota-Lee, in the first race.
In the second race, Whittle had a second when $4 favourite Harbour Express (Jade Hampson) followed the Dick Leech-trained Lethal Encounter (Sairyn Fawke) across the line.
Liberty Blue (Jade Hampson), Whittle's $2 favourite in the third race, finished third, but stablemate Ananagram (Sonja Wiseman) was victorious and it was starting to look bleak for Gillett.
Mathematics (Ianish Luximon) won the fourth race for Whittle and the trainer's premiership was in the bag – stablemate Zelring (Jade Hampson) finished third as the $3.10 favourite.
In the last, Envy Me (Jade Hampson) finished second for Whittle.
It was also a good day for Darwin-based trainer Phil Cole after securing a winning double with Sedona (Jade Hampson) in the first race and Bartolini (Wayne Davis) in the last race.
Cole, who currently sits second behind Gary Clarke (50) with 30.5 wins in the Top End trainers' premiership, finished fourth in the Alice Springs standings with 12 wins.
ASTC chief executive officer Tom Slattery was full of praise for Whittle and Gillett.
"It was extremely close between Lisa and Terry, very exciting," he said.
"Coming down to the last meeting of the year is a spectacular effort from both of them.
"They cleared out well from everybody else – that's a huge effort.
"I'm really pleased for them.
"Lisa found her legs in the last few meetings, so good luck to her.
"I reckon that's her eighth or ninth title, that's an awesome effort.
"Terry just misses out this year, but he had a great season and I'm sure he'll be just as competitive next season."
Gillett had unqualified success with three-year-old filly Dakota Lee, who won six races from as many starts in the Alice from October to April before relocating to South Australia.
Dakota Lee also won an 1100m maiden on debut in March last year as a two-year-old.
Terry and wife Leanne can also be proud of the fact that daughter Dakota-Lee, whom the horse was named after, managed to make her debut for the Gillett stable as an apprentice jockey by having three rides at Pioneer Park during the month of July.
And of course, Whittle was the original trainer of Desert Lashes, who won five straight races in the Red Centre at the start of her career before winning her next three at Morphettville.
That all occurred from April 2016 until April 2017 before Desert Lashes left the NT to continue her career in South Australia and Victoria.
Stan Tsaikos was unstoppable and made it back-to-back titles in the jockeys' premiership in Central Australia by booting home 35 winners, eclipsing the 24 winners the Top End-based hoop rode last season.
Ianish Luximon was the leading apprentice with six wins from 86 starts, which also included 13 seconds and 15 thirds.
Darwin-based apprentice Jade Hampson also rode six winners for the 2021/22 season at Pioneer Park from just 17 starts, which also included three seconds and two thirds.
Hampson's strike rate is amazing considering the fact she only made her riding debut in the Red Centre on June 19, but Luximon took out the award as his minor placings record was far superior.
"Stan had another fantastic year on top of the 17 winners he has also ridden in Darwin," Slattery said.
"It's great to have him be a part of Alice Springs Red Centre racing for the last couple of seasons.
"Ianish, who was born in Mauritius, came to us this season as an apprentice to further his riding career after a stint in Tasmania.
"He's been a great asset to the local racing community – he's learning his trade each and every week.
"As for Jade, she has burst on to the scene in spectacular style."