Palmerston Sprint preview & predictions from O'Toole & Sant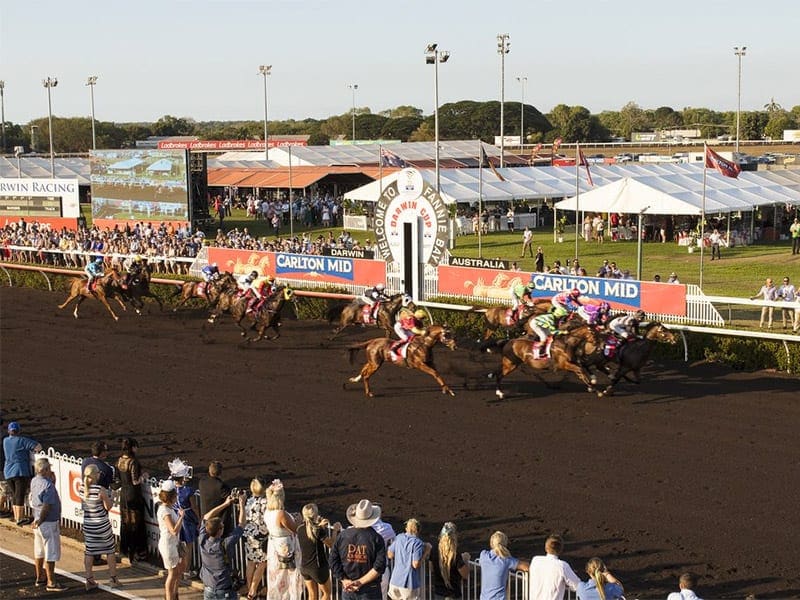 After six race meetings during July, it's the final weekend of the 2022 Darwin Cup Carnival at the iconic Fannie Bay. It's also the biggest weekend on the Top End racing calendar with the Darwin Turf Club hosting the $135,000 Palmerston Sprint (1200m) on Saturday and the $200,000 Darwin Cup (2050m) on Monday. Thoroughbred Racing Northern Territory chief executive officer and Sky Racing's Andrew O'Toole and Fannie Bay racecaller Craig Sant provide their assessment on the Palmerston Sprint, the feature sprinting event in the Northern Territory.
ALSO: Darwin race-by-race preview & best bets – July 30, 2022
ANDREW O'TOOLE
It's a good field, probably as even a field I've seen for a while.
You've got a couple of co-favourites in Syncline and Easy Beast.
Quite a lot of money for Easy Beast – the Dick Leech-trained runner.
Of course, Leech has won the race before with Lucid Reflection in 2010.
And Easy Beast was a really good run here behind Syncline at his only start on the track.
Got back on that occasion, made up a lot of ground in the straight.
He's drawn one this time, so he'll have to use that barrier.
I dare say that jockey Sairyn Fawke will get him out, put him pretty close to the pace or maybe just behind the speed.
You can't give away a barrier like that, but he's a horse on the up – he'll improve with that first run on the track.
He's my top selection, Easy Beast to beat another young horse in Ideas Man.
Trainer Chris Nash and Victorian jockey Dean Holland combine – drawn handedly in barrier four.
He's got a lot of pace, but he can miss the start by half a step – if he jumps with them he'll be right there.
I think he might be just outside the leader.
Little bit like Chris Nash's winner last year Mayameen.
She came across from a wide draw, but sat outside the leader and I think Ideas Man will be in that sort of spot as well.
The big question for him is can he get a hard 1200m, but Nash won it last year and he knows what it takes – so got to be right in the mix.
And for third Syncline, for local trainer Gary Clarke and jockey Jarrod Todd.
Drawn seven, should be able to get a nice spot – maybe two out, two back or one out, two back, something like that.
Been racing really well this campaign – seems to have strengthened up the horse, I've been a fan of the horse.
Just not sure if a hard 1200m is what he wants, but it will be on Saturday, so we'll learn a little bit more about his intestinal fortitude – but he's a very smart galloper.
Got him in to run third.
And my fourth selection is Smuggling.
He's recent form doesn't look that flash on paper, but he's one of those horses that when it comes to the grand final in a big high pressure race he's shown that he's up to it.
He's won two Pioneer Sprints in Alice Springs, of course, and he finished a very close up in this race on more than once occasion.
Selections:
CRAIG SANT
I think the Sprint is really open.
You could make a case for plenty of them.
Because of the outside gate, Adam Nicholls is going to hunt The Captain out.
They'll go hard, The Captain will try and cross them – bad luck he has drawn the 12.
He would have been a bit of a better chance and would have applied immense pressure if he had drawn OK and jumped well.
From the outside gate, I can't see him jumping and taking a sit.
Maybe Easy Beast from the inside gate just might get a sit.
I didn't mind its run behind Syncline the other day.
Beaten 1.8 lengths getting home late from a long way back over 1100m.
He's record is not too bad over 1200m – the blinkers go back on and he carries 54kg.
Syncline is carrying 56.5kg.
Last time Syncline carried 56kg and Easy Beast carried 54.5kg.
I notice with Syncline he's got the bar plates on, so there might be just a little issue there with him.
Syncline was the early favourite, but I see that Easy Beast has taken over.
I thought Easy Beast would get a nice run and get the last crack, he'll just need luck from the inside gate.
I reckon Ideas Man is a chance, trainer Chris Nash is pretty confident.
He says that it's a better horse than Mayameen, who won it last year, so I've just taken that on board.
He'll push forward, but will he have the speed to lead?
He doesn't jump real quick, so he might take a stride or two to get into it.
If he's as good as Mayameen, you'd have to think he's going to go alright.
So I thought those two from good alleys.
The old boy, The Captain, normally jumps well and I thought he could run a good race.
Trainer Gary Clarke has been trialing him and taking him down to the beach – he looks well.
He didn't race too bad in the Pioneer Sprint in Alice Springs with 61.5kg when he ran sixth – he led them up early.
He came back to Darwin and won that handicap over 1200m carrying 63.5kg.
He might be nine years old and turns 10 on Monday, but I think he's going alright.
You wouldn't think he could do it with 61.5kg, but you never know.
Eastwood has got a good record in the race.
I just think that he is the horse that has maybe been forgotten.
He's run the other day was alright when second behind Devil's Temptation.
He's got a decent weight, but he's drawn OK, so if Paul Shiers can just keep him up there on the speed he might run in the top four.
It's a hard race and I could be totally wrong.
Selections: