Gillett devastated by Dakota Lee scratching from NT Guineas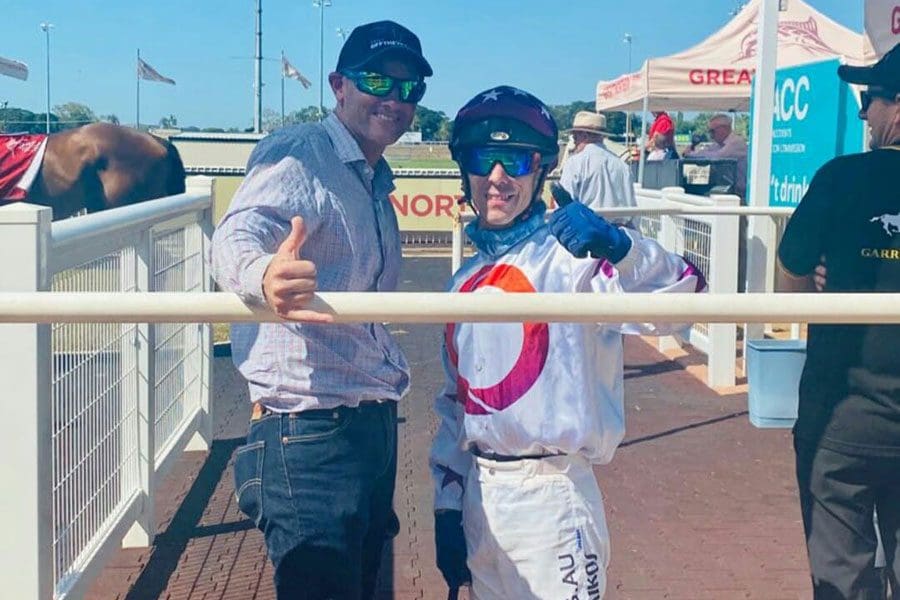 There is no hiding the fact that trainer Terry Gillett was gutted when odds-on favourite Dakota Lee was sensationally scratched from the $50,000 NT Guineas (1600m) at Alice Springs on Saturday.
Unbeaten in her seven previous starts, the three-year-old filly had the form on the board to suggest that she would have taken a power of beating.
As it was, the Greg Connor-trained gelding Flying Start (Jessie Philpot), who went from $6.50 into a $1.90 favourite when Dakota Lee failed to start, went on to lick his rivals by eight lengths.
Two weeks before the Guineas, Dakota Lee was a five length winner over her fellow three-year-old rivals over 1400m – although Flying Start didn't start in the race.
The bottom line is that Dakota Lee just refused to enter the barrier.
Nothing short of a disaster for Gillett and his connections, but to be fair a number of horses have been scratched at Pioneer Park in recent weeks for exactly the same reason.
"They scratch them pretty quickly at Alice Springs, but I can't complain too much because they've been consistent," Gillett said.
So, what went wrong?
"She's a little bit hesitant going in the gates, but she's as good as gold once you get her in," Gillett added.
"It is what it is. That's racing.
"You have your ups. You have your downs.
"She's still unbeaten."
Gillett couldn't hide his disappointment.
The horse was in good form, it was a faultless preparation, and it was all systems go come the Guineas.
"It was devastating," he said.
"You're going into a race. You're spot on. She works enormous.
"I've got no worries that she is a little super star.
"I will take her somewhere else to race and I will be able to see exactly how good she is.
"Full credit to Greg, it was a good win by Flying Start.
"He has only beaten the horses that Dakota Lee was beating.
"To me she was still the one to beat if she races, if you know what I mean."
Gillett was quick to point out that Dakota Lee's fate on Saturday wasn't sealed due to a lack of barrier attendants in Alice Springs.
He added that every state has their problems and at the moment Alice has a shortage of barrier attendants.
"They do a great job, but when you get bigger fields you're limited on what barrier attendants can work on your horse." Gillett said.
"I will give her a rest now for a couple of weeks and I'll get her ready and take her to Brisbane, and she'll race there.
"It will be good to see how she goes on the grass and hopefully everything is good.
"Then I will bring her back and give her a spell."
On a brighter note for Gillett and wife Leanne, 16-year-old daughter Dakota – that's who Dakota Lee is named after – looks set to follow in the steps of her father by joining the jockey ranks.
In fact, Dakota has been signed up as an apprentice with her dad.
"She has got to do a couple more trials – she's done roughly 20 so far," Terry said.
"Before she gets her licence she will need to go away for a couple of weeks to have some trial rides elsewhere.
"I've organised it with a friend of mine Ron Quinton and she will be going to Sydney straight after the Alice Carnival to do a month with him, and have some trial rides for him at Randwick.
"Andrew McClure, with whom I have been associated with for around 25 years in racing, is also going to organise for Dakota to have some trial rides on his horses with Gai Waterhouse.
"Andrew used to work for the ANZ Bank in Darwin and Alice – and he was involved in a heap of horses I started out with and he has been with me ever since.
"Dakota has been trialing in Alice Springs and Darwin.
"If all goes to plan, she should be riding by the end of May or early June.
"So at the moment my sights are on the Cup Carnival, Dakota getting her jockey's licence, and taking the filly to Queensland."