Former NZ Racing Minister Winston Peters announces ten-point plan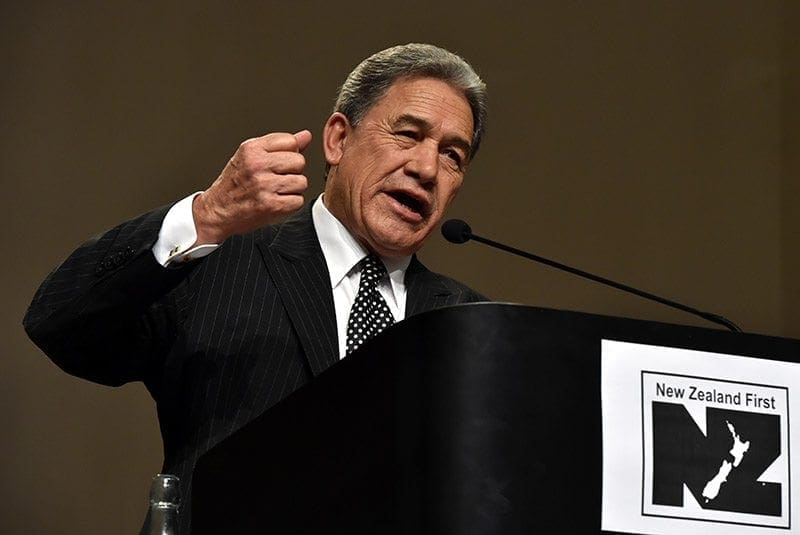 FORMER New Zealand Racing Minister and election king pin, Winston Peters, has announced a new ten-point plan if we makes office in the upcoming election.
The controversial politician is typically the deciding factor when it comes to determining government in New Zealand and being an election year, Peters is putting in the hard yards with his policies.
That's good news for New Zealand as the former Racing Minister was a much-needed positive figure when he was in office, but it has been relatively poor since.
Former minister Nathan Guy was nothing but a blip on the radar and newly appointed minister David Bennett has little background in racing and hasn't achieved much since taking the role.
New Zealand Racing is in desperate need for Winston Peters to be in charge and his ten-point plan offers some hope for the industry.
Racing in New Zealand accounts for $1.6 billion worth of GDP and employs tens of thousands of people, yet there seems to be a disconnect between the hard working racing people and the government.
"Racing in New Zealand directly and indirectly accounts for $1.5 billion worth of GDP, employs more than 18,000 people, has export earnings per year of more than $130 million, and is an integral part of the Kiwi lifestyle," Peters said in a statement.
Peters' plan will not only increase the bottom line of stakes money, but also review the operations and costs of the New Zealand Racing Board, which in our opinion, needs to be seriously looked into.
Winston Peters' ten-point racing plan
1. Return a greater proportion of industry taxation to the racing codes.
2. Introduce a new (below Premier Meeting) category of meeting where every race will be for $15,000 minimum, with relativity across the codes.
3. Enhance employment and export opportunities by working with the industry to improve the international status of New Zealand Group 1 races to attract greater international interest.
4. Restore marque racing plans and prize money initiatives in line with New Zealand First policy implementation 2005 – 2008.

5. Return New Zealand racing to what it was good at. Racing needs breeding programmes to re-establish New Zealand as a first tier country in racing. That means policies assisting importation of quality mares, and properly using the sire cost write down.
6. Urgently review the operations and costs of the New Zealand Racing Board
7. Continue to support projects and initiatives, e.g. the Racing Safety Development Fund (a contestable fund of $1.5 million per annum, matching dollar for dollar contributions from racing clubs) that enhances safety and improves the quality of facilities in the racing industry, including the safety of riders, handlers, spectators, officials and others involved in racing codes, as well as the health and safety of animals.
8. Direct IRD and Treasury to respect the spirit of the laws passed to assist racing so we do not have specious departmental interpretations of laws that are clear to the industry.
9. Further improve the appeal of the racing industry to a wider audience by encouraging the promotion of "family-friendly" activities in conjunction with race meetings in all codes.
10. Defend the historic, modest share of the racing industry, to lawful gambling proceeds, against unreasonable attacks.
Ten-point plan talking points
Firstly, it's great to see a proposal for the minimum stakes to be raised from $10,000 to $15,000. Stake money in New Zealand has been suffering over the last few years and most trainers and owners would rather see the bottom line increased, as opposed to the group one races attracting big stake money.
Raising the minimum makes it easier for the battling trainers to earn their keep and considering the minimum levels in both New South Wales and Victorian, New Zealand has a long way to catch up.
Enhancing the international status of New Zealand races is an interesting talking point and it's one we don't quite believe in.
With the only international interest coming from the odd Australian sprinter, New Zealand racing doesn't appeal on the international stage, but there's nothing wrong with that for the meantime.
New Zealand Racing needs to focus on building the local product before trying to expand its horizons. Increasing prizemoney for races such as the New Zealand Derby has been tried before and it was a massive failure.
Further down the track it would be great to stage a truly international event such as the Melbourne Cup, but it shouldn't be something the Racing Minister needs to focus on at this point in time.
Urgently reviewing the operations and costs of the New Zealand Racing Board is a big positive for racing in New Zealand. There has been talk for years about the high-paying salaries of those in charge at the NZRB and it's time to investigate just what's going on behind closed doors.
Currently, the New Zealand racing industry is infiltrated with business-minded individuals from all around the world, mostly Australia, which have had little impact on ground level.
It is good to have a business-minded racing board, but the public simply isn't seeing these people around the tracks and the general racing public simply wouldn't know who's in charge of their much-loved industry.
Investigating the core of the industry is a great idea from Winston Peters and one we fully support.
Lastly, improving the promotion of racing to the "family-friendly" public.
This is a big issue in New Zealand as the crowd numbers are dwindling and the tumbleweed can often be seen on the major tracks such as Ellerslie, Trentham and Riccarton.
Obviously the invention of online gambling has taken its toll on crowd numbers, but trying to get the younger generation to not only be on course, but to invest in the industry will be a key aspect to its survival.
Not all of Winston Peters' plan will be achievable in the near future, but he's passionate about the industry and that's rare at the Beehive.