Experienced Vanessa Arnott ready for big day of racing at Darwin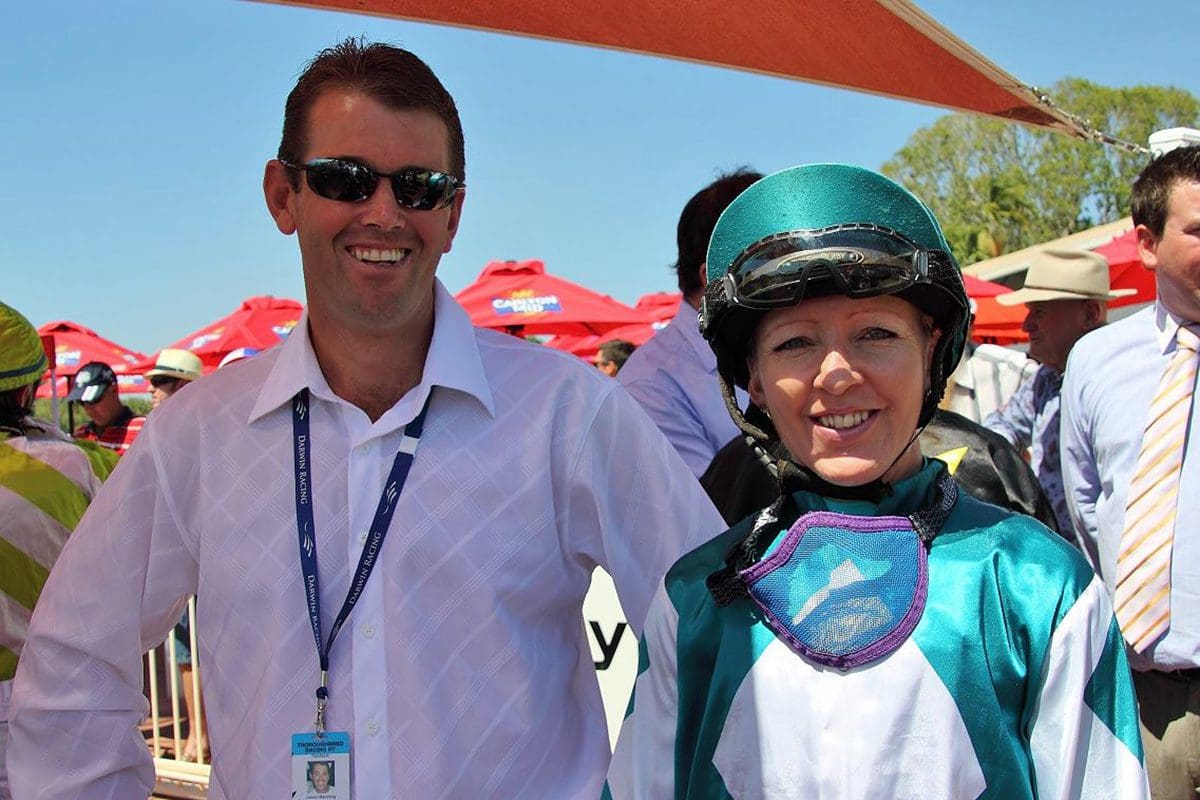 Vanessa Arnott has been riding in the Northern Territory for as long as she can remember.
More importantly, it still brings her plenty of satisfaction.
Once based as a jockey in Mornington in Victoria where rides were few and far between, Arnott decided to relocate to Darwin after holidaying in the Top End.
The years must have flown by for one of Darwin's more experienced and ever-consistent riders because she's not exactly sure when she started her career in the saddle.
"I don't even know, you'll have to let me think about that for a minute" she said on Friday.
"I've probably been riding for 25 years or something – maybe longer.
"Yeah, it's been good, I'm still enjoying it that's for sure."
It can be confirmed that Arnott rode her first winner in Darwin in May 2005.
Arnott, 48, has ridden 16 winners from 103 rides for the 2021/22 season in the Top End, and that also includes 12 seconds and 16 thirds.
She has ridden 325 winners in the NT, as well as an additional 40 winners in Victoria, Tasmania and Western Australia.
During last year's Darwin Cup Carnival, Arnott came awfully close to pulling off the feature double.
Riding for trainer and partner Jason Manning, Arnott finished a narrow second aboard Niewand in the $135,000 bet365 Palmerston Sprint (1200m) behind Mayameen and third aboard Noir De Rue in the $200,000 Great Northern Darwin Cup (2050m) behind the winner Highly Decorated and Danon Roman.
Both horses are back in the Top End in their quest for glory in the two biggest races the NT has to offer.
Arnott has mixed feelings having come so close to winning both races.
---
READ THE FULL DARWIN BETTING PREVIEW FOR SATURDAY 18/6/22 HERE
---
"It was heartbreaking for Niewand, yeah, but good as well," she said.
"You can't take anything away from him, he went super.
"You're rapt to run a place in those big races.
"It will be good to see Niewand back on Saturday.
"We've got Noir Du Rue back for the Cup – he'll run in the ROANT Cup next week.
"He looks fantastic and fit – he was going good at Morphettville and places like that down south as well when he was in Adelaide.
"So, he should run some nice races.
"Got a nice 3YO maiden who will be racing soon – he's well bred and I think he should go alright too."
That's Minister, who arrives at the Manning stable from NSW via the Richard Litt stable and then the Richard and Michael Freedman yard.
That's all in the future, but first things first for Arnott.
She has six rides on the seven-event card at Fannie Bay on Saturday where she will in fact renew her partnership with Niewand for the first time since last year's Palmerston Sprint in the $22,000 Karen Brown Fine Art Handicap (1000m).
It's the feature race on the program and it has attracted a cracking field, and significantly the five-year-old gelding will be aiming to win the race for the second straight year.
It was also his first appearance in Darwin after racing previously in Victoria, NSW and Queensland – and on that particular day Mayameen finished third in the race.
Niewand is more than capable of making a successful return to the Top End, but realistically he is going to have his hands full as Smuggling, Syncline, Masterati, Trident, Belmont Day and Royal Tyke are likely to feature prominently during the forthcoming Darwin Cup Carnival.
Arnott's other rides for Manning include Max Fire, who will confront a handy bunch of three-year-olds in the $21,000 Totally WorkWear Palmerston 20 Years TROBIS 0-66 Handicap (1300m), Light And Dark, Keen As A Bean and Princess Dejour, as well as Cowley's Creek for Nicole Irwin.
Max Fire has already made a huge impression in South Australia and all going according to plan he will contest the Darwin Guineas (1600m) and NT Derby (2050m) come July.
Flying Start, who won the recent NT Guineas in Alice Springs, Super Famous and Starlite Valley are going to keep Max Fire on his toes on Saturday.
"Max Fire's race is a very hard race – there's a lot of speed outside him, so it's going to very interesting to see how he jumps and how it unfolds, but he is certainly a very nice horse," Arnott said.
"Light And Dark, even though he was racing in the wet season, he ran three or four seconds to quite good horses that have gone on and won races after they beat him, so it will be interesting to see how he goes this Carnival.
"I've got a ride for Nicky Irwin on Cowley's Creek, he's knocking on the door as well – probably just needed the run a little bit again the other day.
"He should be a lot fitter – probably ready to win tomorrow I'd say."
It was a quiet off-season for the Manning stable, especially with Jason spending time in South Australia where he raced Noir De Rue, Niewand and stablemate Miroku.
"We've probably only had five horses in with probably only three running at a time with horses in Adelaide and spelling, so I've picked up other rides for other trainers," Arnott said.
"I've had a good off-season in the wet, I've been very lucky."
Arnott is seemingly always on the go, so maintaining her fitness is never an issue.
"I ride work obviously every morning," she said.
"Jason and I do most of the work at the stable anyway, so that keeps you fit doing boxes and hosing and that sort of stuff.
"And we've got a farm at Humpty Doo that we just have horses on, so there's always plenty to do.
"Riding is a bit hard on the old body these days – takes a bit longer to recover."