Shea Eden confident with Ocean Embers ahead of Bow Mistress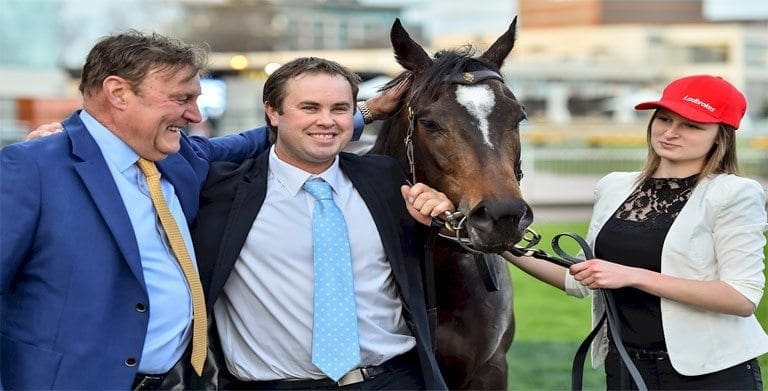 VICTORIAN punters got a good look of the potential Ocean Embers possesses when it won the Group 3 Cockram Stakes at Caulfield, but after a luckless run in Queensland the quality mare is now targetting the Bow Mistress Trophy at Hobart.
The four-year-old mare will run as one of the favoured entrants in Friday's feature and after not getting clear running room at Eagle Farm last start, Eden is confident the smaller field will aid its chances.
"With the smaller field she won't be so far back," Eden told horsebetting.com.au. "In her runs in Melbourne, the perception was that she was a horse that would get back, but she kept drawing wide barriers and it just happened that we needed to get back in and get a nice run.
"In her Queensland run she jumped as well as she's ever jumped, settled a lot closer, it was just a shame that she got caught in traffic."
Ocean Embers has a lethal turn-of-foot which was evident in its Melbourne performances. The small field on Friday should allow it to gather momentum and strike with a late burst.
"The eight-horse field will play to our advantage. She won't be far off and we as know, she's got a devastating turn-of-foot and if she can bring that to Friday's race, there's not a horse in that race that can run those sectionals," Eden said.
Eden stated that Ocean Embers needs spacing between races, so having not raced since the 31st of December, the mare should be in prime condition.
"We had her a couple of days up in Queensland before she made the trip home, so she flew back and because we had Tassie on the radar we wanted to make sure we got her home as quick as we should without travelling her on the truck in the heat" Eden said.

"The flight home was really important and she's pulled up good after that. The timing from that run into Tassie gave her enough time to tick her over.
"She's a horse that responds really well to not a lot of galloping, keeping her fresh."
Eden has high hopes for Ocean Embers following Friday's run. The Victorian trainer is setting it for the UBet Classic (formerly the Robert Sangster Stakes) at Morphettville which carries a purse of $400,000.
"Our grand final will be the Sangster – the UBet Classic over in Adelaide," Eden said. "She'll have one or two runs leading up to it, that'll be in Sydney. There's some nice mares races in between for her.
"The key is to keep her fresh, keep her happy as she's had plenty of issues in the past. She's had two lots of joint surgery and a throat operation.
"We understand that we've to make the most of every opportunity. We're not sure how long we can have her up for, but at this point in time, she's as sound as she's ever been and those slight issues we've had in the past have shown no signs of worrying her."
Having had only 10 starts, Ocean Embers has already taken on some of the best sprinters in Australia and has fared extremely well. Eden believes with the right trip in transit, the mare can mix it with the best.
"On her day I think she's up there with the best sprinting mares, let alone the best sprinters," Eden said.
"When you look back we've got all that form throughout the spring. Malaguerra, Fell Swoop, Star Turn – all those horses she's raced against and not been far off, but she's had to come from a long way back to run over the top of them.
"I've got a lot of confidence that she can measure up to a really good race and a race like the Bow Mistress on Friday looks a really nice race for her at equal weights.