Didham continues proud family legacy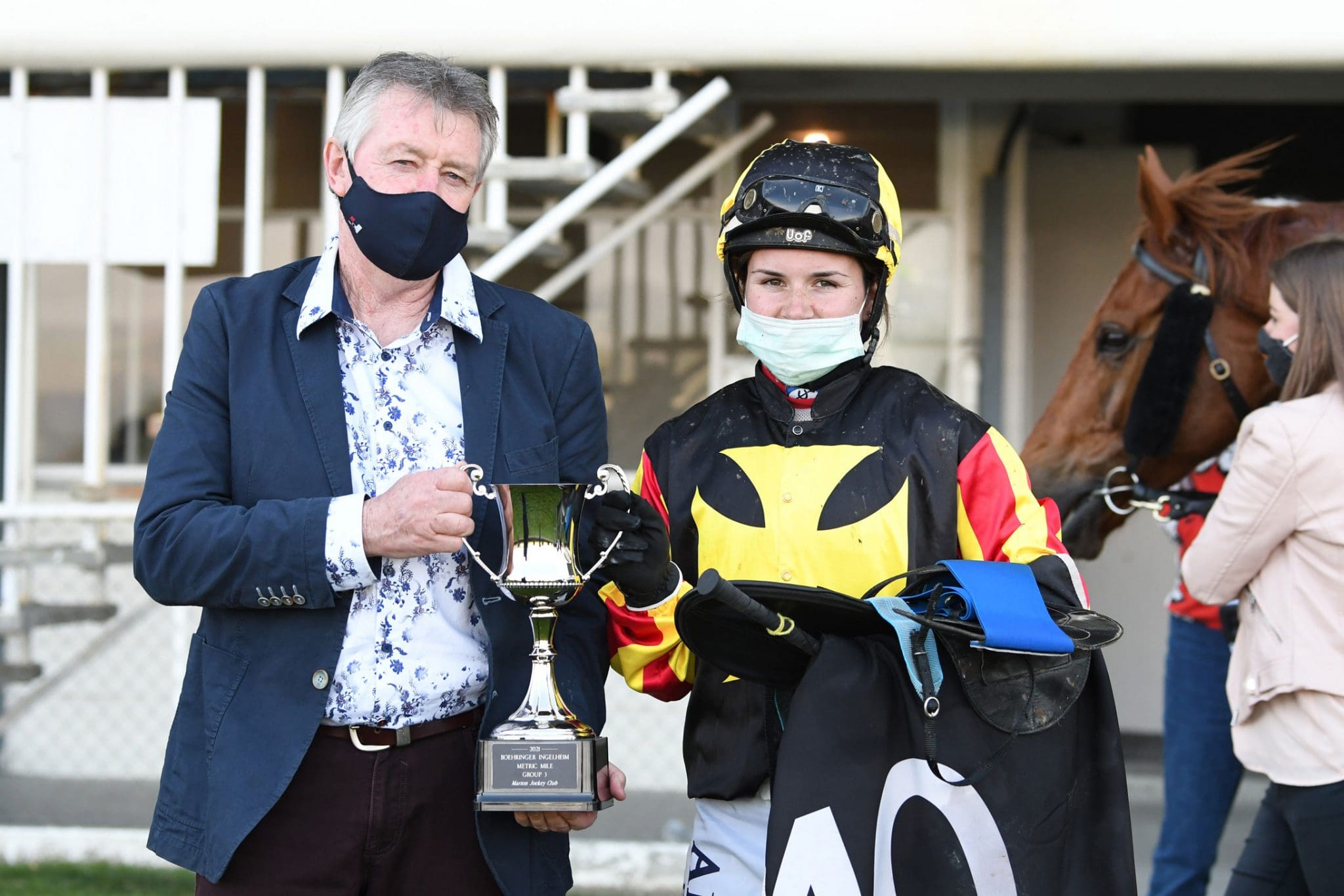 As a member of one of racing's best-known families, Awapuni horseman Peter Didham is hardly a surprise package in the country's training ranks.
Only weeks after being confirmed as the winner of the Gavelhouse.com Newcomer to Training Award for 2020-21, Didham was credited with his first black-type success when he saddled up House Of Cartier for victory in the Group 3 Metric Mile (1600m) at Awapuni last month.
Now he's eyeing an even bigger target with the six-year-old mare, who is on the third line of betting at +900 for the Group 1 Livamol Classic (2040m) at Hastings on October 16.
Even though a relatively late starter in the training game, 57-year-old Didham has a wealth of heritage and first-hand experience to fit him for the role. His family's involvement in racing had its origins in the major Otago training centre of Wingatui, where his grandfather Arthur was just one member who made a significant contribution.
Perhaps his most renowned stable member was Igloo, whose 1971 Victorian spring carnival campaign netted wins in the Turnbull Stakes and Coongy Handicap ahead of what must rate as racing's most frustrating sequence of near misses – second placings in the big three, the Caulfield Cup, Cox Plate and Melbourne Cup.
Igloo's regular rider was Arthur's son Midge, who the year before had won the Melbourne Cup on Baghdad Note for Wingatui trainer Bob Heasley. He also partnered Artifice to win the Queen Elizabeth Handicap-Auckland Cup double at the 1970-71 Ellerslie Christmas carnival for his brother Jim.
Other sons of Arthur Didham to forge successful careers were Mick and Les, the latter still actively engaged with his son Richard at Riccarton. Jim, who relocated to the lower North Island, is the father of Peter, who was apprenticed to his father.
"I was only average, probably a better trackwork rider than a jockey," Peter said. "I had about 30 winners and eventually rode over jumps, but that all ended when I broke my neck and had to wear a full plaster cast for months.
"When I recovered I rode work at Awapuni for a number of trainers, one of them Margaret Bull. That led to me travelling with Latitude to the very first Hong Kong (International) Cup and with Magnitude when he won the Epsom Handicap."
Didham's Awapuni activities also led to connecting with local identity Bill Gleeson, the principal in purchasing Wellfield Lodge, and the position managing what at that stage was mainly an agistment property on the outskirts of Palmerston North.
"Things grew from there, it became pretty busy with stallions and broodmares, yearling and Ready to Run Sale preparation, basically everything," Didham said.
While not exactly coming full circle, the Wellfield business model has evolved in recent years to now have a greater focus on the Didham racing team alongside pre-training and breaking-in.
"We've always had very good staff here and that makes my job easier," Didham said. "I decided to take out a trainer's licence and that side of it has just gone from there."
In his first full season Didham prepared eight winners from 51 starters in 2019-20, and last season the tally grew to 14. The clincher in claiming the Newcomer to Training award was his 10 individual winners of 14 races, one more than Matamata-based Daniel Miller with nine winners of 13.
"I wasn't really aiming to win the newcomer award – it's just the way it worked out – but it was a bit of fun over the last few weeks of the season with the banter that was going on between Dan and me.
"I'm fortunate to have some very supportive owners behind me and staff who step up.
"I think New Zealand has some really good young trainers coming through, so I imagine we'll see one of them take the award at the end of this season."
The Didham stable's run of form has continued into the new term, with four wins from 16 starters, including the breakthrough first black-type win compliments of Wellfield home-bred House Of Cartier's home-track win in the Metric Mile.
By resident sire Alamosa from fellow multiple Group One winner Shez Sinsational, House Of Cartier began her career with Nigel Tiley before being sent to Randwick trainer John Sargent. As a late three-year-old she finished third in the Group 1 Australasian Oaks (2000m) in Adelaide and also won twice in New South Wales.
"She arrived back here late last year and I've gradually got to know her," Didham said. "I've worked out that she goes best on the fresh side, so it was pretty pleasing to see her win the big mile here off a trial win.
"We've decided to just tick her over and go straight to the Livamol. They don't give Group Ones away but I'm confident she can step up and let them know she's there."