Dick Leech attempts to secure second win in the Palmerston Sprint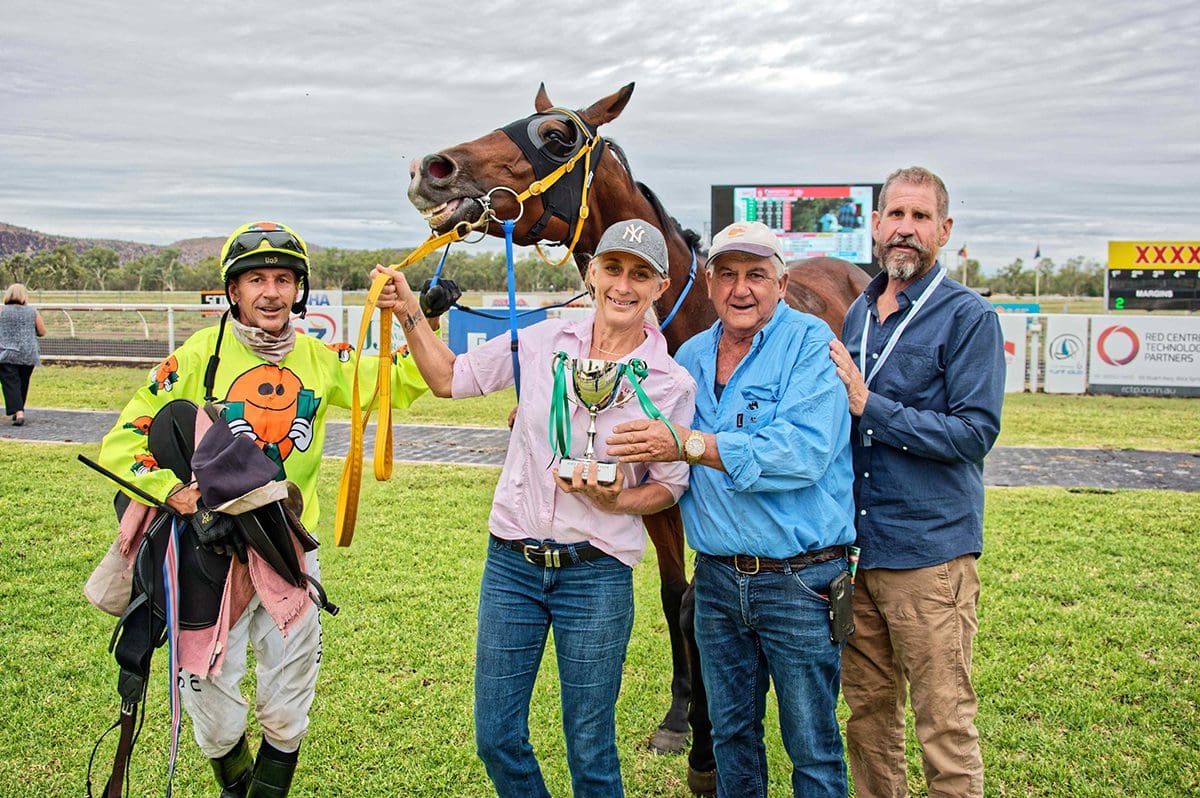 He comes across as a hard-edged character, but long-time Northern Territory trainer Dick Leech is certainly a popular figure within the horse racing community.
Enjoys a beer and a smoke.
However, come race day he is all business.
Leech has enjoyed continued success over the years, regardless if it's at Darwin's Fannie Bay or Alice Springs' Pioneer Park.
Along the journey, he has also had his fair share of big wins during the Darwin and Alice Springs Cup Carnivals.
The annual Darwin Cup Carnival ends this weekend with the running of the $135,000 bet365 Palmerston Cup on Saturday and the $200,000 Great Northern Darwin Cup (2050m) on Monday.
Despite his unrivalled success, Leech has only won the Palmerston Sprint and Darwin Cup on one occasion.
Proves that they're hard races to win.
Back in 2008, Leech won the Darwin Cup – when it was raced over 2000m – with the Fasliyev gelding Club Liquid with Nathan Stanley in the saddle.
Club Liquid won four races from five starts before and during the Darwin Cup Carnival back then, and finished second in the Metric Mile (1600m) before lining up in the Cup.
To win the Cup was an outstanding achievement, but for the five-year-old Club Liquid to win the biggest race in the NT by 13 lengths was nothing short of sensational.
Believe it or not, but when Club Liquid won his first race in a three-year-old maiden over 1400m at Ballarat in August 2006 he managed to overcome a horse who would end up winning a Melbourne Cup.
That horse was Efficient, who finished seventh that day on debut before winning Australia's most famous race at Flemington just 15 months later for trainer Graeme Rogerson.
In regards to the Palmerston Sprint, Leech celebrated in 2010 when another Fasliyev five-year-old gelding Lucid Reflection won the NT's feature race for the sprinters with Kim Gladwin in the saddle.
He hasn't got a runner in the Darwin Cup this year, but Leech has a starter in the Palmerston on Saturday with seven-year-old gelding Easy Beast.
A hardened sprinter from Victoria, who has also tasted success in South Australia, NSW and Queensland, Easy Street has had 53 starts for seven wins and 18 minor placings and his record for the 1200m is 24 starts for four wins and six minor placings.
Leech, who has strong links to Victoria, acquired Easy Beast from Cranbourne trainer Richard Laming.
"Richard Laming sent him up to me, Richard and I have been good mates for a few years," Leech said from Darwin on Friday.
"He sent him up for the Sprint.
"Easy Beast won the Bega Showcase Sprint (1200m) at the Sapphire Coast Turf Club in NSW for three straight years before finishing fourth in this year's race in late January," Leech said.
"He's a sound old horse, he's just thriving up here actually.
"He's only had the one run here."
It was certainly an impressive Darwin debut for Easy Street after finishing second behind Fannie Bay specialist Syncline from the Gary Clarke stable in the $30,000 Cleanaway Handicap (1100m) on July 2.
With Jason Lyon in the saddle, the Super Easy gelding rattled home from a long way back and subsequently entered the conversation when looking ahead to the Palmerston Sprint.
"Yeah, it was a good run," Leech said.
"Richard said that he doesn't back up that good, so that's why we've gone down the path with him.
"First time coming down the hill and he got a bit lost around that corner.
"He's work has been quite nice, quite good.
"Just as long as the jockey does the right thing, it should be all good."
Sairyn Fawke, who has made a name for himself in the NT and South Australia, will be in the saddle on Saturday.
"If he gets the right run he's a chance, but there will be some pace in it with The Captain and all them out wider," Leech said.
"They all know nothing but to go forward up here as you know.
"It will probably be the charge of the light brigade.
"Easy Beast has drawn barrier one tomorrow, probably would have been better out more a little bit.
"Just hope he's there and coming over the top of them at the end."
It's a very open and strong Palmerston Sprint line up and when first markets were released Syncline ($5) was the favourite from Easy Beast ($6) before they were $5.50 equal favourites come Thursday with Palmerbet.
On Friday afternoon Easy Beast ($4.60) had taken over as favourite from Chris Nash's Ideas Man ($5.50), and stablemates Syncline ($6) and The Captain ($6).
The other two horses under double figure odds were Jess Gleeson's Devil's Temptation ($9) from Alice Springs and the Tayarn Halter's Eastwood ($9.50).
"I think Chris Nash's horse Ideas Man with Dean Holland on board has got a chance," Leech said.
"Gary Clarke's other horse Syncline is a chance and don't ever underestimate the old fellow The Captain.
"He loves this track that horse.
"There's a few in there, they're all in there with a chance, mate – every one of them."
When last Syncline and Easy Beast met the former carried 56kg and the latter carried 54.5kg.
Syncline, who will jump from gate seven, has 56.5kg in the Palmerston and Easy Beast drops to 54kg.
Finally, Leech is showing no signs of slowing down.
"I'm here in Darwin, I've got stables down in Alice Springs as well now," he said.
"My foreman Lorraine Edwards goes backwards and forwards and stays down there.
"I get down there when I can.
"When it gets too hot up here we swap the horses around, the slower horses go down there.
"It's good country for horses down there to spell."
Odds for Easy Beast in the 2022 Palmerston Sprint
Race 7 –

#8 Easy Beast (1)
7yo Gelding | T: Dick Leach | J: : Sairyn Fawke (54kg)