2022 Darwin Cup preview & best bets | Andrew O'Toole | Craig Sant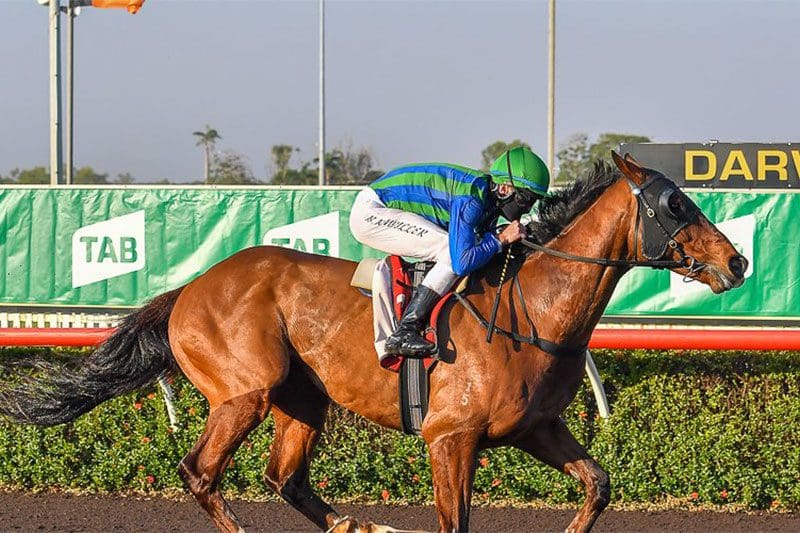 After seven race meetings during July, the 2022 Great Northern Darwin Cup Carnival at the iconic Fannie Bay racecourse concludes on Monday, August 1 and how prophetic that it falls on the day when horses celebrate their birthday. The feature attraction on the massive 10-event program is the $200,000 Great Northern Darwin Cup (2050m), the Darwin Turf Club's and Northern Territory racing's biggest race of the year. Thoroughbred Racing Northern Territory chief executive officer and Sky Racing's ANDREW O'TOOLE and Fannie Bay racecaller CRAIG SANT provide their assessment on the Darwin Cup.
Andrew O'Tooles' betting preview for Darwin Cup
The Cup to me looks a two-horse race.
Living The Dream – Rob Gulberti and Brad Rawiller – with 61.5kg, I think he's at a winnable weight.
The horse to beat is Playoffs – Gary Clarke and Jarrod Todd – with 59.5kg.
Both won the two traditional lead up races.
Playoffs, of course, won the Chief Ministers Cup – it's been normally the best guide – and Living The Dream was impressive in the Metric Mile.
Both trainers have won two Darwin Cups.
Gulberti with Ihtsahymn, of course, twice and Clarke with Lightinthenite and Zahspeed.
Both looking for their third Cup win – I think they're the two to beat.
Living The Dream has got the good barrier draw whereas Playoffs has drawn out wide, but over 2050m I don't think it matters as much as it will in a shorter course race.
I'm plumping for the WA horse, I think Gulberti's got the right horse at the right time in the race to beat Playoffs.
I really like the chances of Our Destrier.
Kym Hann has had a good Carnival up here – Stan Tsaikos rides.
Very good run for second behind Playoffs, he had missed some work in the lead up to that Chief Ministers Cup.
He will have definitely come on from that – big question mark over him of course is the trip.
The other two horses are proven over 2000m – Our Destrier is not, but I'm sure Tsaikos will give him a good ride and he'll be very competitive.
I'm confident that I Am The Fox will run well.
His run the other day was good, he's had a different sort of preparation for the Cup.
Obviously he hadn't had a run since the Alice Springs Cup in May – where he finished second – before he ran a good third in the Metric Mile, but he looked an absolute picture the other day.
He will be improved by that run.
For jockey Paul Shiers, the only jewel in the crown missing in NT racing is the Darwin Cup and maybe he'll get that chance on Monday.
Andrew O'Tooles Selections For Darwin Cup
Selections:
---
Craig Sant's betting preview for Darwin Cup
Living The Dream will be the favourite – it was a good win in the Metric Mile.
It's got the right gate, so it should end up in a good position.
The way the barrier draw has fallen you'd think Adam Nicholls will probably try and lead on Gone Bye.
He's drawn out a little bit deep – I think he wants plenty of room into turn one, so I reckon the pace will be on out of the gates.
I just think Brad Rawiller from gate four – I know he's got 61.5kg, but Living The Dream was pretty dominant the other day.
Might just sit there third, fourth or fifth – one off the fence and when the pressure goes on off the back he should be able to chime into it.
Playoffs, who won the Chief Ministers Cup, he's drawn wide – I just wonder where he will end up when they settle.
I thought he and Noir De Rue, because they've drawn a bit wide they'll know that Nicholls is going to go hard on Gone Bye to lead – that's what it looks like on paper.
Noir De Rue's rider Vanessa Arnott is better off punching out into turn one – she'll be able to slide across I reckon and get into an OK spot.
Noir De Rue and Playoffs, I think they will both try and come across outside Gone Bye and then try and just sit off the speed.
Playoffs was good in that Chief Ministers Cup – he was pretty strong and he's got a good record.
He had 59kg that day and has 59.5kg in the Cup – he beat Our Destrier and Noir De Rue and I can't see them turning the tables.
I think the market has got it about right – Living The Dream to beat Playoffs.
I Am The Fox will get back – don't think it will beat Living The Dream on its run in the Metric Mile.
Trident, I just don't think he's 100 per cent.
Gone Bye is going to be interesting – if it leads and runs along, it just keeps going.
Trainer Emma Steel is really happy the horse has come on – she reckons he has improved.
If it leads, it could give a bit of cheek.
The only horse I thought who could run a race at odds is Vallabar.
It ran in the Buntine (2050m) – I thought it was a good run, ran fourth, beaten a fair way by 10 lengths by Gone Bye.
Paul Shiers, who rode Vallabar that day, said it was a good race, first time on the dirt, they didn't get much momentum when he wanted to get forward – got to the line alright.
Shiers, who will ride I Am The Fox, said Vallabar could run a good race – he's only got 54kg.
Vallabar is probably my roughie, but that's going to be popular.
I'll just look at the odds and if a horse like Gone Bye gets out to a silly price I could easily back it on the day.
Our Destrier has got to be a bit of a risk at the trip, but it's going good though.
It's had one go over 2000m at Wangaratta and ran 11th – I reckon it's more of a miler, but it gets a bit of weight relief after the Chief Ministers Cup.
If it runs 2000m or runs 1800m, it might run a good race.
Really, at the end of the day, they've got to beat Living The Dream.
Andrew O'Tooles Selections For Darwin Cup
Selections:
---