2017 Melbourne Cup results – history made by Rekindling & O'Brien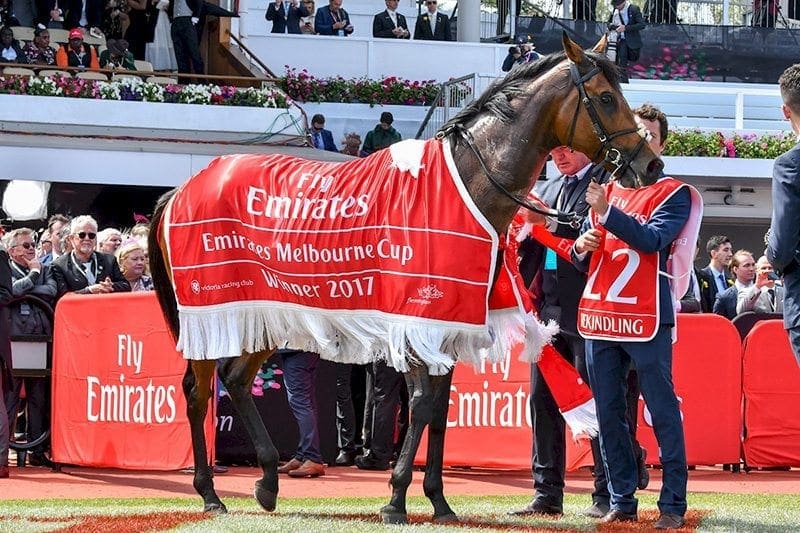 WHAT a victory it was.
Four-year-old bay Rekindling has etched its name in history after winning the 2017 Melbourne Cup, breaking a series of records along the way.
Rekindling's winning time was 3:21.19 – five seconds shy of the fastest time ever recorded by Kingston Rule in 1990.
Strangely, the top four horses in the field jumped from barriers 2, 3, 4 and 5.
The top four finished as:
22 – Rekindling
7 – Johannes Vermeer
9 – Max Dynamite
13 – Big Duke
Last in the field was 16 – Gallante
Rekindling is the first from Great Britain to win the Cup and its trainer Joseph O'Brien, at the age of just 24, is also the youngest winning trainer in the 157-year history of the race that stops a nation.
"I can't believe it," O'Brien said after the race.
"I am thankful to Lloyd and Nick, they suggested to bring him down and [that] he would have a good chance in the race.
"His preparation went really good. Corey gave him an unbelievable ride. The lads at home and the lads here have done an unbelievable job. All the lads at home, all year round, have done a great job with him. I can't quite believe it. This is unbelievable. It hasn't sunk in yet."
Owner Lloyd Williams continued his record-breaking haul, collecting a sixth Cup to go along with his victories in 1981, 1985, 2007, 2012 and 2016.

The typically-reserves Williams seemed to break out what could have been called a smile post-race when talking about his victory.
"An absolute dream. I am so thrilled … It is terribly exciting," Williams said.
"I can't put it into words to be perfectly honest. Just to do it with this 23-year-old (trainer Joseph O'Brien). He has been taking the world on. I thought that this horse had some chance and I thought that his run in the Ledger was good and his three-year-old form over there has been very good in the Doncaster Cup."
Rekindling, the youngest horse in the field, was also the first four-year-old to win the Melbourne Cup since 1947.
Corey Brown, battling his children and wife for the limelight after the race, managed to steer his ride past the gallant Johannes Vermeer to return $17 for punters at CrownBet.com.au – it was his second Melbourne Cup victory.
After celebrating with his excited family, Brown was lost for words.
"I can't believe it. Oh honestly, I chased the ride about six weeks ago and with a light weight (thinking I was) a big chance to get on him," Brown said.
"I can't believe it. I have been back here from overseas about nine months and slowly and surely getting back to where I was. Mate, again I can't believe it."
Click here for the final results of the 2017 Melbourne Cup.
Tabcorp punter pips Neds member to win $1 million
A side-story to the tight finish between second-placed Johannes Vermeer and Rekindling was two different $1 million promotions from the TAB and Neds.com.au.
Each bookmaker awarded a lucky punter with the chance to choose a Melbourne Cup winner for the chance to collect $1 million.
And would you believe it, the two different selections battled it out at the head of the field in the final 200 metres.
Our Million dollar moment winner, Micheal is watching on to see if Johannes Vermeer can get it done in the #MelbouneCup pic.twitter.com/6WMOImU32s

— NedsAU (@NedsAus) November 7, 2017
WE JUST GAVE THE #MELBOURNECUP MILLIONAIRE PROMOTION WINNER $1,000,000 AFTER THEY BACKED REKINDLING!!!
📸 Racing Photos pic.twitter.com/sLrG8DwI8J

— TAB (@tabcomau) November 7, 2017
Our commiserations to the Neds punter.