Winx returns with Apollo Stakes victory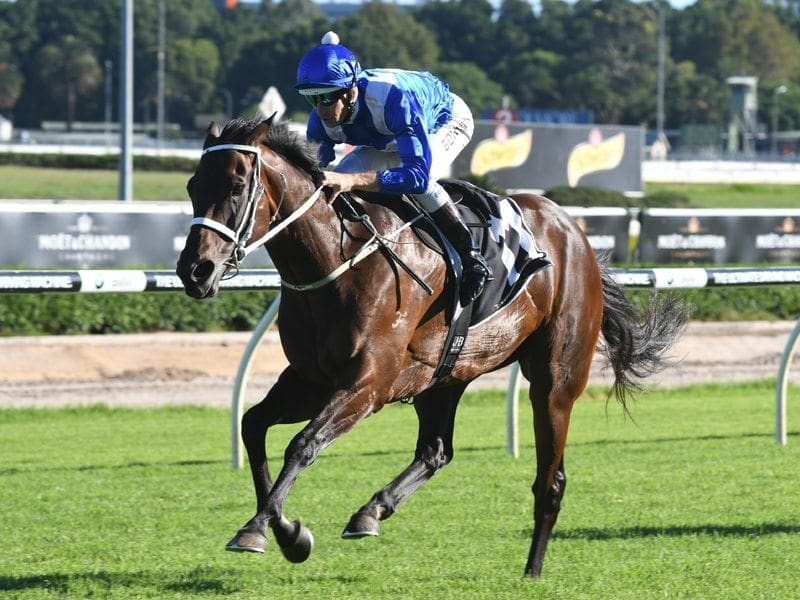 Winx has strolled away with her 14th win in a row, beating Hartnell in the Apollo Stakes.
If Australia's champion racehorse Winx is beaten again, her trainer Chris Waller has narrowed it down to two ways it might happen.
After Winx made a winning return before an after-work audience at Randwick on Monday, Waller all but ruled out bad luck ruining her spectacular streak.
Should the unthinkable happen, this is how it will go down according to the trainer who is setting records to match those of his great mare.
"It's going to take a champion to beat her or it's going to take her to fail to get beaten," he said.
"We'll be hoping for those two things to stay away and she'll continue on winning."
Rated the world's best racehorse on turf, Winx joined Sydney in heading off to work on a Monday.
More used to plying her trade on a Saturday, it was business as usual for Winx in the Apollo Stakes.
After her first appearance at the races since her second Cox Plate triumph was delayed 48 hours because of Sydney's stifling heat, Winx made the wait worthwhile.
In an unprecedented move because of the extreme weather, Australian Turf Club and Racing NSW officials called off Saturday's Apollo Stakes meeting and switched the important lead-in card to the autumn carnival to Monday.
And while the postponement has come at a financial cost to the principal club, Winx making the smoothest of starts to her latest campaign is sure to have its rewards for racing officials when the serious money races are run.
In stretching her winning run to 14 races to claim her second Apollo Stakes, Winx equalled a sequence which belongs to Phar Lap.
Black Caviar is the most obvious of any modern-day racehorse to be compared to Phar Lap after finishing her unbeaten career with 25 wins.
Winx is closing the gap as quickly as she puts paid to her opposition.
She was one of the best to begin but in a matter of strides High Bowman had the $1.14 favourite improving her position to midfield as the field settled.
Winx then crept into fifth on the home turn and by the 300m she joined the leaders before Bowman asked her for a final effort.
It was left to Hartnell ($12), beaten eight lengths into second place by Winx in the Cox Plate, to do the chasing again and the Godolphin warrior ended up 2-3/4 lengths behind this time.
The Waller-trained Endless Drama ($26) finished four lengths away in third place.
Without really knowing, Waller said he sensed Winx had coped with the recent heat as well as any horse in his stable.
"They just don't lie down and start panting or something like that," Waller said.
"You do everything you can with her and every horse in terms of looking after them.
"You keep the electrolytes up to them. But they lead healthy lives. They go to bed on time, they eat properly and they drink a lot of water."
Surprisingly, Bowman said there were some anxious moments before Winx set up her winning lead.
"When the sprint went on at the 600 (metres) she was left flat-footed for about four strides and it was foreign land for me because she just does it for me all the time," he said.