Winx on track for Cox Plate defense after Caulfield Stakes win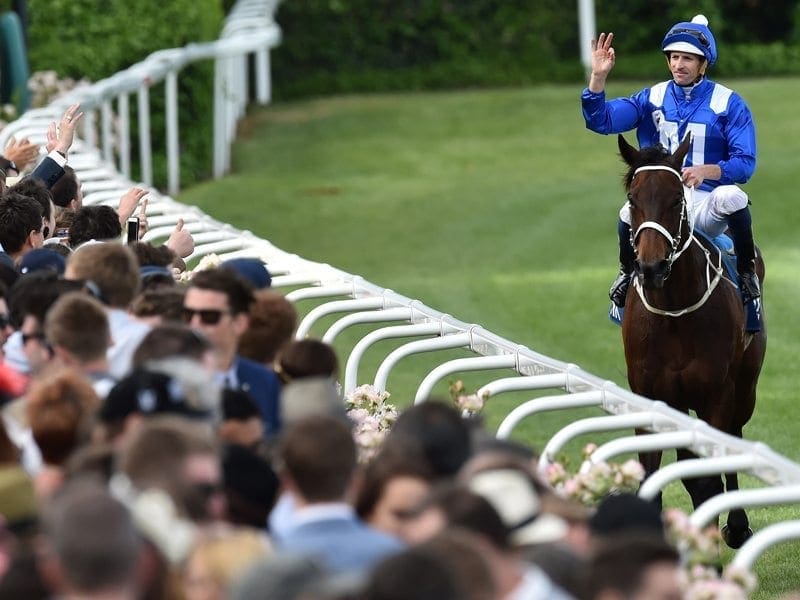 CHAMPION mare Winx remained on track to defend its Cox Plate crown following its win in the Caulfield Stakes on Saturday.
Winx only had to face two rivals, Black Heart Bart and He Or She, but it still had a job to do and it did it well. The Chris Waller-trained mare stalked the speed which was set by Black Heart Bart before pouncing on the lead with 200m to go.
Jockey Hugh Bowman reminded the five-year-old to keep its mind on the job before it pulled away for a soft victory. Bowman noted Winx was a touch uncomfortably on its Melbourne leg, but it still had the class to defeat multiple group one winner Black Heart Bart.
"It was an interesting race, there wasn't much pace early, but enough that I could follow Brad (Rawiller)," Bowman said.
"She got a little uncomfortable. The pressure really went on today as we went around that corner. She was looking for her Sydney leg. It was a little awkward for a moment, I just had to keep her balanced.
"She didn't have that problem last year in the Cox Plate and I hope she doesn't this year."

Chris Waller expected to win the three-horse race, but takes nothing for granted and is now looking forward to the Cox Plate in two weeks time at Moonee Valley.
"The expectations are there for her to win, not all Sundays are good, you got to expect to get beaten," Waller said. "I think it's great for racing, she's not the be-all-end-all, but we're in for one hell of a carnival.
"To race a horse like Winx it takes it to a whole new level. I wanted her to win, that was the only thing I was worried about. She's a superior horse. She'll be ready to step up in two weeks time."
Waller feels privileged to be involved with the champion mare which has remained unbeaten since winning the 2015 Cox Plate. The punters are expecting a two-horse race (Hartnell) in the upcoming Cox Plate, but Waller respects all the competition Winx will face.
"There's a privilege to be involved and you go home at night and pinch yourself," Waller said.
"There's going to be some great horses, it's great for racing."
Winx drifted out to $1.30 with Sportsbet despite bets of up to $20,000 being placed on the champion earlier this week. Black Heart Bart was supported into $4.80 to beat Winx, but settled for second place.
Trainer Darren Weir will persist onto the Cox Plate with Black Heart Bart following the defeat.
"Wasn't good enough but he ran well," Weir said. "Good prizemoney for placings, obviously the winner was very impressive and it was a great race."
Winx firmed into $2.25 at CrownBet for the Cox Plate with Hartnell remaining on the second line of betting.