Tennant Creek tips & best bets | May 14 Racing Preview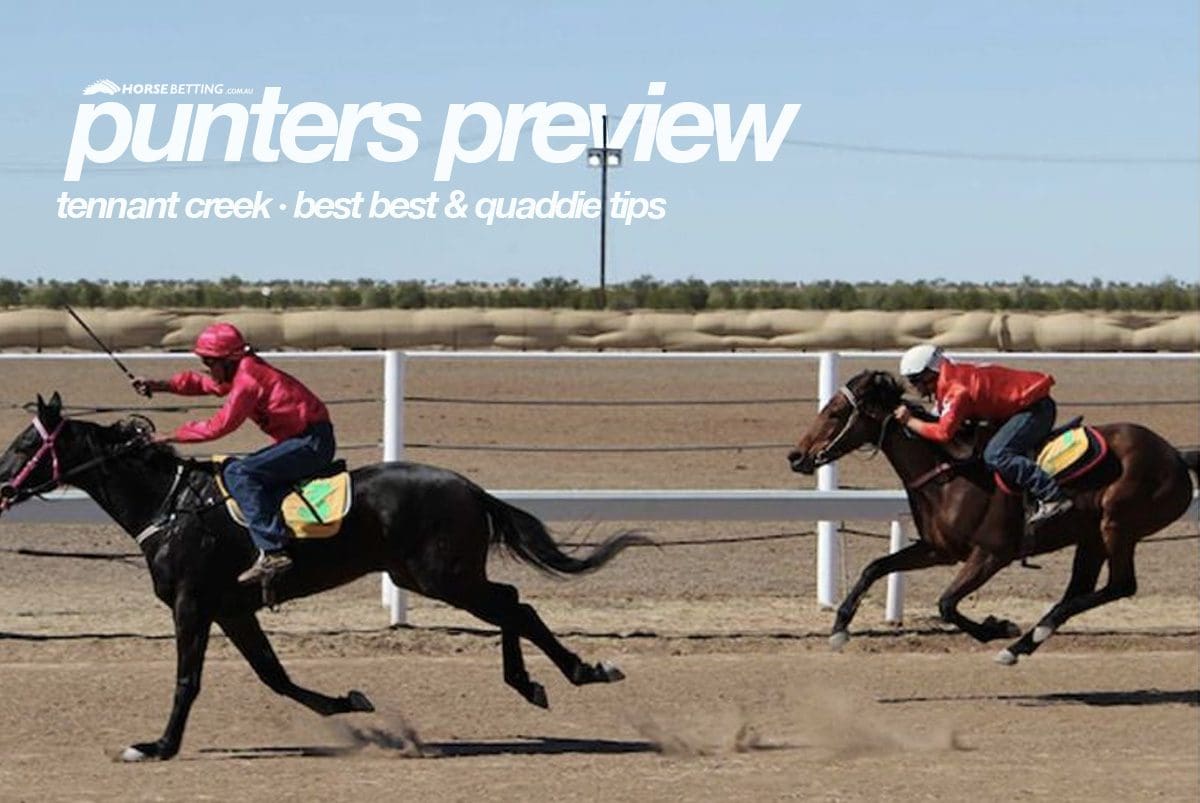 What
Tennant Creek Races
Where
Tennant Creek
When
Saturday, May 14, 2022
First Race
1:38pm AEST
---
Welcome to our tips for Tennant Cup Day, which features a six race card from the Northern Territory track, on Saturday. The first race at Tennant Creek jumps at 1.38pm and it promises to be a cracking day of racing. Here is our race-by-race preview and Tennant Creek tips:
Race 1 – $18,000 AJ Couriers & Haulage Class 2 Handicap (1200m)
After finishing second in three of her past four starts in Darwin there are signs the 5YO mare may finally taste victory for the first time since November 2020. Blue Jean Baby came within a whisker of making it win number three from 26 starts following a loss at Fannie Bay as a $2.60 favourite against Class 2 opposition over 1300m on Anzac Day. Former Victorian galloper Esashi (Terry Gillett/Stan Tsaikos) finished third on debut at Alice Springs against fellow three-year-olds at a 0-68 level on May 1 and is the biggest threat. Marsalis (Carrol Hunter/Paul Denton) hasn't performed all that poorly since relocating from Darwin to Alice Springs. Hard to see Distant Lover and Golden Ripples springing an upset.
Best Bet
Race 1 – #2 Blue Jean Baby (5)
T: Garry Lefoe Jnr | J: Casey Hunter
Race 2 – $18,000 Barkly Plumbing 0-54 Handicap (1100m)
For the second half of 2021, the 7YO gelding was competitive in Alice Springs without getting a win. Blue Jean Baby, a veteran of 56 races, was placed in five of six starts. After a seven month break, White Kaps finished last out of 11 in 0-62 class over 1000m at Pioneer Park on April 9. Fast-forward to May 1, he then produced an eye-catching third in 0-58 class over 1000m to suggest that he may end a drought that stretches back to May last year when he won in Darwin. Salbris (Will Savage/Casey Hunter) brings handy form from South Australia. Decisive Heart (Phil Cole/Wayne Davis) will appreciate the drop in grade and Policy (Terry Gillett/Stan Tsaikos) was no hope last start after remaining in the gates when they jumped.
Best Bet
Race 4 – #1 White Kaps (5)
T: Greg Connor | J: Jessie Philpot
Race 3 – $18,000 T&J Contractors Maiden Plate (1000m)
After a seven month spell, Redenzo Lad hasn't been that far away in his past three starts at Alice Springs. A deserved favourite (with horse betting sites) last start in a 1100m maiden on April 29 after coming third in 0-62 class over 1000m on April 9, he finished fourth. Is capable of bouncing back, so the 4YO gelding may finally taste victory at the 13th attempt. Stablemate Saiken (Paul Denton) was among the place-getters in four starts after arriving in the Alice from NSW before finding fellow 3YO's at a 0-68 level a bit hot to handle over 1200m on May 1, finishing eighth. Gabriana (Terry Gillett/Stan Tsaikos) could have a say, while Above Everage (Jess Gleeson/Jessie Philpot) and Shortball (Barry Cooke/Wayne Davis) make their NT debuts.
Best Bet
Race 4 – #1 Redenzo Lad (5)
T: Will Savage | J: Casey Hunter
Race 4 – $18,000 Ronin Security Technologies 0-64 Handicap (1450m)
Very open race, but perhaps Southern Bolt for three reasons. The 7YO mare was scratched at Darwin last Saturday, she has been highly competitive at Fannie Bay, and the former Victorian galloper isn't carrying as much weight as her rivals. Her last win was on a Cup Day – last August in Darwin. The in-form Sedona (Phil Cole/Wayne Davis) is up in distance, but certainly has the class to overcome that hurdle. Bolt I Am (Kym Healy/Sairyn Fawke) can hit back after a last start failure at Alice Springs on May 1. After blowing the start over 1600m against 0-62 class on May 1, Halogem (Jess Gleeson/Paul Denton) produced a superb effort to finish a narrow second to perhaps suggest that he is getting back to his best.
Best Bet
Race 4 – #5 Southern Bolt (2)
T: Garry Lefoe Jnr | J: Casey Hunter
Race 5 – $20,000 Little Rippers Lifestyles Denis Staunton Memorial 0-70 Cup (1200m)
A narrow third behind impressive duo Addictions and Mini Boom in the Queen Of The Desert (1200m) at Alice Springs for fillies and mares at a 0-76 level on April 29 indicates that the 6YO mare Valenciano is a big hope. In 21 starts in the Red Centre though, her form has been a little up and down. Bull Market (Angela Forster/Sairyn Fawke) was a last start third behind handy pair Weapon and Syncline at a 0-76 level in Darwin over 1300m, but that was in February. New Roman (Kerry Petrick/Casey Hunter) clearly has the ability when you assess his Darwin form, but his performance at Alice Springs on May 1 was awful. Me Cabo (Greg Connor/Jessie Philpot) and Shift The Risk (Kym Healy/Wayne Davis) aren't exactly out of it.
Best Bet
Race 5 – #3 Valenciano (5)
T: Barry Cooke | J: Paul Denton
Race 6 – $25,000 Remote Industries Australia Tennant Creek Cup (1600m)
The 6YO gelding, who had 29 starts in Victoria and South Australia, was adjusting to the Top End against decent Darwin opposition before producing a commanding win at Alice Springs in open company over 1400m on May 1. Starouz could not have been more impressive and only has to repeat that effort to win. Masaru Warrior (Will Savage/Casey Hunter) had been going well before a seventh in the Alice Springs Cup (2000m) on May 1 and is every chance. Military Zone (Phil Cole/Wayne Davis) is threatening to deliver and Exonerate (Carrol Hunter/Jessie Philpot) is arguably the most consistent horse in the NT. Lotion won the 2018 and 2019 Tennant Creek Cup, finished second in the 2019 Darwin Cup and won the 2020 Alice Springs Cup for Angela Forster, but the 10YO gelding is a clear outsider in his 100th start.
Best Bet
Race 6 – #3 Starouz (5)
T: Angela Forster | J: Sairyn Fawke
Saturday quaddie picks for Tennant Creek
Tennant Creek quadrella selections
Saturda, May 14, 2022
1
5
3
3
Investment: $1 for 100%